5 Things to Know About Today's PolyCUB Launch

Here we are, a few hours before launch attempt number two for PolyCUB. As I said yesterday, it almost seems fitting that after months of waiting, we get to wait one final time. Hopefully today is the day.
On a positive note, however, the 24 hour delay allowed me to watch @taskmaster4450 and @jongolson's interview with @khaleelkazi on their "95th-ish" Cryptomaniacs podcast. If you haven't watched it yet, do yourself a favor and do so. It's a little long but they covered a LOT of ground and gave a very good picture of the future of LeoFinance and CubDefi. Well worth your time.
If you don't have the time, however, I'll flesh out a few things I found very interesting/enlightening/exciting about the upcoming PolyCUB platform and it's relation back to CUB and LEO.
1) CUB is the token on which all new versions will be based.
One of the questions I've had about this launch is how it all relates back to CUB. How will CUB holders benefit from this launch on a completely different chain?
The answer is quite simple. If you hold CUB, you will get airdropped PolyCUB which you will be able to sell for an immediate profit, stake in the PolyCUB Kingdom (basically the same thing as the current CUB Kingdom, only this is on Polygon as opposed to BSC-Binance Smart Chain), or pair it with another token and add it to one of the farms (liquidity pools) being created at the same time. Any and all of these options should yield very good returns for at least the first couple months as the incentives paid to holders will be extremely high early on.
The crazy thing, however, is that if and when this works (as Khal thinks it will) then the plan is to duplicate it on at least three or four more chains, possibly in the next 12 months. If the platform they've spent the last 7-9 months building works as planned, then they should be able to cookie-cutter large portions of it to enable them to bring the same thing to #Avalanche and #Terra and #ThorChain and, and, and... In other words, if you own CUB, you will be getting airdrops every time they open up a new platform.
Does that add any value to owning #CUB? Big time.
2) APYs are going to be extremely lucrative for the first couple months, at least.
I don't know how many people remember the CUB defi launch almost a year ago to the day, but the yields on the Dens and Farms out of the gate were pretty crazy. Over 1000% for a while and staying in the high hundreds for at least a couple weeks after launch.
The same thing is expected with this launch. Early adopters (of which everyone with CUB currently in the Kingdom or paired in a pool is one) will be getting huge returns for the first few weeks out of the gate. Not factoring in price, the amount of tokens holders will receive for their PolyCUB Kingdom or LPs will be very high. PolyCUB is front-loading the distribution of rewards to the early adopters in order to draw in TVL and spread it out into the Polygon Chain. As it is doing this, there will be a "lock-up" period which will deter people from harvesting their rewards and dumping them on the market. If people choose to harvest early, they will pay a penalty out of those rewards and that penalty will be paid to the stakers who are NOT harvesting early.
In other words, not only will holders be receiving the rewards from the initial inflation, they will also be getting a part of these penalties taken from people just yield farming the new platform.
I have no idea how much "extra" that will mean for the diamond paw holders, but it could be significant.
3) The LeoBridge is going to start seeing a lot more action.
Once the PolyCUB platform is live, the LEO token will have utility on it's fourth separate chain. There is wLEO on Ethereum, bLEO on BSC, pLEO on Polygon, and LEO itself on Hive-Engine. This means that you will be able to take assets from any of those chains and move them to any of the other chains through the LeoBridge.
For example, if you wanted to buy some BNB on BSC by using something you have on the Polygon chain, say USDC, then you'll be able to just input the USDC amount you want to swap, pick the token on BSC you want to convert it to (in this case BNB), hit a button, and, BAM! it will do it all for you.
This feature already exists with Ethereum and BSC but the ETH fees are so high it doesn't get a lot of use. However, Polygon and BSC are both much lower fee chains so bridging assets from one to the other now becomes a much more reasonable proposition. As more and more people learn about CUB and PolyCUB (lots of marketing and press releases coming from the team), I think there's a very good chance that people will start utilizing this feature much more. It really doesn't get much easier than inputting what you want to swap and what you want to swap to, and clicking a button. Which brings me to point number four....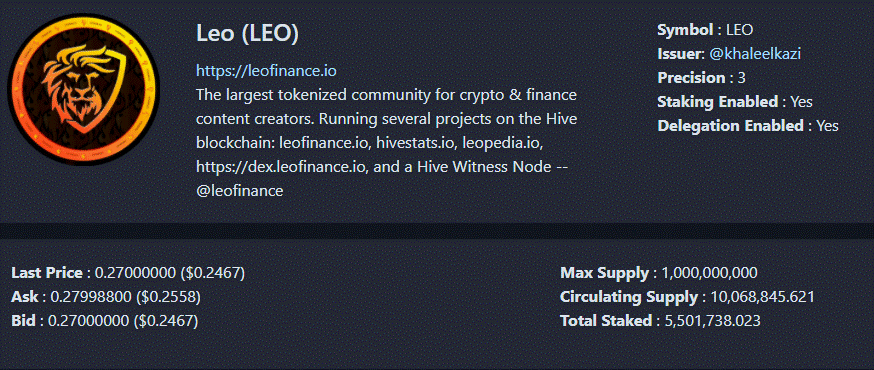 There could be a liquidity crisis coming on LEO.
As of right now, over 50% of LEO is currently staked on Hive-Engine. That only leaves roughly 5M LEO tokens out there somewhere. At current prices, that means there is only about $1.25M worth of LEO floating around in liquid form. If and when this bridge starts doing decent volume, there's going to need to be another good chunk of pLEO in the pLEO/MATIC pool for liquidity, just like there's a good chunk in the bLEO/BNB pooland an even bigger chunk in the wLEO/ETH pool. With the yields this pool is going to be paying to liquidity providers out of the gate, I would expect a pretty substantial amount of that remaining liquid LEO to get locked into the pLEO/MATIC pool, thus taking even more out of the liquid supply.
I don't know how much that will affect the price initially, but if and when more people start finding their way to LeoFinance from learning about PolyCUB and CUB, and also from the marketing campaign being launched in conjunction with the PolyCUB launch, it stands to reason that the demand for LEO will rise. Couple this with the fact that there may very well be a couple more CUB launches on different platforms in the months ahead that will also need Leo pools and you have the makings of a supply squeeze that could really vault the price of LEO upwards.
Definitely something to keep in mind as you're deciding where to focus your efforts over the weeks and months ahead. And finally....
This launch is only the beginning
As excited as I am about what PolyCUB is bringing to the table for the LeoFinance community, it is really only the beginning. In the weeks and months ahead the LeoFinance team plans on making the mobile app much more robust, providing a major facelift to leofinance.io, increasing the overall utility of Hive.Stats (including providing a "burn to learn" version where you would burn some LEO in order to get even more functionality out of the app), generating a much more user-friendly way to sign up for LEO, and, oh yeah, launching a little app called #ProjectBlank, as well as the aforementioned possibility of launching CUB on more chains. Looking at the progress made over the last year, it's hard to even envision what this place will look like in another year's time.
Khal started the last 12 months with a very small team and a very broad "roadmap" of where he wanted to take LeoFinance. Since then they've added a team of seasoned devs, done a ton of research on dozens of projects in the cryptosphere, and have now built one of the most complex Yield Optimizing Defi Platforms in existence. They've also launched the mobile app and built out LeoInfra among other things. They've learned some hard lessons along the way but they've also used those lessons to get better.
Through it all they've stayed true to the vision of creating the most value they possibly can for the LeoFinance community and they've also remained committed to making sure the projects they are building are not only solid stand-alone projects, but also provide value back to the original tokens of LEO and CUB.
So, in a few short hours #PolyCUB goes live. Will it be the catalyst that launches LeoFinance and CubDefi into the mainstream crypto world? Too early to tell right now, but in my mind, it's no longer a question of if it will happen, but when.
Keep stacking boys and girls. The ride is just getting started.
PS. Did you know that there is a swap.hive/swap.matic pool on BeeSwap? If you need to get some MATIC into your Polygon wallet for transaction fees, that would probably be the easiest way to do it. Just thought I'd pass that along....
Posted Using LeoFinance Beta
---
---