Another dead dragon...#LPUD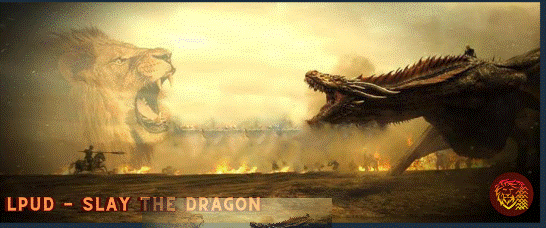 As I was looking things over this morning before work, I noticed that #LEO was on a little bit of an uptick and wondered why. I typically do my part and power up some LEO for #LPUD but I can't qualify for any of the prizes so I don't follow the posts too closely. Upon seeing these "Slaying the Dragon" titles though, I looked a little closer and realized there's an added element to this months event.
Power Up Leo and slay one dragon
There's only one way to defeat one of the dragons, you have to face this foe with an attack worth 2,000 Leo Power or 5,000 Leo Power, depending on the dragon you decide to fight to defend your pride.
If you power up 2,000 - 4,999 Leo tokens, you slay a elite dragon.
If you power up 5,000 or more Leo tokens, you slay an elder dragon.
This seems like a pretty cool idea so I decided it would be something I would like to participate in. Upon further reading though, I found something that really piqued my interest: an NFT!
Every Lion who defeats a dragon will get into a list, these Lions will receive a Dragon Slayer NFT down the line - we are still polishing this idea, but if you make this list, you will receive one once we have deployed NFTs on Leo Finance.
Now that is definitely something I can get behind. Just the fact that it will be the first of it's kind on LeoFinance means I definitely want one. Since the markets have obviously been lousy and I didn't have much time to prepare being that I just saw this, I did a little shifting and got myself enough to slay the 2000 LEO dragon.


All I can say is that if and when LEO ever gets noticed in the outside world, there is NOT going to be very much LEO for people to try and buy. Not at these prices anyway.
I, too, am now a DragonSlayer. If the artwork on the NFT is anywhere near as cool as the picture above, then it will just be fun to own it, regardless of whether it's worth anything.
Anyone else going Dragon hunting today?
Posted Using LeoFinance Beta
---
---