Loving PolyCub but...I think I love the original CUB even more.

PolyCUB arrives

It's been a couple days since the long-awaited launch of the PolyCUB platform. So far it has been worth the wait. Aside from it being much more complicated than most of us amateur Defi players were ready for, I would consider the launch to be wildly successful.
The price jumped immediately and the early yields were as advertised: massive. They've started to come back down to reality somewhat, but they're still spectacular and should remain that way for the first few weeks at least.
Now that most of us understand about how the "harvesting" versus the "claiming" works, and what the difference is between PolyCUB and xPolyCUB, I think we can see that there is a lot of money available to be made from investing in the LPs and Kingdoms, and also a very nice gift from the airdropped PolyCUB we are getting for holding CUB.
CUB continues to grow its value
Which brings me back to the title of this post. As much as I'm excited about the returns I'm getting for being in the pLEO/MATIC pool and the climbing of the "ratio" in the xPolyCUB Kingdom, I'm even more excited about the value owning the original CUB is bringing me. Let me break down why.
APY doubles

First, as you may or may not have seen, they doubled the yield in the CUB Kingdom just prior to launching PolyCUB. It went from just below 30% to up over 60%. That is a massive jump in value for the token. If you owned 1000 CUB you would get roughly 300 in dividends over a year. Now you get over 600! That means in just 3 years your base amount would grow 4x to over 4000 CUB. As people come to realize this, I think it will probably come down some but still, those returns are spectacular.
PolyCUB airdrop

Second, there are still 57 days left of the PolyCUB airdrop. Owning 1000 CUB gets you roughly 8.5% PolyCUB in the airdrop so, 85 PolyCUB dropped to you over the next 57 days. As of this writing, PolyCUB is trading at $1.80. 85 x $1.80 = $153. CUB is trading at 40 cents. So, for $400 you could get 1000 CUB paying 60% APY and get another 38% in value from the airdrop. Pretty sweet.
Future airdrops
Third, with the PolyCUB launch looking like it's going to be successful, @Khal and Co have talked about their plans to duplicate the platform on other chains as well. Fantom, ThorChain, Avalanche, and Terra have all been mentioned as candidates and I'm sure there are a few more out there as well. The goal is to make CUB, and through it, LEO, a vehicle where people can participate cross-chain on all of these different platforms without ever having to leave the comfort of the LeoFinance universe. Assuming PolyCUB continues to thrive, that goal is now very much in their crosshairs. There will obviously still need to be a lot of work done to integrate different platforms, but the mechanics have all been built. It will not take nearly as long to implement a new launch now that they know what works.
In other words, there could be multiple airdrops coming yet this year to people who own CUB.
Price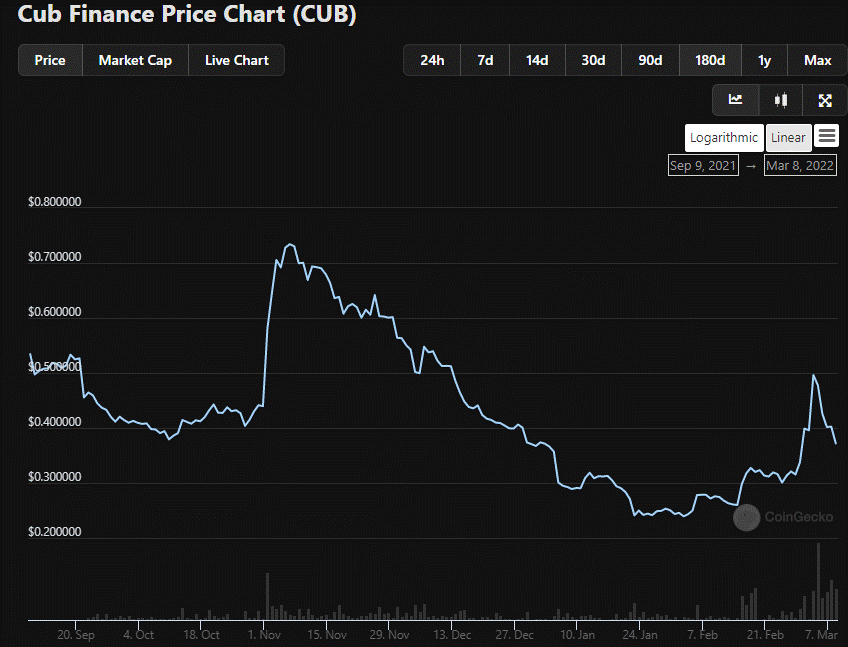 CoinGecko
Lastly, there's the price. This is where I think it gets really nuts. CUB is trading just under 40 cents. This is off it's lows of around 25 cents but still very near it's bottom. With all of this value being created simply by owning it, I truly expect the price to rise substantially over the next couple months as people begin to realize just how valuable owning it will be.
Right now I feel as if there's been some selling pressure as some people are using their CUB funds to chase the crazy yields in PolyCUB. More power to them, but I'm think it provides a great opportunity to get more CUB.
Think about it: 60% APY, free airdrops with the potential to be worth 25, 50, even 100% or more of what you invested into CUB, and potential price movement from an asset trading very close to it's lows. To me it's a no-brainer.
This is not financial advice, obviously. There are no guarantees in crypto. Do your own research and come to your own conclusions about what's best for you with your financial situation. All I can say it that I've almost doubled my stake in the last few days and I'm probably not done adding yet.
As I said above, if nothing else, the 60% APY is spectacular. CUB has now been around for over a year and the platform has proven stable and reliable. The team has been transparent and accountable for what they've built and I feel comfortable just leaving my CUB on the platform to simply do what it does best: make me money.
So while I'm excited about PolyCUB and the insane returns it's generating out of the gate, I'm even more excited about what owning CUB is bringing to the table. You do you. We are all our own bank. I'm just letting you know what I'm doing and why.
*As always, comments and questions are welcomed and appreciated. Feel free to leave your thoughts below.
Thank you for reading!*
Other recent articles:
10 FAQs on the newly launched PolyCUB
5 Things to Know about Today's PolyCUB Launch
Welcome to the Feast...
Code is Law
Posted Using LeoFinance Beta
---
---