State of Hockey--Minnesota Living Up to its Name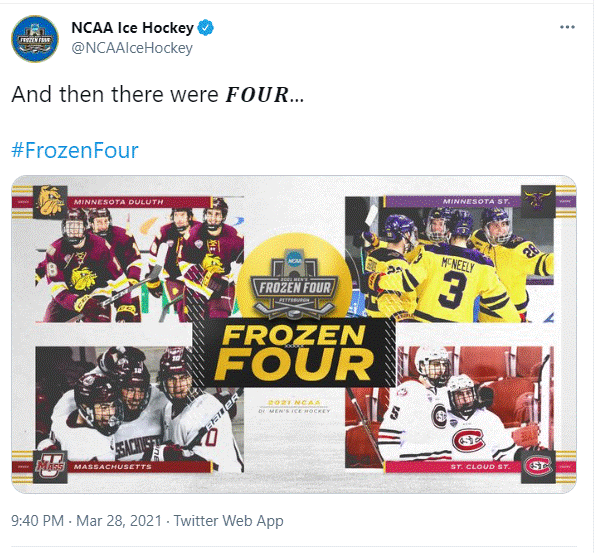 There is nothing like college hockey. If you love hockey, then other than the Olympics every four years, college hockey is probably the most exciting brand there is. Every year come tournament time, we get to see the best of the best of future pros and over-achieving rink rats give everything they have in a winner-take-all format. And the drama is sometimes almost unbelievable.
Take Saturday night, for instance. The number one team in the country, North Dakota, played the reigning two-time defending National Champion, Minnesota Duluth, in the longest NCAA tournament hockey game in history. After six hours, a disallowed goal, six power plays, a goalie change, and four full 20 minute overtime periods, a little used bench player scored the winning goal for UMD just a couple minutes into the fifth OT. The Bulldogs are headed to the Frozen Four to try and make it three straight.
In the meantime, four other Minnesota teams were also vying to get there as well. There are five Division I hockey schools in the state of Minnesota. All five of them were in the final eight. Bemidji took down the 1-seed in their bracket, Wisconsin, but lost to UMass in the regional final. St Cloud State bounced both of the Boston powerhouses, Boston U and Boston College, and won their bracket. And the final bracket had two Minnesota teams pitted against each other. After finally winning their first NCAA tournament game in seven tries in OT on Saturday, Minnesota State followed it up by throttling the 1-seed in their bracket, the University of Minnesota, 4-0.
This means that zero of the 1-seeds advanced to the Frozen Four in a couple weeks. But three of the Minnesota teams did. Had Bemidji pulled off another upset and not lost to UMass, it would have been an all-Minnesota Frozen Four. As it is, three out of four ain't bad. The state of hockey is living up to its name.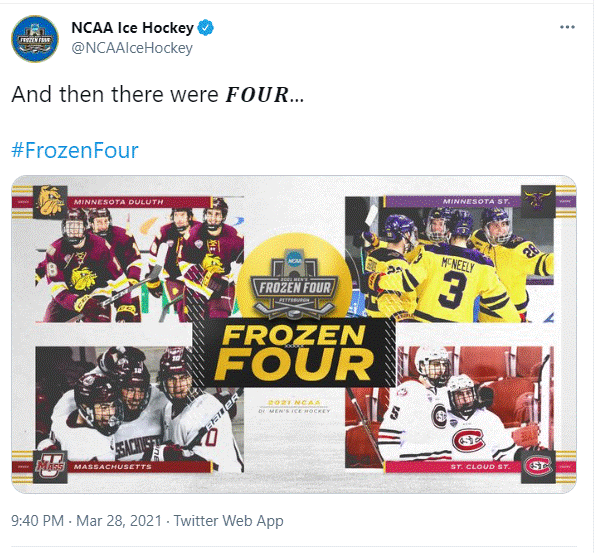 ---
---