Gods Unchained - Gauntlet of the Gods and how to get the most Flux wile playing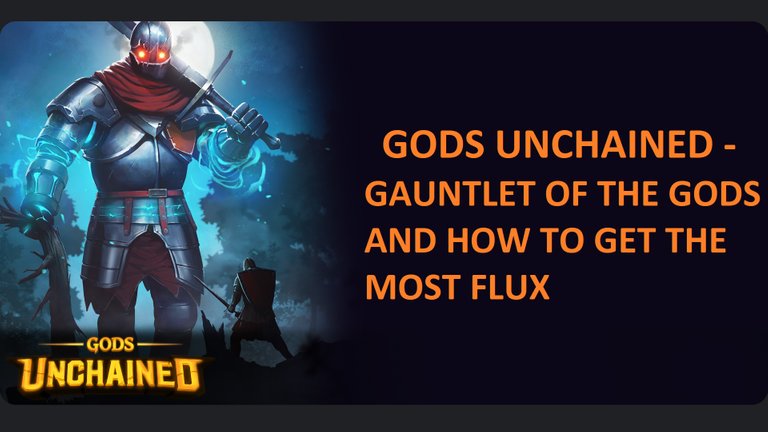 In this post, I will go over the mechanisms surrounding getting Flux. The in-game currency used for Forging cards along with $GODS. As it is an intregal part of both the late game and the way you are able to maximize your $GODS earning I think it deserves its own post.
How does the Gauntlet of the Gods work?
There is only one way to get Flux in-game. And that is to play Gauntlet of the Gods. You will find the daily Gauntlet in the lower left corner as soon as you have opened up the game.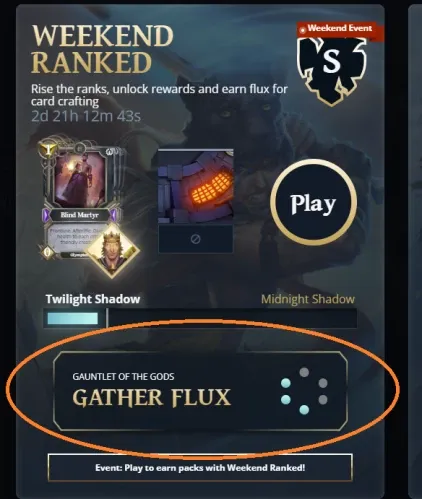 After you press it you will be taken to the daily Gauntlet. The Gauntlet of the Gods changes daily and resets. What it is is a challenge for you. After you get your first win of the day. Your starting god will be locked in. After that, you can switch to one of the two adjacent gods. Or Keep playing the same god.
As you score wins with more and more gods, their adjacent gods keep unlocking. Until after you have scored wins with 4 different gods. After that, all 6 gods are opened up to you to be played.
After each win, you will get an amount of Flux. But do not you can only get Flux for the first three wins with the same god. You will need to play another god and win if you want to earn more Flux. Scoring more than one win also gives you a bonus. And that bonus is both for each win of the same god, and for each new god. The values are shown below.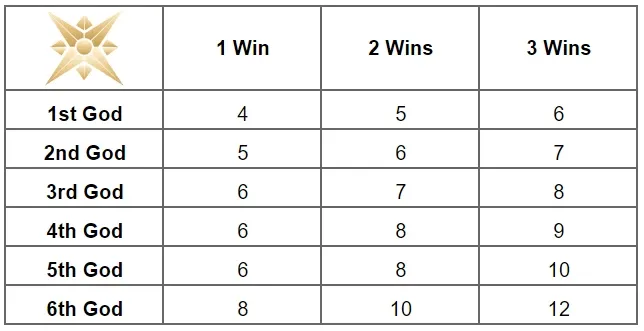 The amount of Flux you can earn do also depend on your rank. The max will range from 65.5 Flux for completing the Gauntlet in Bronze rank. To a massive 1,310 Flux for completing it in Mythic rank.
How to maximize your Flux daily earning
What I find works best for me is to start playing the deck I have that I think is my strongest. This is for two reasons. It will earn me Flux on a win. But it will also give me Daily Fragments for each win I get in my first 10 games.
After that first win, I look at the Gauntlet to see what adjacent gods there are. If I have any good decks with them, then I usually switch to them. I do this until I get a win. Then I repeat the same procedure again. Until I played my 10 games. I do go back and forth between decks I think are my stronger, simply to vary the gameplay, as well as learn how to play them better. To know their weaknesses and strengths.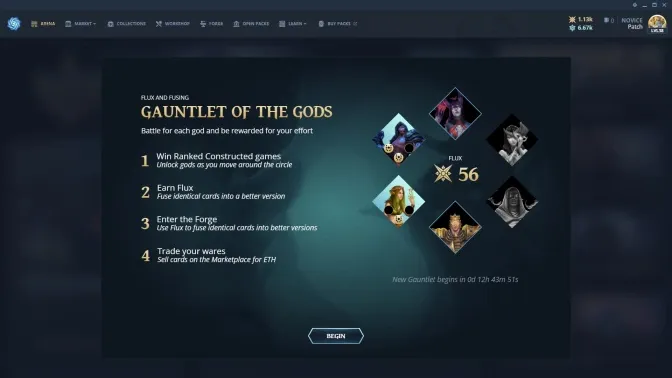 Currently, I think War is my strongest deck, so almost all the time that is where I start.

After the first 10 games, if I decide to play more. I feel free to swap to the other gods, whose decks I am less comfortable with. And so far I have not tried to farm an insane amount of Flux, but I try and replenish what I use when I craft cards. And hopefully earn more than I started out with as well.
So far I have been able to complete a full Gauntlet 2 times if I remember correctly. Meaning 3 wins with each of the 6 gods. As Flux only is an in-game currency. My best advice to you is to farm it as long as it is fun. As soon as I get tired or annoyed I stop immediately. I see no reason to push myself and maybe get frustrated with the game.
If you think that this sounds like an interesting game that you would like to check out. I would greatly appreciate it if you would consider signing up using my referral code.
https://godsunchained.com/account/register?referral=UMNIcMwQdC
If you do, we both get 10 $GODS when you reach rank 6 and have verified your wallet.
Hopefully, you will now be in a good position to start earning as much Flux as possible. If you have any questions or found any errors in my text, please let me know. The same goes if you have any other topic you would like me to cover in the future. If you would like to support me and the content I make, please consider following me, reading my other posts, or why not do both instead.
See you on the interwebs!
Picture provided by: Screenshots from Gods Unchained, Gods Unchained media
Resources
---
---