A Look At Autofarm | The Best Yield Optimizer? | September 2021

Autofarm has been one of those gems where if you entered early, you could benefit a lot. Fair launch. What is probably even more important is that almost a year in operation now and it continues to operate with no securities issues and continuous development.
I have posted about Autofarm back in February 2021 when it was growing a lot. Since then things settled a bit, the platform got some stability and it's time to revisit.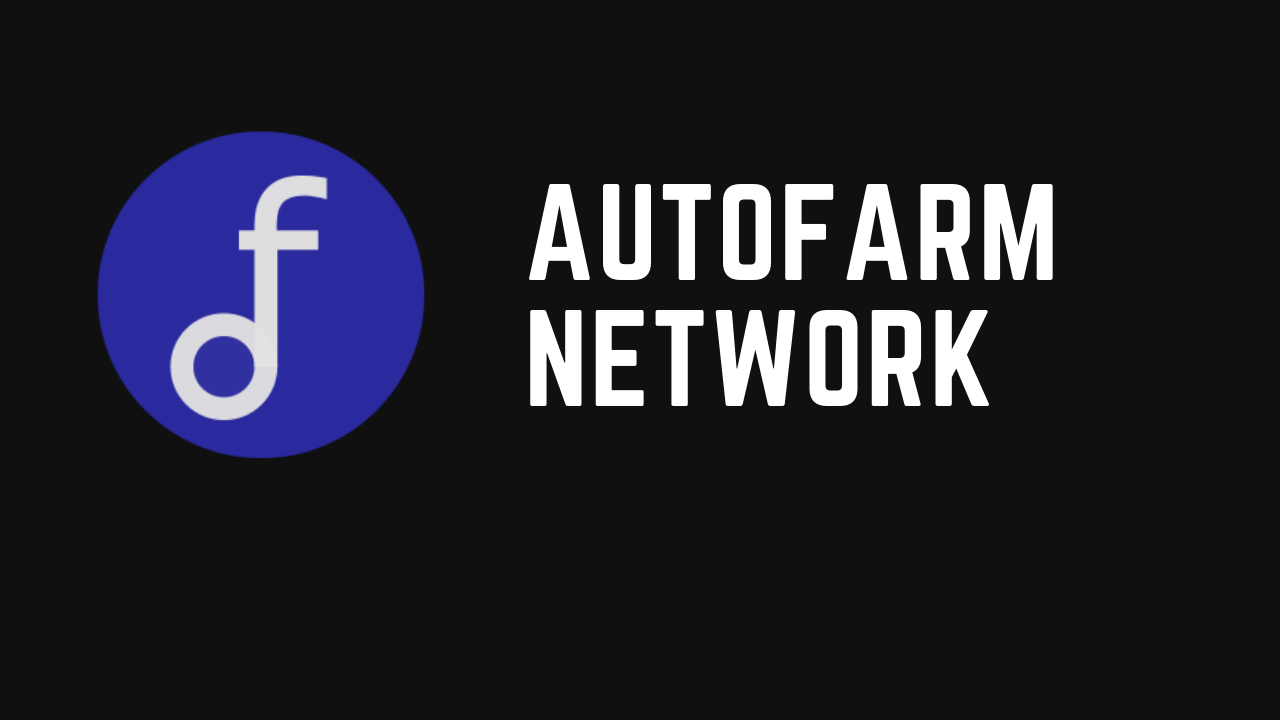 What Is Autofarm?
Autofarm is a yield optimizer that was launched on the Binance Smart Chain, but expanded to four more blockchains. For those not familiar with the term yield optimizer, what this do is auto compound assets that you have put in defi apps. It offers the service to claim the reward tokens and put them back in the native asset that you have deposited in the first and keeps growing the underline asset. For some cases Autofarm rewards you with their token on top of the rewards from the defi app, further increasing the APY.
I'm personally using Autofarm for a long period of time, and as an example I can point out that I use Belt.fi to stake stablecoins in the 4belt pool and then, deposit and auto compound on Autofarm. The stablecoins keeps increasing automatically and on top of them I receive the Auto token, as a plus reward. The APR for this setup has been quite constant in the range of 15% to 20%. Have in mind these are one the best platforms on BSC with the highest TVL.

Tokenomics
One of the reasons I decided to revisit Autofarm is that the token has a maximum supply of 80k that is to be reached in October 2021.
AUTO are minted linearly starting from 15 December 2020 and will end approximately during October 2021 (0.008 $AUTO/ block: which is approximately 230.4 $AUTO daily).
At the moment there is almost 72k tokens issued meaning only 8k more tokens to be minted. As we know there is pro and cons of low or no inflation. One of the case is that the rewards will be reduced, for some of the vaults, the other is that it might increase the price of the token and it will be attractive just for the fees it generates.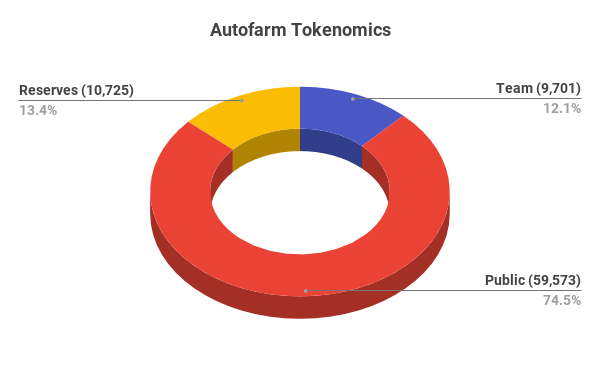 From the pie above we can notice that 74.5% are set to be paid to the users of the app. The team gets 12.1% and a 13.4% goes into reserves. I guess this fund is to be used for incentives, partnerships, marketing etc.
Five Blockchains Supported
Autofarm has been developing and growing all the time adding new platforms but whole blockchains as well. At the moment Autofarm support the following blockchains:
Binance Smart Chain BSC 821M
Polygon/Matic 68M
HECO 5.8M
Avalanche 2M
Fantom 300k
Most of the liquidity that it handles is still on BSC with 90% of the total share but we can notice that Polygon has some healthy liquidity as well. Avalanche and Fantom were just recently launched.
Note than on BSC and some of the other chains there is a ton of platforms and other defi apps to choose where to stake your tokens. You can use the app as a type of browser for defi apps and APRs.
AutoSwap
The platform has a swap option but that is working only as an DEX aggregator. It doesn't have its LP pools, but instead it looks at the other defi platforms, say Pancake, MDEX, etc. and provide you the best prices. Sort of like 1inch works.
AutoSwap splits your trade across multiple DEXes to ensure the best prices and lowest slippage possible. Your trades with AutoFarm Swap also become non-front-runnable and non-arbitrageable.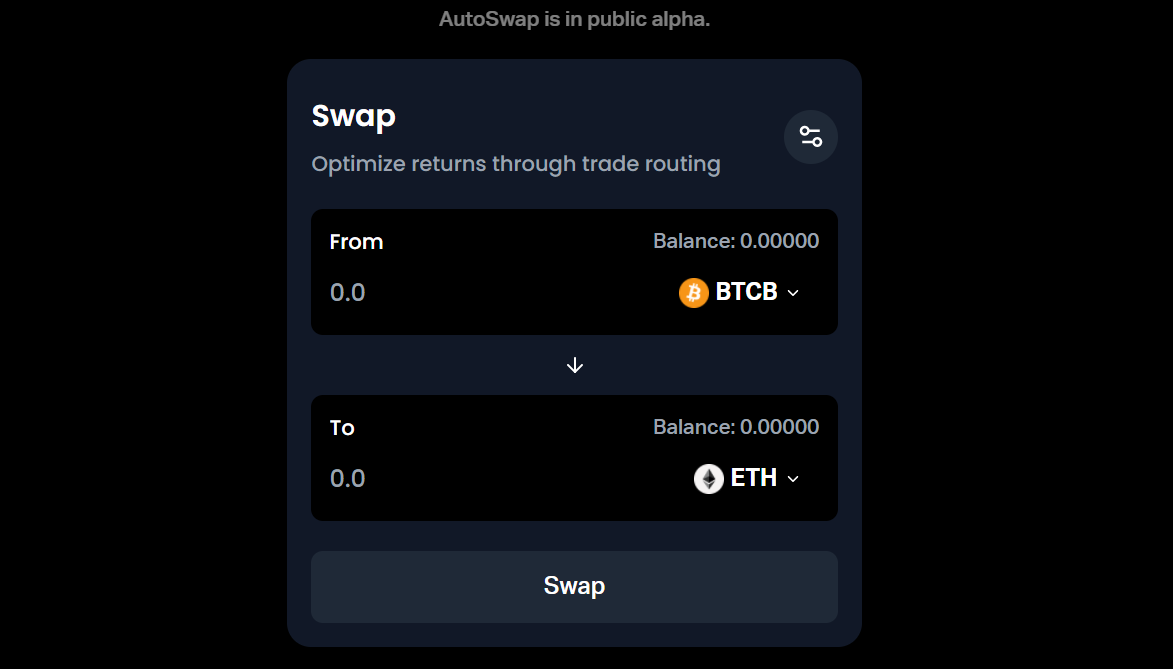 I have used their swap option, and in the past it was a bit wonky with transactions not going trough, but in the last period it seems to works better. There is a note on the page that AutoSwaps are in public alpha.
Dashboard
One of the coolest things that Autofarm has it's the dashboard. It shows the historical value of your liquidity positions so you can track them exactly day by day. At the moment it shows up to maximum of one month.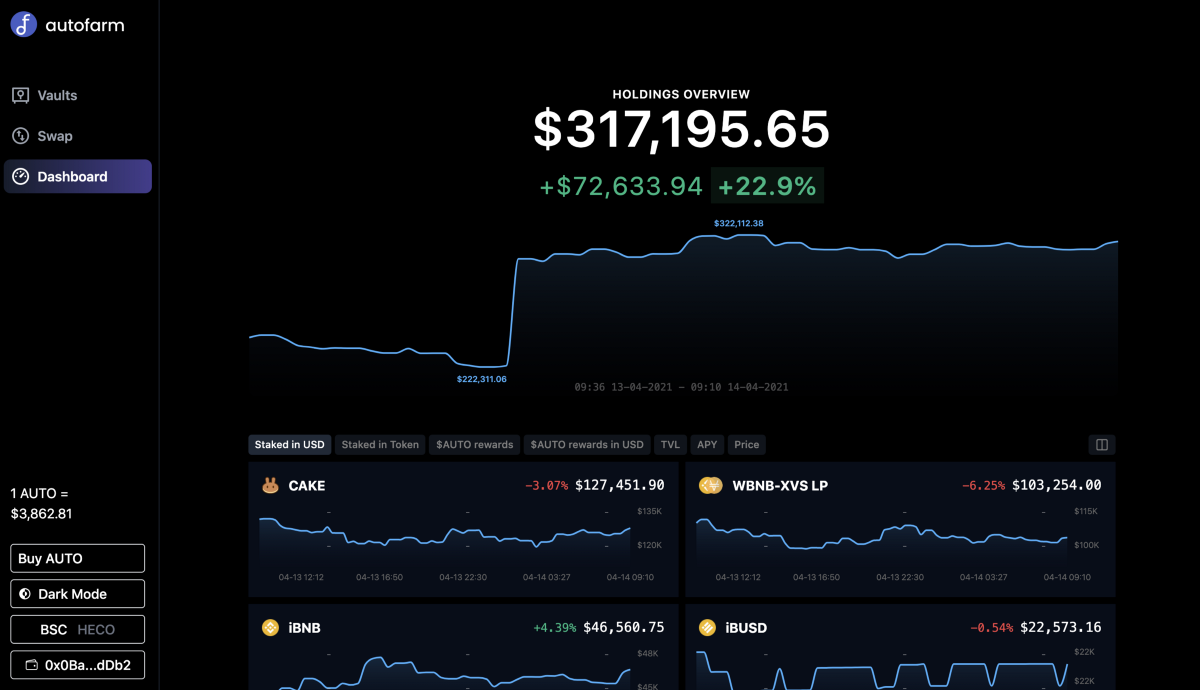 Not my position 😊
The dashboard provides and option to look at your position in dollar value but also in the token value. For example if you are auto compounding stablecoins it will be ok to take a look at the dollar value. But lets say you are auto compounding BTC, or some other LP pair, the dollar value wont tell you much. You want to look at the tokens value, for example you value in BTC.
Personally, I haven't seen a better dashboard with so many options. There are some that usually show you the current value, but historical values with charts, and multi option how to be presented not yet.
Governance
One other thing that the platform has is governance with a proposal and voting options. Autofarm is ranked as one of the top tokens for the numbers of token holders on BSC, but I still have a feeling it's quite centralized, even with the relative fair launch they did.
---
Overall, a great year for Autofarm and I have a feeling that if they continue their development the platform can grow further. The AUTO token will be stop printing soon and that can add to the value, although as mentioned it can be a double edged sword. At the end you can provide users with value either from inflation or fees. Till now Auto was doing both, now they will have to rely on the fees only. Maybe they will increase some of them.
If you want a relative safe and proven platform to auto compound on BSC and all the other EMV chains (except ETH), Autofarm will do the job for you. You can use the platform as a browser to explore other defi apps, what they have to offer in APR and make comparison. And if you are nerdy about tracking your positions in details, the dashboard is there for you :).
You can read more about Autofarm here:
All the best
@dalz
Posted Using LeoFinance Beta
---
---