Hive Communities | Communities Created, Top Communities by Subs, Activity and HP Weight | Feb 2023
How is Hive doing on the Communities front? Communities are essential feature of the Hive ecosystem as they allow for easy content discovery and fining specific topics that users are accustomed to. Almost all content is posted in some community that is later used from users to filter content, or by curators to support authors and communities.
If we combine communities with the possibility for easy tokenization, communities tokens, things can become very interesting.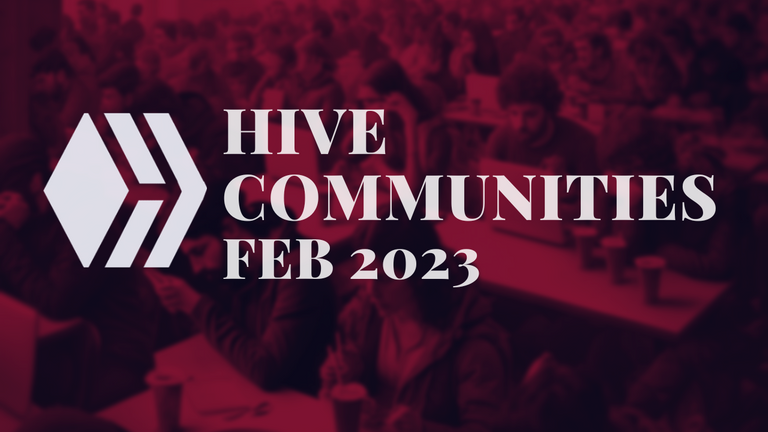 There have bees some well established communities on Hive, and some new coming in. Some of the communities already have their token as well on Hive Engine.
Here we will be looking into the following things:
Number of Communities created
Top Communities by number of subscribers
Top Communities by activities
Top Communities subscribers' stake
Top Communities by active authors
Communities went live officially in February 2020, but they were in a test phase before that. The period that we will be looking here is from November 2019 till February 2023.
Number of Communities Created
First let's see the total number of communities created with time.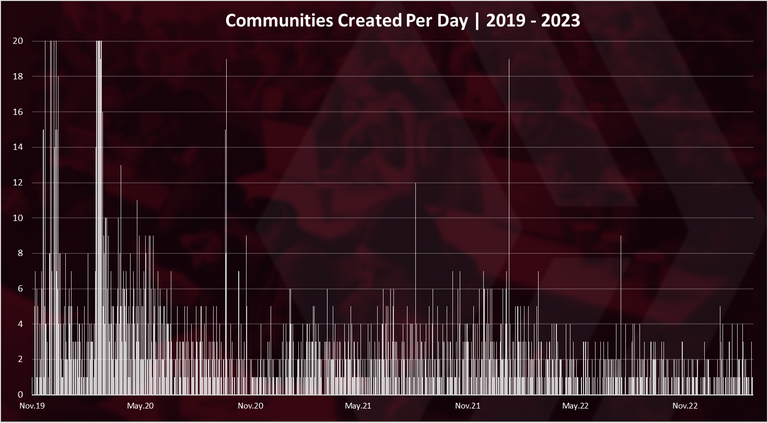 We can notice the spike in the number of communities created is quite visible in February 2020 when they launched. Afterwards the number dropped and lately there are few communities created per day.
In the last period there is a few communities created per day, usually in the range of 1 to 5.
If we look at the monthly chart we get this: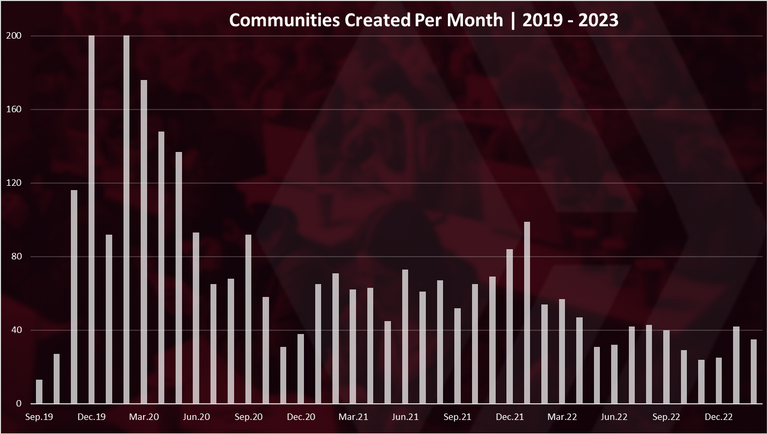 More then 300 communities per month as ATH number, while in the last months there is between 30 to 50 communities created per month.
There is now more than 3500 communities on Hive.
Top Communities By Number Of Subscribers
Who are the top communities on the blockchain?
We will be looking at this by more than one parameter, but for starters lets take a look at the most obvious one, the number of subscribers.
Here is the chart.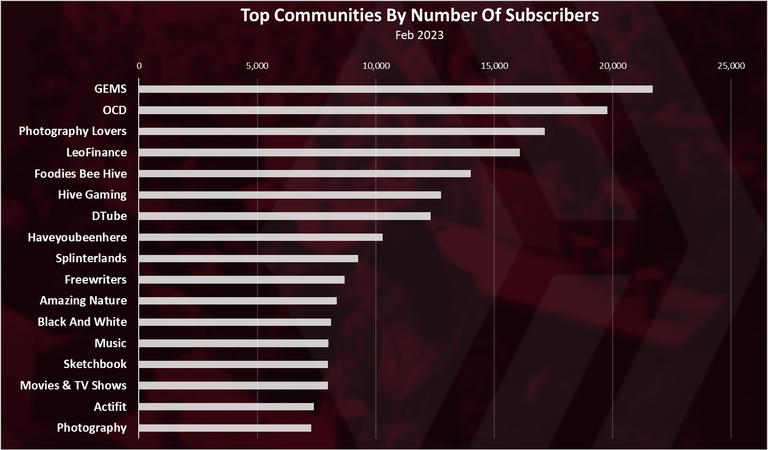 The GEMS community comes first with 22k subscribers, followed by OCD. Photography lovers, Leofinance and Foodies in the top as well. The subscribers numbers to the communities keeps growing.
Top Communities By Subscribers' Stake
Another interesting way to rank communities is the stake of their subscribers. After all we are on a DPoS chain 😊.
What is the stake weight of the subscribers in each community?
Here is the chart.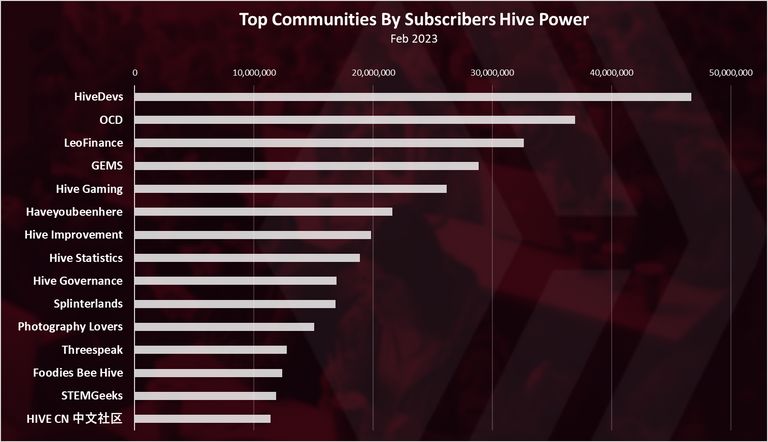 In this type of ranking the HiveDevs community comes on top with 46M HP. OCD, LeoFinance and GEMS comes next.
Top Communities By Activity
The number of subscribers in a community and their stake is important. But more important probably is how active the communities are.
Here is the chart for the top communities by the number of posts made from the beginning of 2023.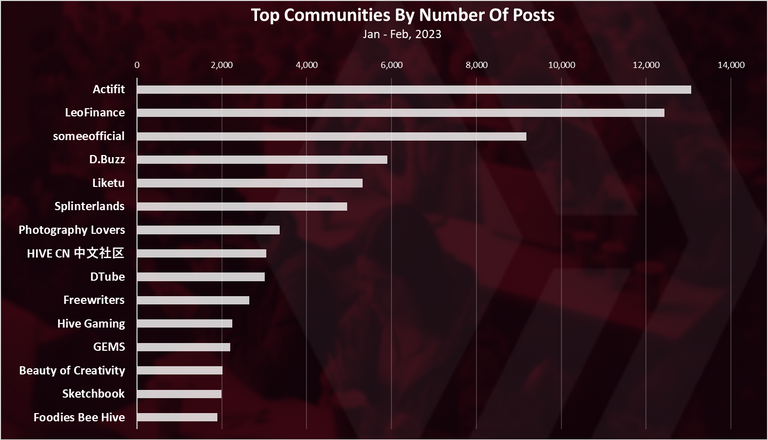 The short form platform Actifit come on top here followed by LeoFinance, Somee and D.Buzz as another short form community. Liketu as a relative new app is in the top as well.
Top Communities By Active Authors
What about active authors?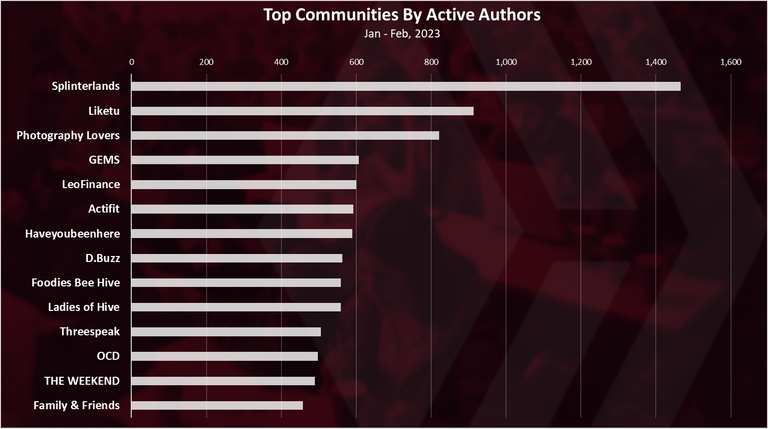 Here is the chart starting from 2023.
Splinterlands is on the top here by a lot, with 1500 active accounts in the period, followed by Likety and Photography lovers. Some great activity by Splinterlands players.
---
Overall a small number of new communities created in the last months. The top communities now have 20k subs and more than 1k active accounts.
What is your favorite Hive Community?
All the best
@dalz
---
---