USDC To Become The Number One Stablecoin In 2022?

The stablecoins arena has been heating up in the last years as the marketcap of all stablecoins keeps growing.
USDC has gained the status as the most transparent stablecoin issuer, having in mind its number one competitor Tether USDT, that has been controversial around his holdings.
For those unfamiliar with these two tokens, they are digital dollars issued as tokens on blockchain, by central entities that claim that have the same amount of USD in the bank.
Let's take a look at the growth of USDC through some data.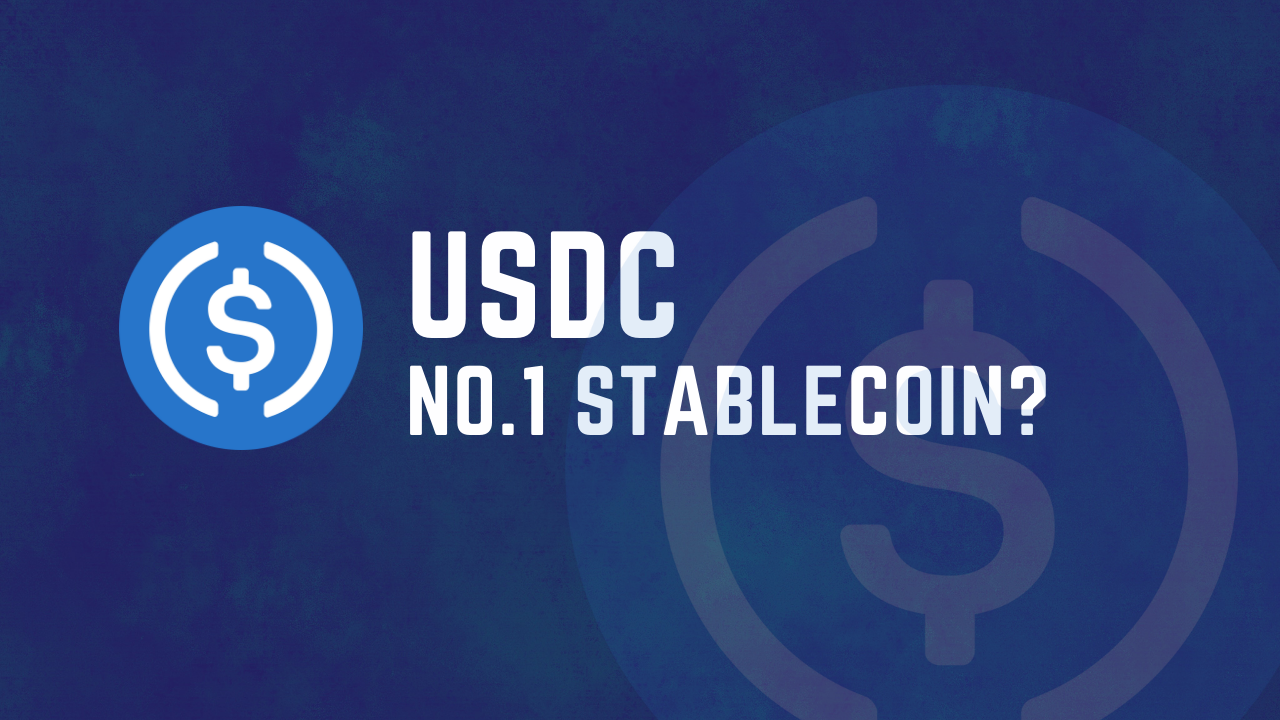 USDC is issued by Circle in cooperation with Coinbase. It is a US based company that is regulated and has regular audits on its holdings. Just recently there was annoucmnet from Circle that it has raised 400M in partnership with BlackRock.
According to this BlackRock should be a primary asset manager of USDC cash reserves. BlackRock is one of the biggest assets manager firm with investments in a lot of public companies.
Some of the crypto community has expressed concerns about BlackRock entering one of the biggest stablecoins, since it might serve as a gateway to enter different crypto projects and have a majority vote in a lot of them. It looks like the traditional financial giants don't want to be left behind with crypto and we might see some big moves soon. BlackRock involvement with USDC is no doubt a big deal.
With this said, lets take a look at the data for USDC.
Daily USDC Printed
USDC started at the end of 2018, but here we have a data from 2019, for simplicity.
Here is the chart for the USDC printed per day.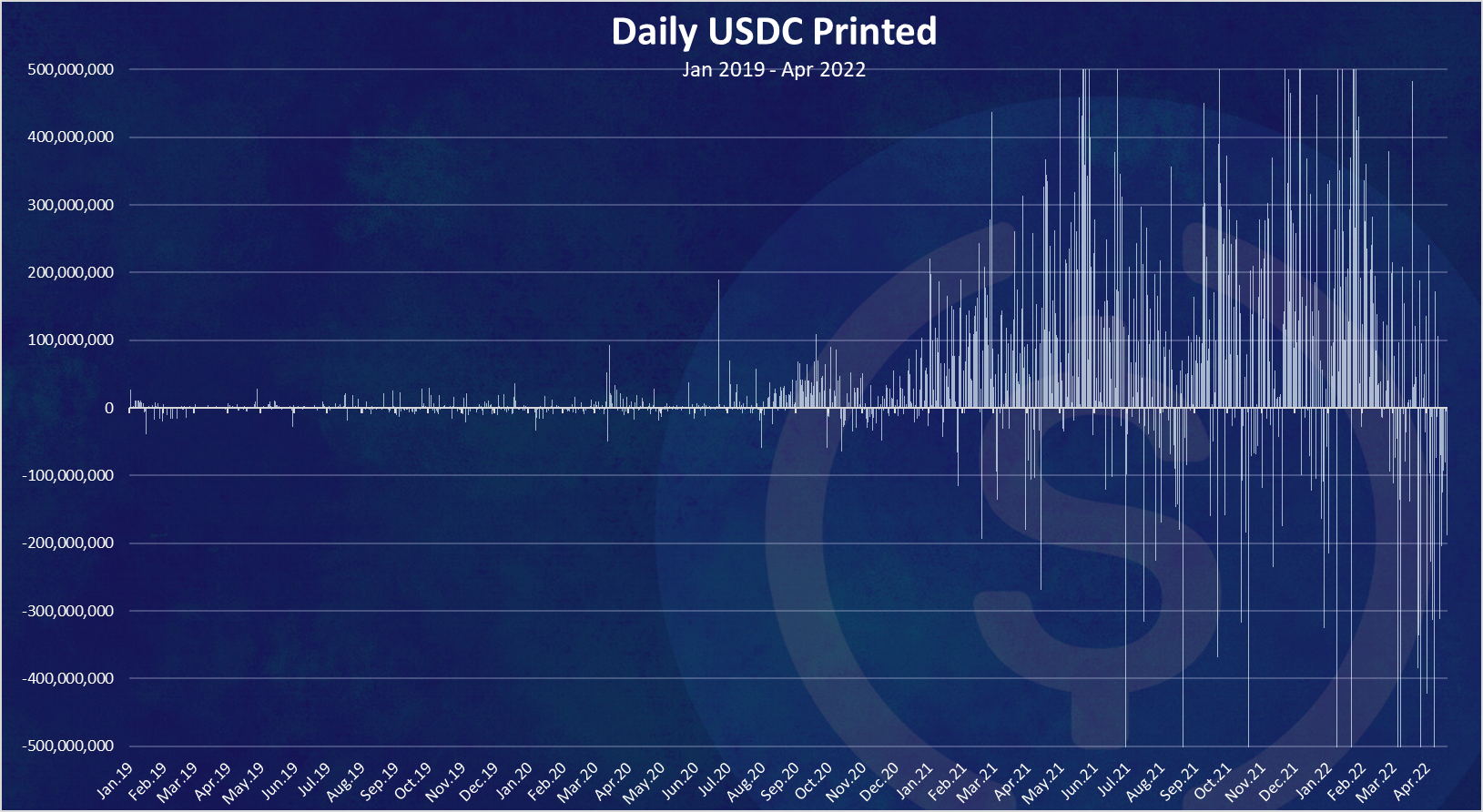 As we can see in the first years there was not a lot of printing for USDC. The larger amounts started to come in 2020 and increased significantly in 2021.
On times there is more then 500M USDC issued per day.
What is interesting from the chart above is that there is also days when there was burning of USDC, reducing the marketcap. It is good to see that there is two ways conversions, since a lot of the other stablecoins, the numbers seems to only go up.
Monthly USDC Printed
Here is the monthly chart.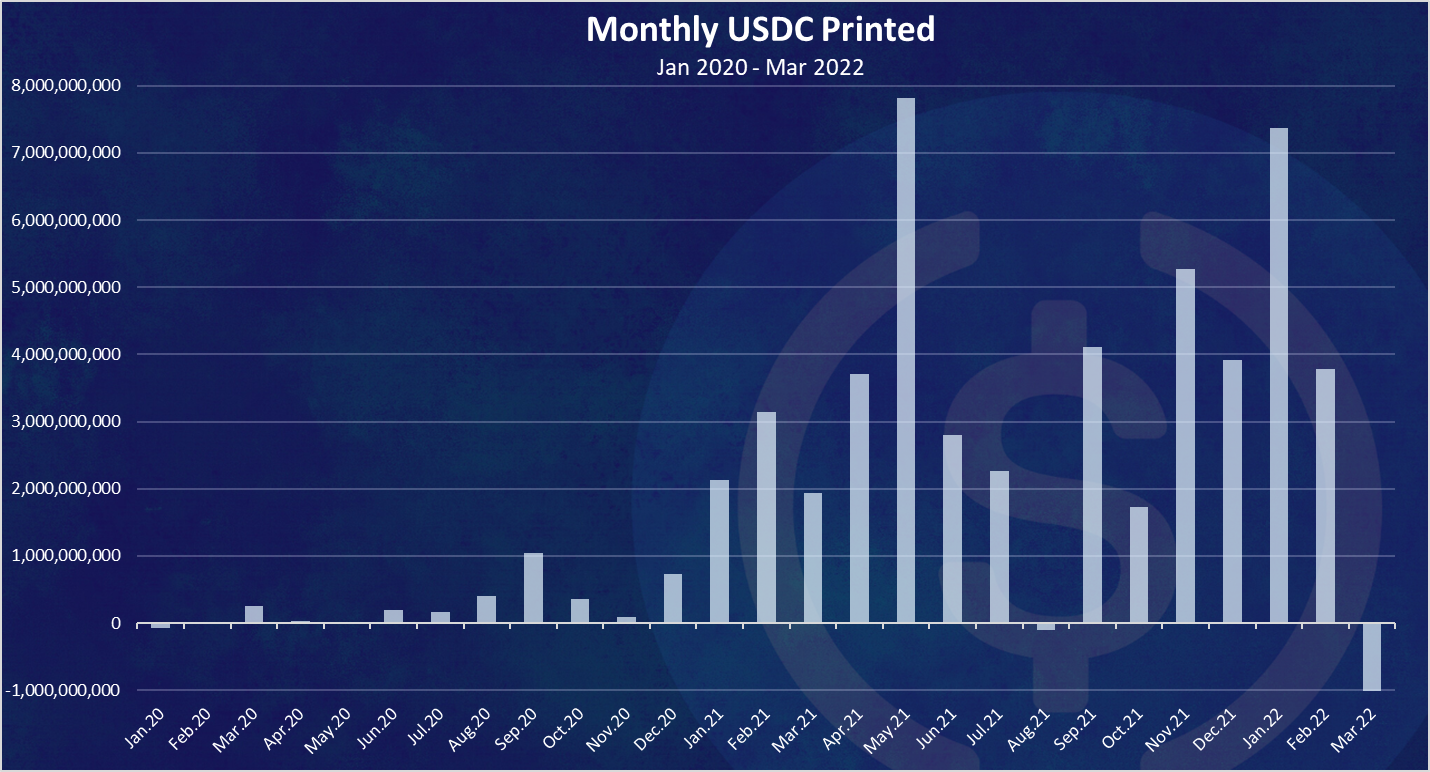 The record for USDC printing on a monthly level is in May 2021, when almost 8B was added in one month. January 2022 has also seen a big number for USDC printed, while interesting in March 2022 we have one of the biggest contraction for USDC supply with 1.5B removed from the marketcap.
USDC Supply
The chart for the USDT supply looks like this.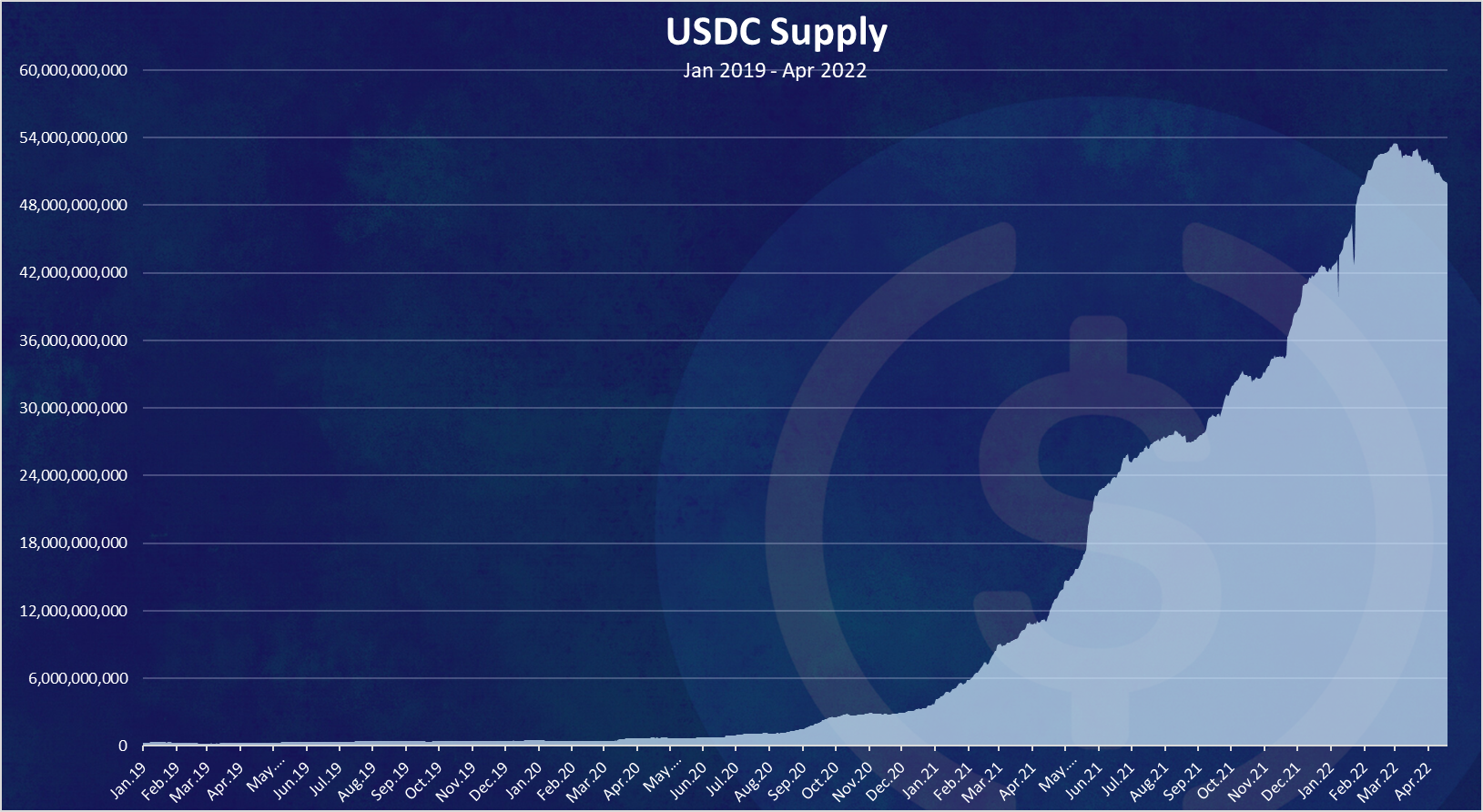 We can see that prior to 2020, the marketcap of USDC was negligible, with under 1B in supply. Then a huge increase in 2020 and 2021 especially. In 2021 only USDC added almost 40B more of its supply.
We can notice the decrease in the USDC marketcap in the last two months. After a long period of time when the marketcap for USDC just kept going up, we now have some cool of.
If we zoom in we have this.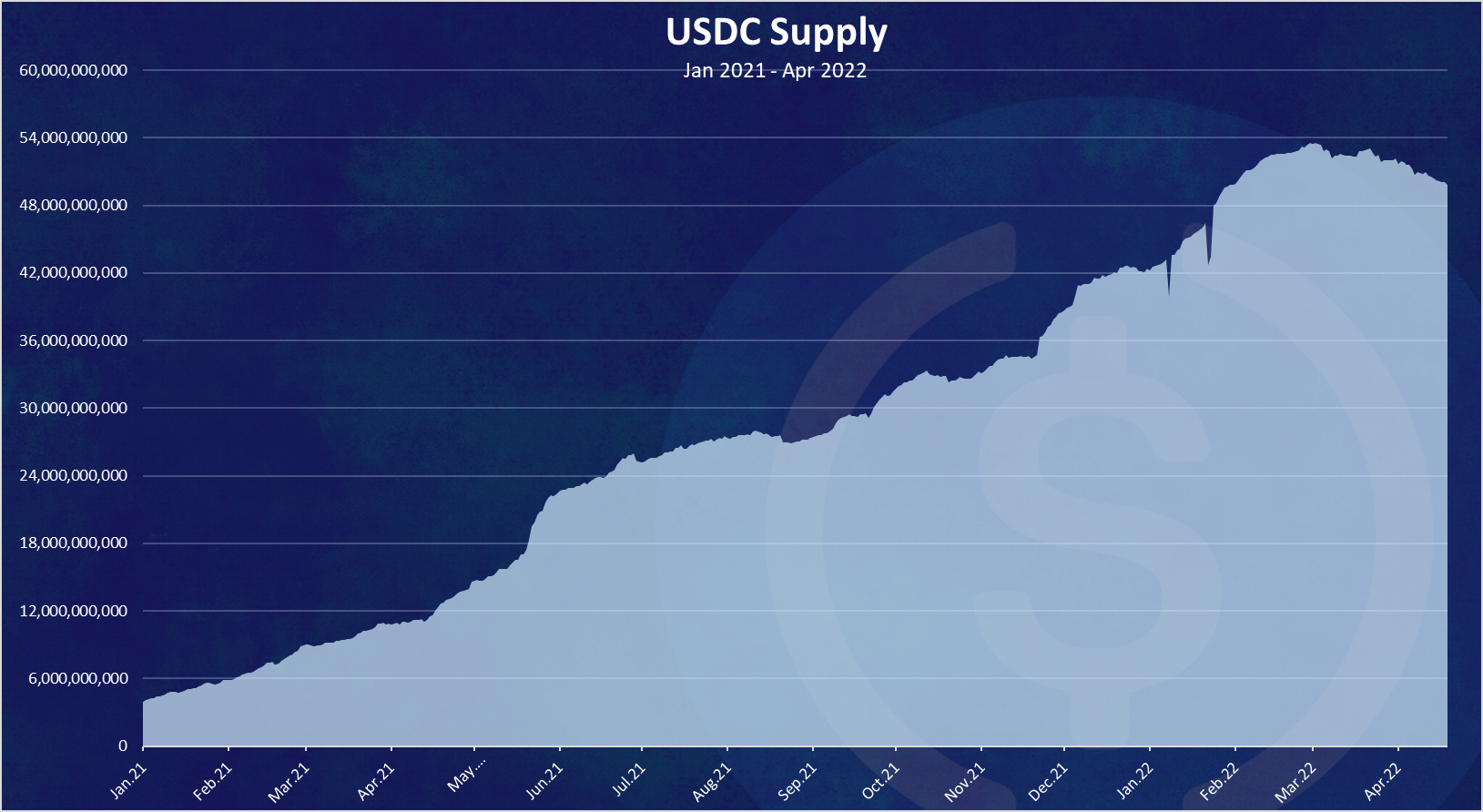 Here again we can notice the uptrend in 2021 and the downtrend in the last two months.
USDC VS USDT
How is USDC doing against the number one stablecoin Tether? Tether was funded three years before USDC, so it has some head start. Is USDC managing to catch up?
Here is the chart.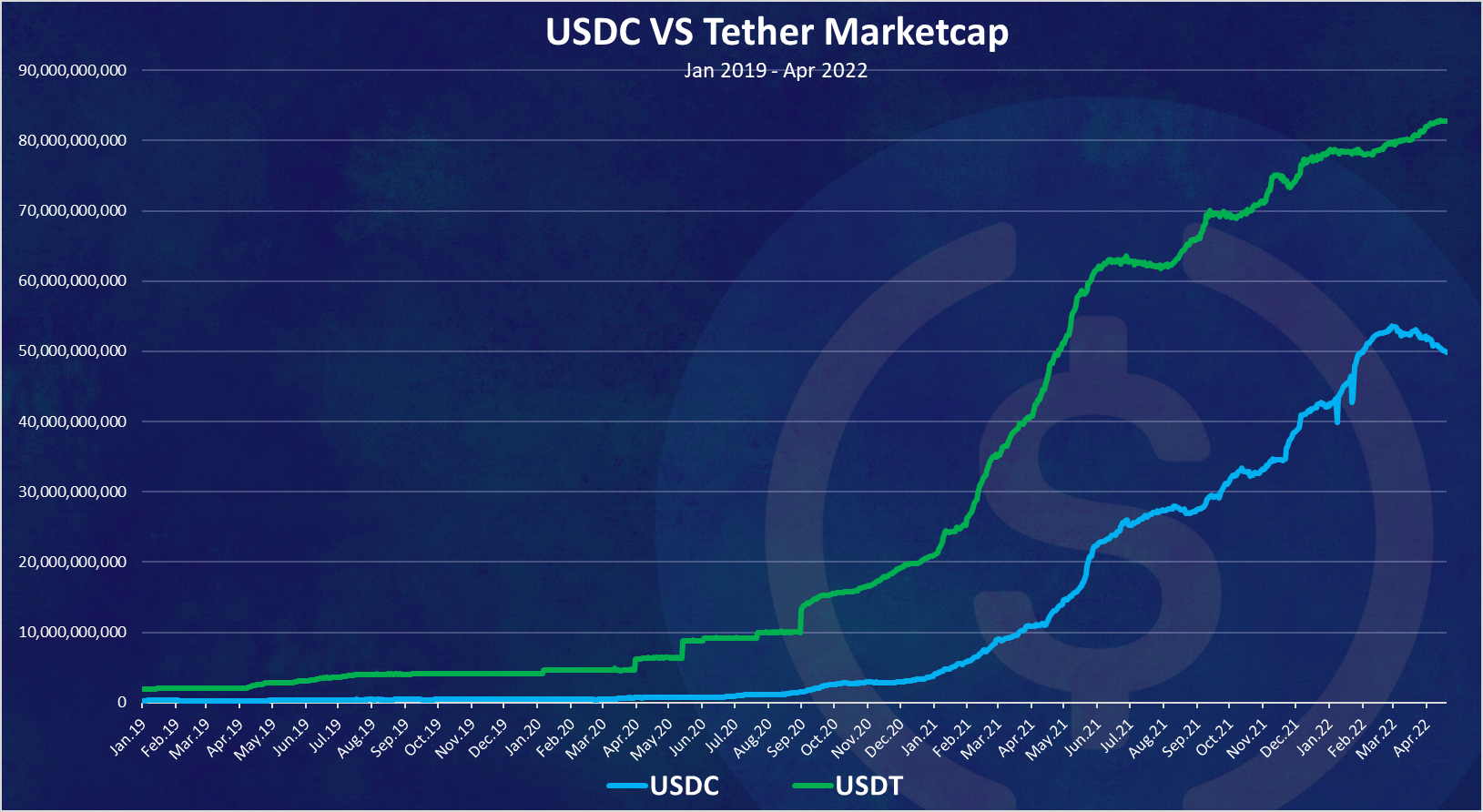 There seems to be a similar pattern for both of the stablecoins when we take a look at their marketcap.
Tether is leading from the very start, and it seems to started increasing its supply a bit more earlier in 2022 then USDC. USCD seems to outperformed Tether in the second half of 2021, when the Tether supply was decreasing while USDC kept growing.
If we zoom in we got this.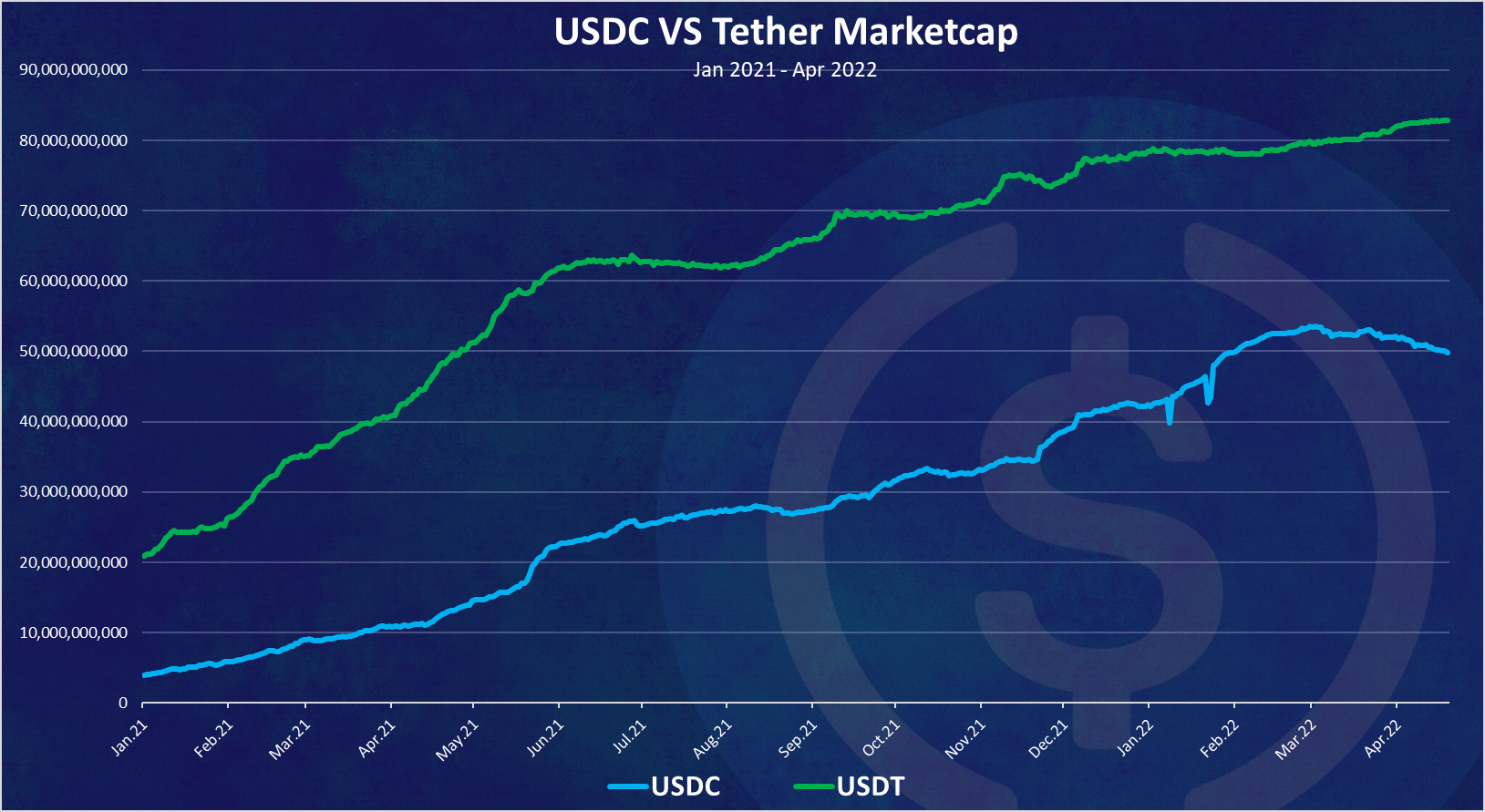 Up until February 2022 USDC was growing faster then USDT and it seemed that is on a track to close the gap further. But then starting from March the USDC supply decreased, while Tether USDT kept it supply quite contants and even managed to add a bit more on top of it.
Because of this in the last two months the gap between this two increased again and Tether is in the lead by a wide margin again.
At the moment the USDT marketcap is 82B while the USDC is 50B. In February 2022 the USDC marketcap was 53B, meaning a decrease in the supply for 3B.
---
Well, it seems that Tether has managed to keep its no.1 position for now. USDC had a great run up until February 2022, but then it seems it lost some of its fuel in the last two months. Still with the latest involvement from BlackRock in USDC and if we see some regulatory framework made soon, there might be a lot of institutional capital going into USDC, that might lead in expansion of its supply and becoming no.1 It all depends on the big boys now and the US regulators 😊.
All the best
@dalz
Posted Using LeoFinance Beta
---
---