[ENG]\[SPN] Forest mushrooms with rice - Setas del bosque con arroz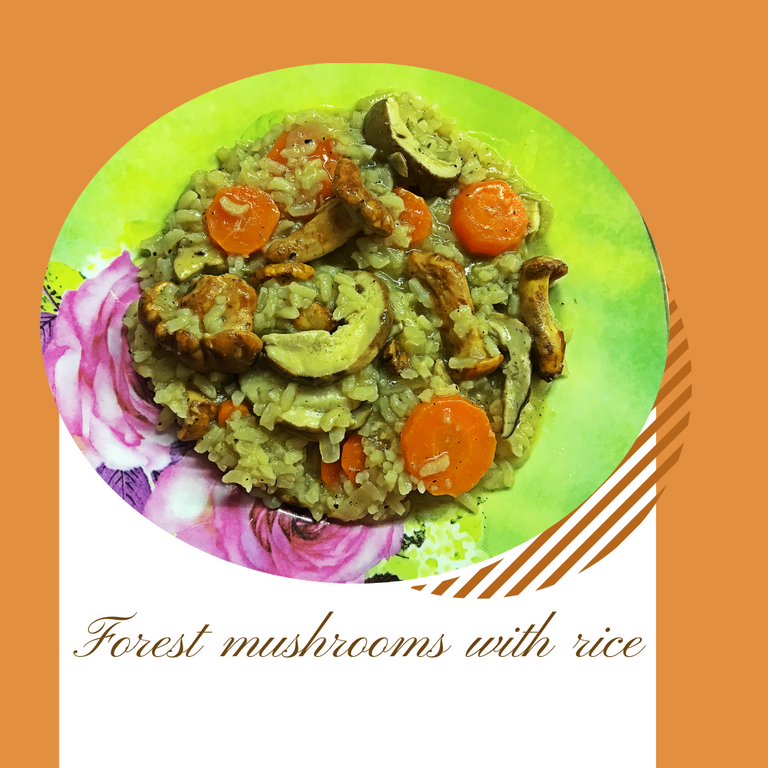 Hello! Today I would like to present you an amazing rice dish. Rice is often present on our table, and this dish is also suitable for vegetarians. The preparation of this dish is quick and easy, which makes it a good choice for housewives who need to cook on the fly. It is also suitable for beginner cooks.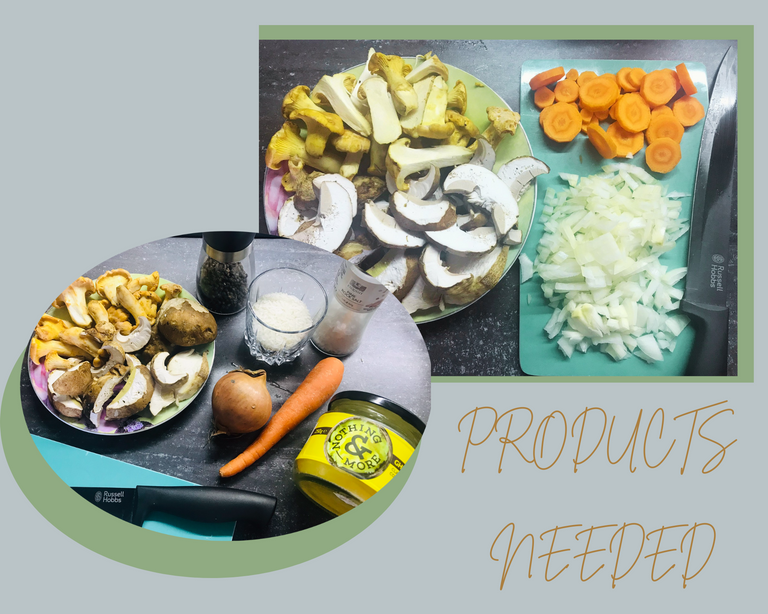 Ingredients:
100g rice
250g wild mushrooms (I used porcini and crow's feet)
1 onion
1 carrot
100-150ml white wine
200ml mushroom broth
40g Ghi
salt and pepper to taste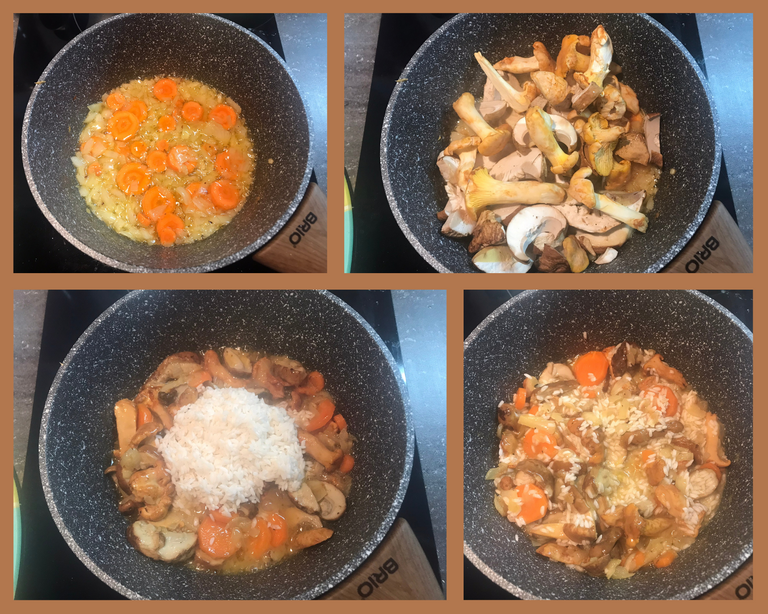 Preparation:
First put the rice to soak in cold water for 30min. Then wash and chop the mushrooms, carrot and onion. Heat the hob and melt the butter. When it starts to fry put the onions in. Let it saute a little and add the carrots and mushrooms. Saute again until the mushrooms release their juices and then add the rice. Cook until the mushroom juices evaporate and the fat remains. Then pour in the mushroom stock and wine. Add the spices and cook until the rice is cooked. Bon appetit!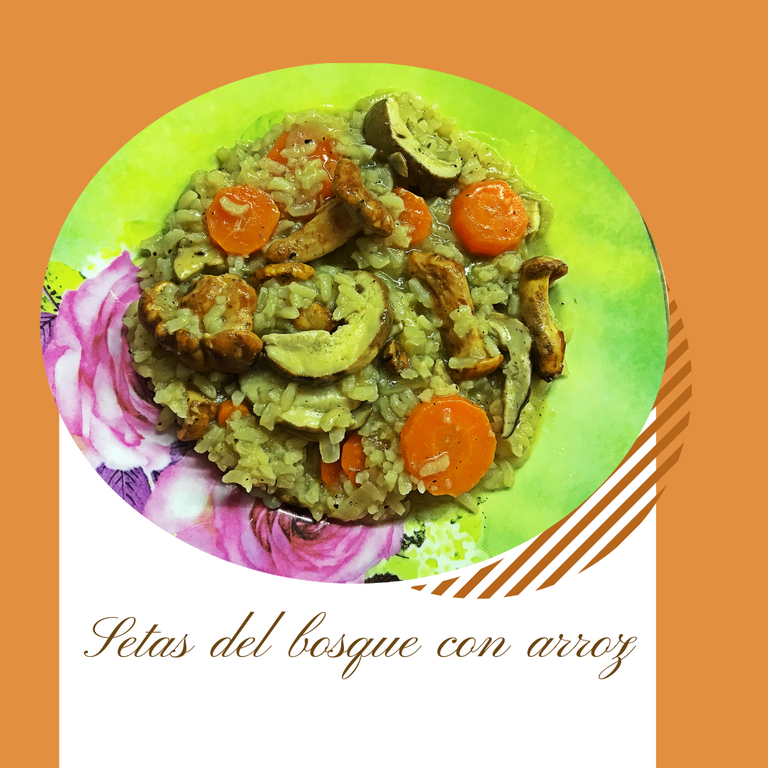 ¡Hola! Hoy me gustaría presentarles un increíble plato de arroz. El arroz suele estar presente en nuestra mesa, y este plato también es apto para vegetarianos. La preparación de este plato es rápida y sencilla, lo que lo convierte en una buena opción para las amas de casa que necesitan cocinar con prisa. También es adecuado para los cocineros principiantes.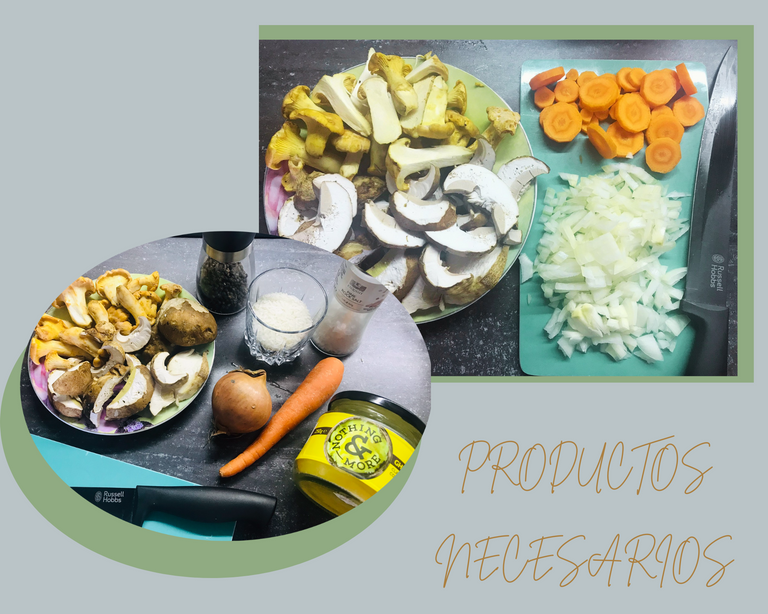 Ingredientes:
100g de arroz
250 g de setas silvestres (he utilizado boletus y patas de gallo)
1 cebolla
1 zanahoria
100-150ml de vino blanco
200 ml de caldo de setas
40g Ghi
sal y pimienta al gusto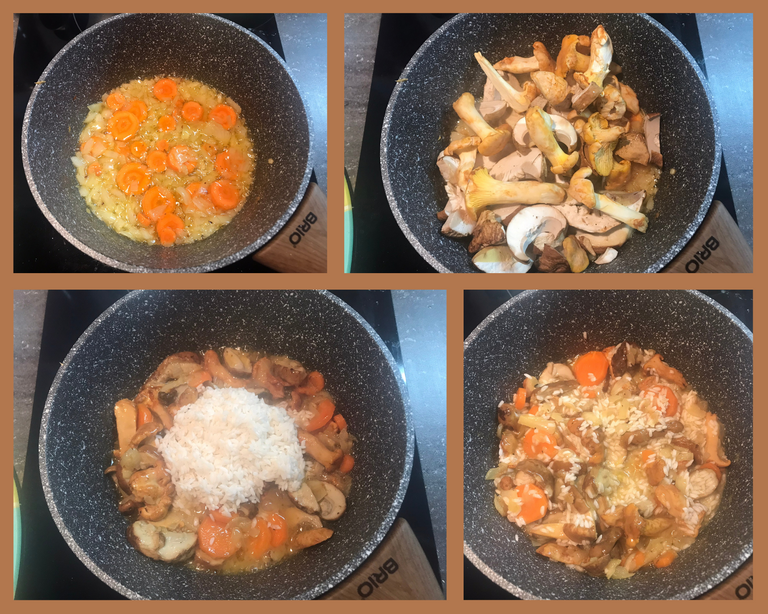 Preparación:
Primero se pone el arroz en remojo en agua fría durante 30 minutos. A continuación, lavar y picar los champiñones, la zanahoria y la cebolla. Calentar el fuego y derretir la mantequilla. Cuando empiece a freírse poner las cebollas. Deja que se rehogue un poco y añade las zanahorias y los champiñones. Saltear de nuevo hasta que las setas suelten su jugo y entonces añadir el arroz. Cocinar hasta que los jugos de los champiñones se evaporen y quede la grasa. A continuación, vierta el caldo de setas y el vino. Añadir las especias y cocinar hasta que el arroz esté cocido. ¡Buen provecho!

---
---