[ESPN] Shakhtar Donetsk (Ukr) - Monaco (Fra) Hoy 21:00 GMT | ¿Quién se va a casa esta noche? [ENG] Shakhtar Donetsk (Ukr) - Monaco (Fra) Today 21:00 GMT | Who Goes Home Tonight?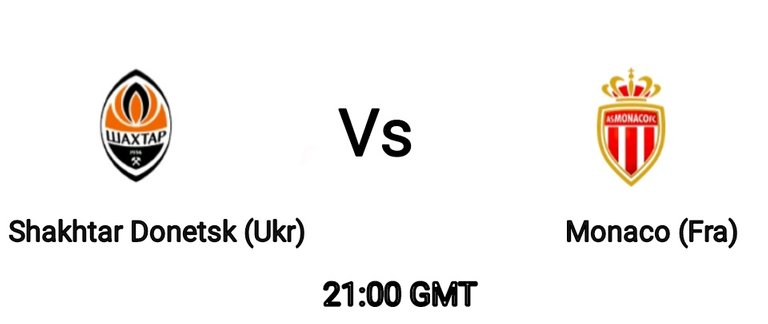 ¡Hola amantes del deporte!
Mientras todos nos preparamos para la mayor liga del planeta Tierra, se han establecido algunas calificaciones conocidas para los pequeños que han elegido participar con las ballenas de la historia del fútbol.
A las 21:00 GMT de esta noche, el equipo de fútbol Shakhtar Donetsk de Ucrania recibirá a los franceses de la ciudad de fútbol Mónaco de Francia en el partido de vuelta.
Actualmente, el Shakhtar Donetsk tiene la ventaja de la clasificación, ya que fue capaz de derrotar al Mónaco (0:1) en su campo.
Aunque hay muchas esperanzas de que el Mónaco se recupere de la derrota y no le importe el hecho de jugar un partido fuera de casa. ¿Es la ventaja de jugar en casa para ellos o simplemente un partido de fútbol en el que puede pasar cualquier cosa?
Consideremos las rachas de los equipos
Cara a cara:
Ambos equipos se han emparejado dos veces en los partidos de la Liga de Campeones de la UEFA y el Shakhtar Donetsk ganó en los dos encuentros.
Equipo local: Shakhtar Donetsk
El Shakhtar Donetsk ha ganado 4/5 de sus últimos cinco partidos.
Entre los partidos se encuentran 3 de la Premier League en los que perdieron 1 ante el Oleksandria, mientras que los otros fueron partidos de clasificación para la UEFA Champions League. Entre los partidos de clasificación para la Liga de Campeones de la UEFA, 1 fue el del KRC Genk y el otro fue contra el Mónaco, el partido de ida de hoy.
Estos dos partidos los ganaron con éxito.
AS Mónaco:
El Mónaco no ha estado en el buen camino en sus últimos 5 partidos. Entre estos partidos, el Mónaco ha perdido 3 partidos seguidos, ha empatado 1 y ha ganado 1 contra el Sparta Preha, el partido de la UEFA que les clasificó para tener estos encuentros con el Shakhtar Donetsk.
[ENG] Hello sports lovers!
As we all prepare for the greatest league on planet Earth, there have been some know qualifications set for the little ones who have chosen to participate with the whales in the history of football.
By 21:00 GMT tonight, Shakhtar Donetsk football team of Ukraine will host the Frenchmen from the city of Monaco football of France in the second leg of the event.
Currently, Shakhtar Donetsk has the advantage of qualifying since they were able to defeat Monaco (0:1) in their home ground.
Though there are many hopes that Monaco would bounce back from the defeat and not minding the fact that they are playing an away match. Is the home advantage for them or just a game of football where anything can happen?
Let's consider the teams streaks
Head to Head:
Both teams have mate twice in the UEFA champions league games and Shakhtar Donetsk won in the two games.
Home team: Shakhtar Donetsk
Shakhtar Donetsk in their last five games won 4/5.
Among the games were 3 Premier league games which they loss 1 to Oleksandria while the other w were UEFA champions league qualifiers. Among the UEFA champions league qualifiers, 1 was that of KRC Genk and the other was against Monaco, the first leg of today's meeting.
They successfully won these two games.
AS Monaco:
Monaco has not been on the right tract in their last five games. Among these games, Monaco loss 3 straight games, drew 1 and won 1 against Sparta Preha, the UEFA game that qualified them to have these meetings with Shakhtar Donetsk.
Posible once inicial:
Possible first eleven:
Shakhtar Donetsk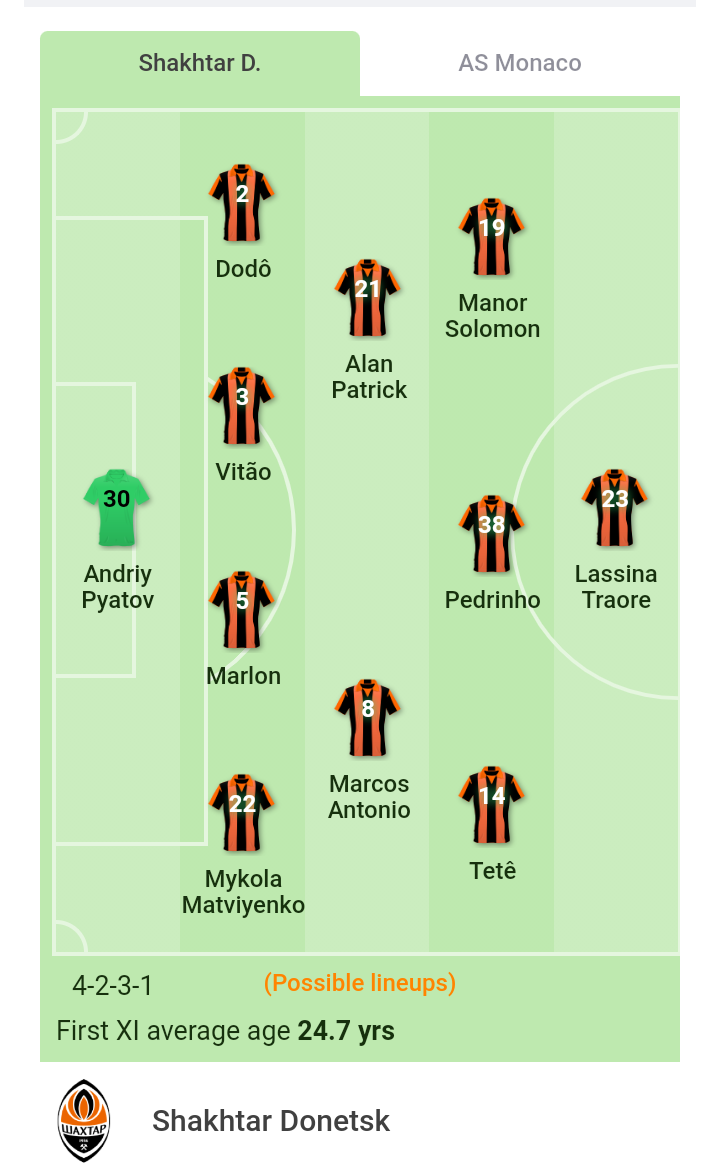 Source
Mónaco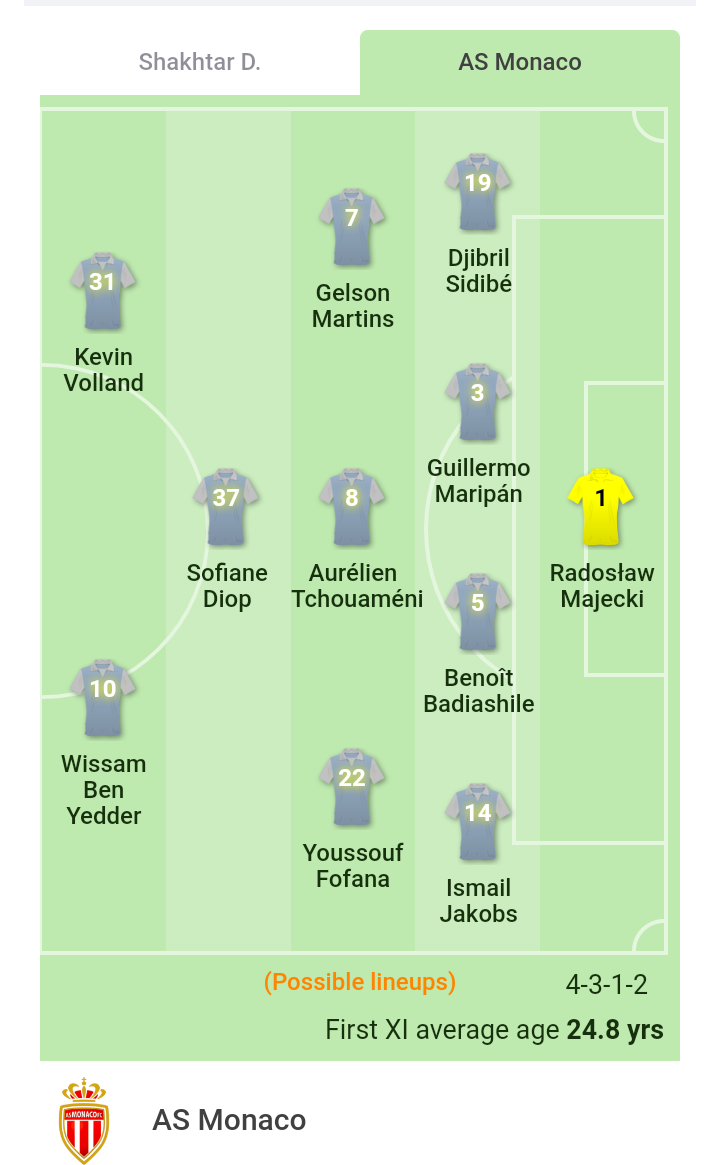 Source
¿Cuál es tu pronóstico para este encuentro?
¿Se clasificará el Mónaco o dejará paso al Shakhtar Donetsk?
So, what's you prediction for this meeting?
Will Monaco qualify or make way for Shakhtar Donetsk?
---
---