SEASON 3 POB-WOTW: "What's Your Story?"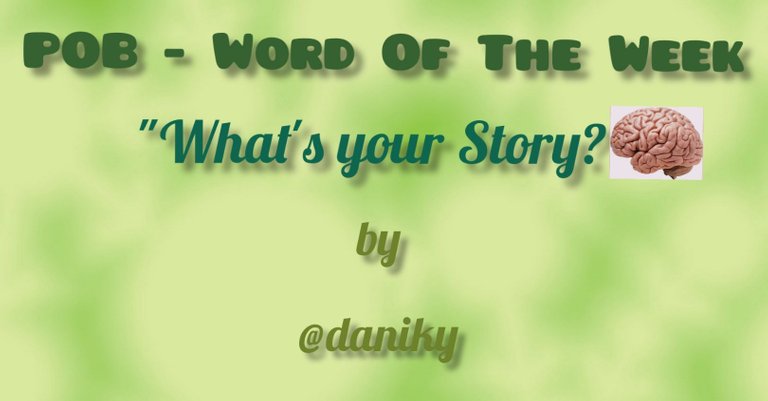 Story is what we'll definitely live to share one way or the other as it's a proof of our brain power. One needs to reason to tell or formulate a story. Our story becomes an history which is a clear indication that anything that once have a beginning will definitely have an end. How will life be without one having to tell a story? It'll definitely look more like one trying so had catching a glimpse of shadow in the sky without comprehension.
We definitely need an audience to hear us out be it from the discord server or on hive blog. One needs to learn from our past experience or fictional subconsciousness in order not to fall prey to unplanned circumstances.
I've always been determined and focussed on my life goals and expectations. Though i never had someone that could help me at my point of frailty but all i could do was to later summon courage by taking the bull by the horns. Before then, those that promised me failed me, i was broken and helpless but i thank my Maker for the inner strength i developed when it seems no way was working through as expected. There I came to realize that my destiny lies in my hands so i have no one to blame for my predicaments. From that moment, i had learnt to live without expectations of any sort and this also helped me to be self reliant and confident.
Today, it's good to see that none of those that betrayed my trust could boast of helping me one way or the other when i needed their help most. This is my story. I'm growing, getting better and stronger. I never gave up till i scaled through the hurdles of life to be where i am today. I'm still moving and learning and this is a lesson to someone who thinks life is worthless. Never give up but rather keep your eyes on your goals and never backslide. You're more than close to achieve that greatness you want for your life. Thank you.
I want to use this medium to appreciate @calumam and @scholaris for this initiative and wish to invite interested #hiveans to be part of this weekly contest.
This is my entry to the #POB Word of the Week Challenge, an initiative of @calumam, championed by @scholaris For update and participation click here for more details.
---
Thank you for your time and do have a wonderful moment
---
---
Posted via proofofbrain.io
---
---