WEEK 23 EDITION 1 || JUNIOR'S SUCCESS LIFE STORY
Hello and welcome to my page. I'm @daniky and here is my entry to the weekly featured content for week 23 edition 1. Kindly follow me as i proceed;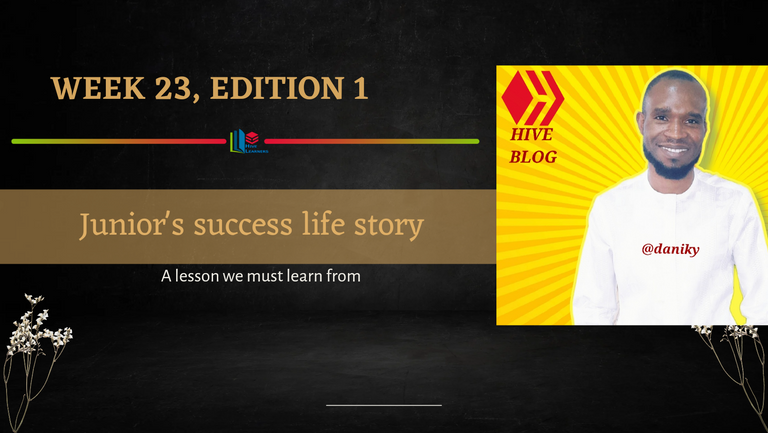 Made with Canva App
Junior was a smart and diligent young boy who took after his Dad. He was the first of 9 siblings not long the mother gave birth to the last child she died. Two years later the father decided to remarry because it's been tough on him nurturing the children alone and besides, his close friend, Ebuka advised him to get marrried again for the sake of his motherless children.
Mr Alibaba (Junior's father) was being more extremely careful because he knows what it takes for his children to be nurtured by another woman. The experiences he had with his step mother mustn't repeat itself in the life of his children. So he decided to marry a mature widow close to his age range since he doesn't need a child anymore but someone who could help nurture his growing kids.
The widow name was Madam Abe, she lost her husband few months after her wedding about 20years ago. She got a daughter for her deceased husband few months after his death as she was pregnant when her husband died. She decided never to remarry since she already had a daughter for her late husband. What changed her mind later was the fact that she love kids and Junior father was a very good and hardworking man who was down to earth. She has been a very good friend to Mr Alibaba for donkey years on an official basis and they both share this mutual understanding between themselves for long right from the moment she lost her husband.
So after Mrs Abe got married to Mr Alibaba, the marriage got so sweet that there was love and growth in the family. Already the total children are now 10 (consisting of 9boys and 1girl). The children of Mr Alibaba were all boys before he got married to Mrs Abe who had a beautiful daughter. Junior was 2years older than her while the youngest of the children is about 7years plus. Junior was so kind and close to his step mum and sister and they all lived happily. Junior was an undergraduate student from a prestigious University while Sharon was an artisan. She was learning fashion designing.
The genesis of the family problem started when Mr Alibaba lost his job. His wife and children fully depends on him for all their basic necessities and he did well to make every needs available accordingly. Before he lost his job he was planning on setting up Mrs Abe in a private business and pay his children's school fees for the new session coupled with Junior's final year project money, but he used his life savings to invest on a multilevel marketing business scheme that promised to yield double interest for him within the next one week which he unfortunately later discovered was a scam after investing his life savings in it. This situation set Alibaba's family back to square one.
Mrs Abe managed to start a bean cake business with the little money she had on her but the children wouldn't allow her make a profitable sale as they must have finished the bean cake with little or no sale without a profit. Her business started deteriorating while Mr Alibaba went ahead to borrow money from a microfinance bank. He used his house and two other landed properties as collateral. Little did he know that he would be robbed and assinated on his way back from the bank. The money he got was stolen and the house occupied by his wife and children had been used as collateral and there's no way out or where to run to. Junior was at the verge of spending an extra year at the University as he wasn't able to settle his project money and no one among his uncles, aunties or relatives could be of help to him and his family at that year. Soonerafter the demise of Mr Alibaba, Mrs Abe was gasping for breathe as she was asthmatic and this life-threatening and later got to the extreme of loosing her life.
The children were left behind to face life squarely. Junior, Sharon and their siblings evacuated from their vicinity as the bank took legal action to disposses them of all they had left from their parent. They were ordered out of their house and not allowed to move anything except their luggage. They were sent down the street boarders out of the estate they were residing. They spent both day and night in the rain and cold weather sourcing for a temporary shelter. Sharon decided to find a fast means of earning money and thought the only out was prostitution, so she became a sex hawker till she was used for money ritual by one of her business clients. Junior was later fortunate to be given a mold house from one of his friend's father as a temporary shelter for him and his siblings pending the moment he'll be able to stand on his two feet financially. So he lived there with his siblings while he hustled with his immediate 3brothers to enable them take care of the growing kids. They later raised money to bury their dead late father, step mother and step sister.
Within the next 2years junior graduated from the University and marvelously secured a job in one of the leading oil companies at portharcourt. By this, he was able to sponsor his siblings to school till university level. Today, He's one of the directors in this oil firm. His siblings are adult today and are happily married with kids. Junior got married 5years ago and he's glamouring in wealth.
From this story, here are life hacks I learnt;
1. No matter how profitable a business scheme might look, always make detailed enquires to be sure of the authenticity of such an investment before venturing to it.
2. Never invest your life savings on any business that claims to yield massive profits. Spare money can be used for that.
3. Avoid borrowing from centralised banks. If you must borrow, never let it be much and ensure it's a quality you can afford to pay back in a short-time
4. Giving birth to many children isn't reasonable no matter how rich or wealthy you can be. There are many children out there in diverse orphanages who needs your finacial aid. So if you must need more child, adopt and minimize the population of children suffering in this world.
5. No matter how weathy you are, train your children on business management skills. Let them know how to multiply the little income they have rather than consuming at all times.
6. Beside sponsoring your child to school, let them learn how to be creative on their own and inculcate in them; the ability to plan their lives.
7. Someone around you needs your help to that next level of life. Why don't you be a part of that person's success story. Accommodation is very vital for one's progress in life. When you have a place to lay your head at night, you'll definitely have the course to think, be smart and be successful in your life endeavours.
Hope you pick one lesson or the other from this. Those who wish to participate in this initiative can visit @kronias page for more detail. This is my entry to the weekly featured contents "week 23, edition 1."
Note: All editable images are mine except for those specific to the hive learner community.

Thank you for your time and do have a wonderful moment

---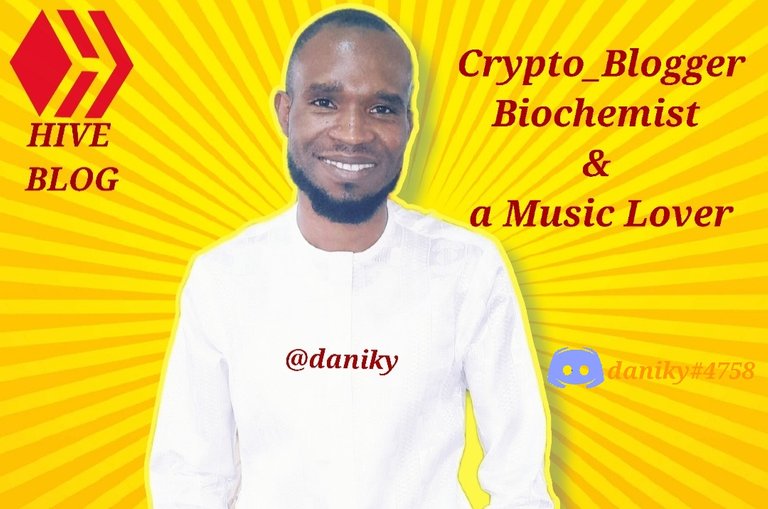 Made with Canva App
---
---