Cemetery visit experience! / Cemetery visit experience!
(Las toscas de caragüatá departamento de tacuarembó)
The toscas of caragüatá department of tacuarembo)
                                                                      Sucedido: enero del año 2005.

Happened: January 2005.
                                                                     Relatado: 29 de mayo 2013.

Reported: May 29, 2013.
Buenas tardes cominidad! en el día de hoy me gustaría compartir con ustedes una experiencia que encontré revolviendo en mis archivos del pasado y por aquí se las dejo!
Good afternoon community! today I would like to share with you an experience that I found digging through my files from the past and here I leave it!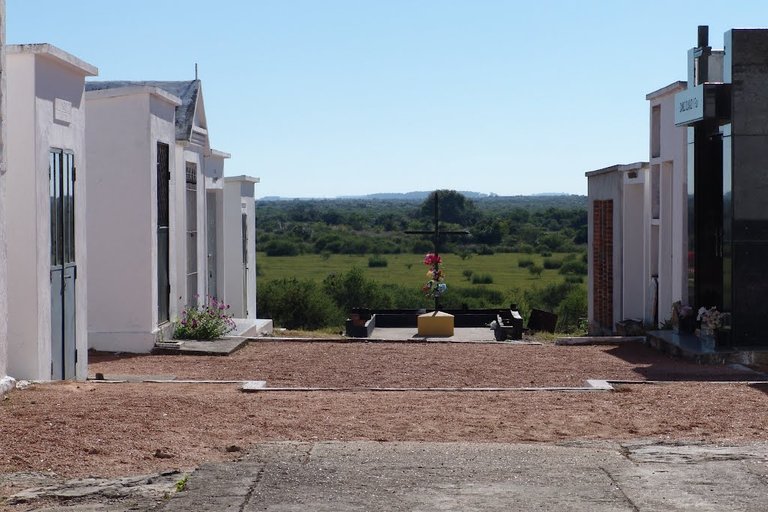 En el año 2005 con mi familia nos fuimos a visitar a mis abuelos y tías que viven en las toscas de caragüatá.
Todas las tardes yo me iba al arroyo caragüatá el cual queda a 3 kilómetros y medio de la casa de mis abuelos, por lo general iba sola o en ocasiones con un grupo de amigos.
In 2005 with my family we went to visit my grandparents and aunts who live in the toscas of Caragüatá.
Every afternoon I would go to the Caragüatá stream, which is 3 and a half kilometers from my grandparents' house, usually alone or sometimes with a group of friends.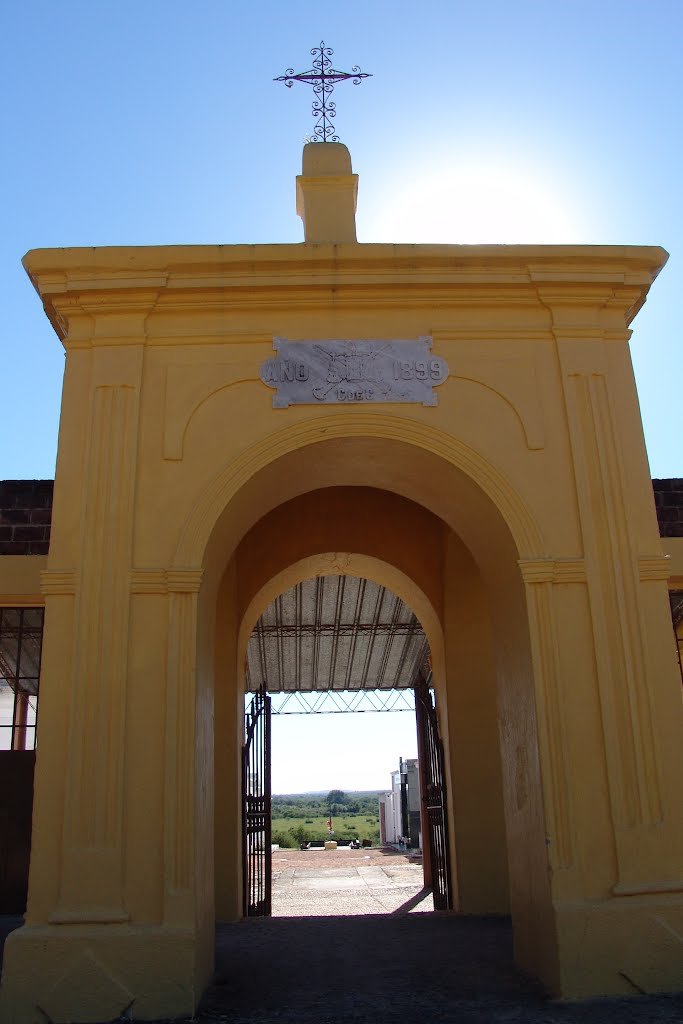 Un día fui con mi tía Lely, en bicicleta como de costumbre, pasamos parte de la tarde en el arroyo y cuando eran las 5 y poquito se nos ocurrió ir al cementerio, que queda aproximadamente a 1 cuadra del arroyo, dejamos las bicicletas afuera del cementerio.
One day I went with my aunt Lely, by bicycle as usual, we spent part of the afternoon in the creek and when it was 5 o'clock and it occurred to us to go to the cemetery, which is approximately 1 block from the creek, we left the bicycles outside the graveyard.
Cuando Entramos y empezamos a recorrer y mi tía Lely empezó a levantar las flores que estaban tiradas en el suelo y las empezó a poner en algunas de las tumbas que no tenían.
Empezó a decir: "ah pobre muertito, se olvidaron de vos, tomá yo te dejo una florcita" y siguió dejando flores en las tumbas.
When we entered and began to walk around and my aunt Lely began to pick up the flowers that were lying on the ground and began to put them on some of the graves that they did not have.
She began to say: "oh, poor little dead man, they forgot about you, take it, I'll leave you a little flower" and she continued leaving flowers on the graves.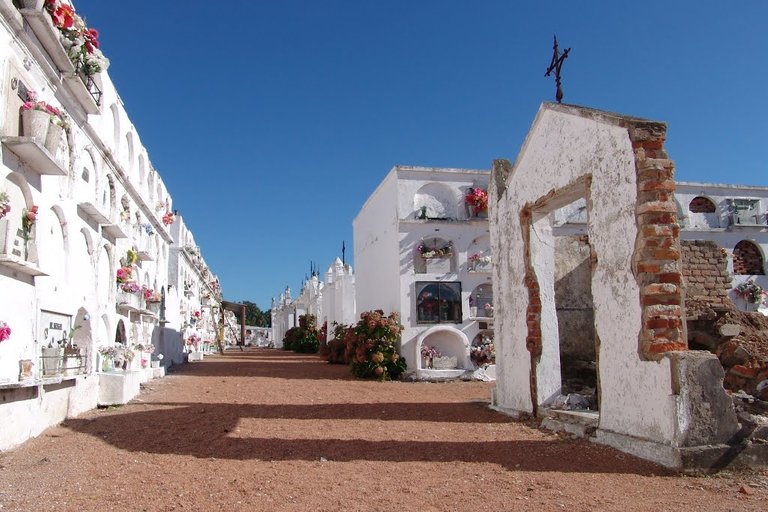 Llegamos a la tumba de una mujer la cual decian que era bruja,
Lely me contó en el cementerio que esa era la tumba de la bruja que le había metido algo en el mate a la hermana de su esposo Robin y quedo loca y nunca pudieron deshacerle el maleficio ya que les dijeron que le tenia que retirar el trabajo la misma persona que se lo había echo, lo cual era imposible por que quien lo hizo ya había muerto.
La hermana de Robin murió muy joven hace unos años.
Mi tía me señalo la tumba y dijo "ahí esta la bruja podrida esa" "a vos por malvada no te voy a dejar ninguna flor".
We arrived at the tomb of a woman who was said to be a witch,
Lely told me in the cemetery that that was the tomb of the witch who had put something in her husband Robin's sister's drink and she went crazy and could never undo the curse since they were told that she had to withdraw her work the same person who had done it, which was impossible because whoever did it had already died.
Robin's sister died very young a few years ago.
My aunt pointed to the grave and said "there's that rotten witch" "I'm not going to leave you any flowers because you're evil."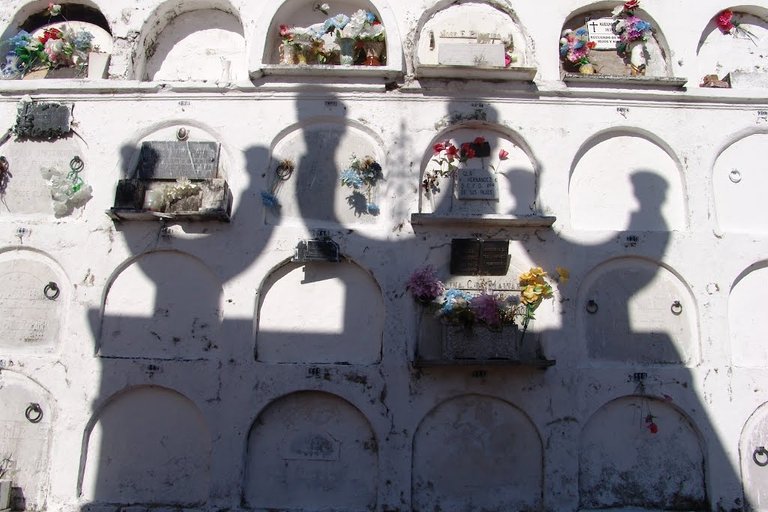 Después de decir eso dimos la vuelta y empezamos a recorrer hacia el otro lado del cementerio, llegamos al final y donde están las urnas, de entre ellas salía un lagarto!, nos miro y se quedo quieto, Esa tarde eramos nosotras las unicas dos personas dentro del cementerio!!
After saying that we turned around and started to walk to the other side of the cemetery, we reached the end and where the urns are, a lizard came out of them! He looked at us and stayed still, That afternoon we were the only two people inside the graveyard!!
Enseguida dijimos "vámonos!!!" ya que nos acordamos que según dicen los lagartos te persiguen y te pegan con la cola!!
Caminamos rumbo a la entrada del cementerio y de repente sentimos un ruido como que golpearan dos veces "toc,….toc" en el mármol de una antigüa tumba, nos morimos de miedo!! salimos muy rápido del cementerio agarramos las bicicletas y huímos de allí!!
We immediately said "let's go!!!" since we remember that according to what they say the lizards chase you and hit you with their tails!!
We walked towards the entrance of the cemetery and suddenly we heard a noise like knocking twice "knock,….knock" on the marble of an ancient tomb, we were scared to death!! We left the cemetery very quickly, we grabbed the bicycles and we ran away from there!
Lo que mas me asusto fue que mi tía me había contado tiempo antes que hace algunos años ella había ido al cementerio con un grupo de amigas y también sintieron el mismo ruido en el mismo lugar!.
What scared me the most was that my aunt had told me some time before that a few years ago she had gone to the cemetery with a group of friends and they also heard the same noise in the same place!

---
---