dCrops - Discovered Convert Hive Ability
There are times when some of the other convert hive website are out of funding and you are in an urgent need to get your hive converted so that you can make that purchase before anyone else does. At one point, I went to several different sites and they were all out of funding.
Well now there is another option. You can now convert your Hive to Swap.Hive and back again on the dCrops website. I had never noticed this before in the menu so it could have been there all along but I am just now discovering it. The fee is only 0.25% which is in line with several of the other sites.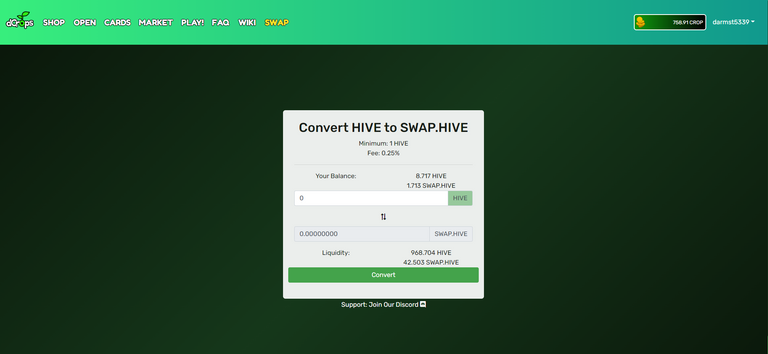 Mystery Seed Purchase Pays Off
Each season I purchase a mystery seed for 40 Crop Tokens instead of purchasing a new seed from the market. This helps me expand my seed collection without spending a lot of funds to do so.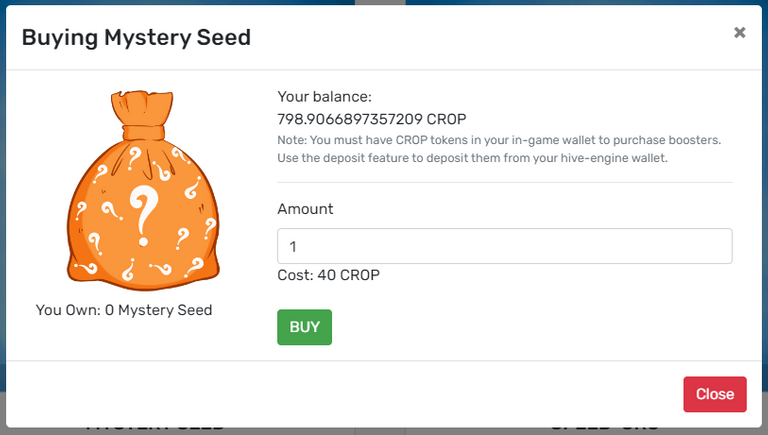 I planted my mystery seed first since you never know which one you will get so do not know how long it will take to mature.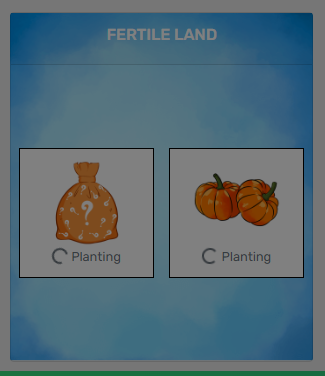 I am so glad I planted it first because it turned into a pumpkin seed.

If I would have purchased a Pumpkin seed from the in-game market, I would have needed to spend 247 CROP tokens instead it only cost me 40 CROP tokens. This decision saved me over 200 CROP tokens which provide funds to purchase 5 more mystery seeds in the future basically for free.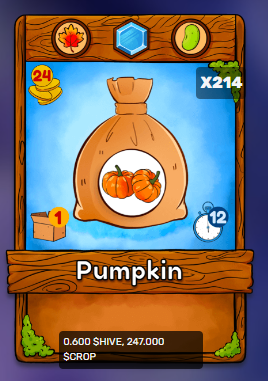 Fall Season Planting
I have 2 Garlic, 2 Carrot, 2 Pumpkin and the mystery seed that I just purchased available for planting. I always plant the mystery seed first followed by the next seed that takes the longest to mature for harvesting.
In this case, I selected the 2 Pumpkin seed next to plant. Pumpkin seed take 12 days to mature so will be ready for harvesting 2 days prior to the end of the Fall Season. I just have to make sure I get back and harvest them prior to the season ending.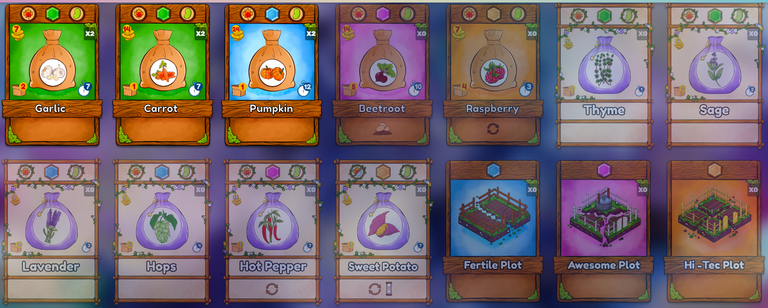 Since the Carrot and Garlic seed both take 7 days to mature, I planted one of each in the last two land plots I had available. This leaves me with two seed left for planting. Since there are 14 days and 4 hours left in the season, the timing to harvest and plant the last two seed will be very tight and easy to miss. I just hope I can time it correctly because I would also need time at the end of the season to harvest those seed as well after they matured.

---
To help support the community, I have become a Hive Engine Witness. My HE witness name is @darmst . If you would like to support me support the community, I would appreciate your Workerbee vote. You can vote at https://primersion.com/he-witnesses I am currently around 30th on the list.
Posted using 1UP - Play2Earn & NFTs
---
---