Rising Star - Lvl 70 Achieved and New Record Signing Mission
I have mentioned the Rising Star Fan Club in a few of my prior post. Rising Star has just expanded on that part of the game.
New Record Signing Mission
You are one of the biggest fans of your favorite artist. What would be better than to get them to sign a copy of a record for you? You wait in line for hours it seems and then you get to meet them face to face. Are you excited?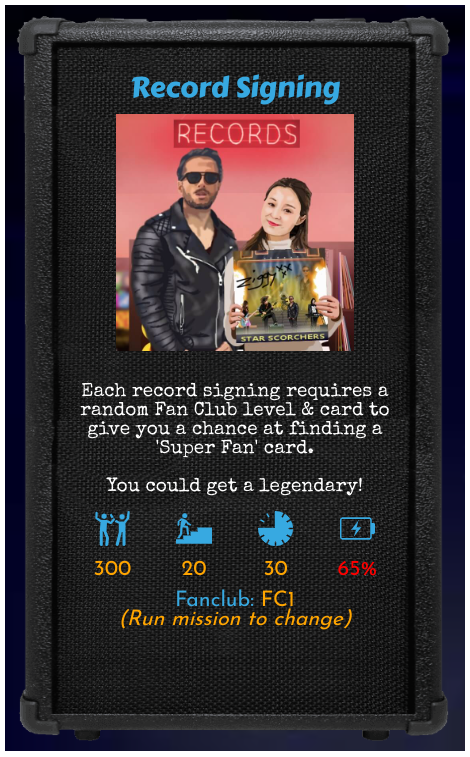 To run the first mission, you will need to have the FC1 Fan Club Card, 300 Fans, Level 20 and 65% energy. The requirements are so low almost anyone can run this mission.
After running the mission, I received a new card - FA1 Supportive Friend. The new card has 5 Fans and 5 Skill. There are only 676 so far issued in the game.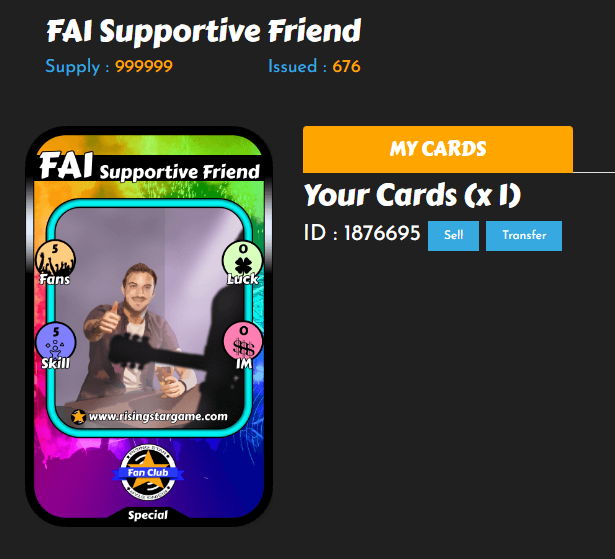 Next Record Signing Mission
The FanClub requirements change with each mission. To run the mission again, I will need FC5. So far, I am at FC2 so I need to run the Fan Club missions quite a few times before I can run the record Signing mission again.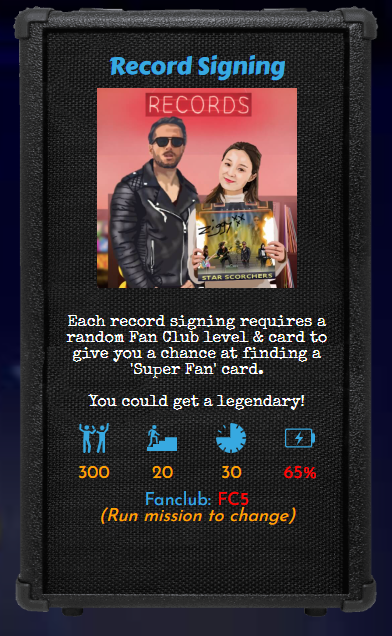 Weekly Progress
To be able to tell if you are making any progress toward anything you set out to do is to record your starting position and then periodically measure how far you have progressed since your last measurement.
I have been playing Rising Star consistently since the first of 2022. It helps me to track my progress so that I can see what areas may need additional attention.
I slipped a little more out of the top 1000, now sitting at 1054 from 1023 last week. I need to see if I can consistently be under 1000. The players at the same ranking are running missions for more weekly minutes. I will need to see if I can increase my mission minutes as well.
Here are my Jun 18th stats:
Ranking: 1054 (-31)


Current Stats
I am slowing increasing all of my stats. I gained a new group of drunk fans overnight. I now have 645 drunk fans. I had been working so hard on running the music lesson missions at least twice a day that I was making great progress on lowering my Ego then I received more drunk fans.
Fans: 3490 (+775)
Ego: 15% (+9)
Skill: 6201 (+300)
Luck: 537 (+11)
IM: 46 (+2)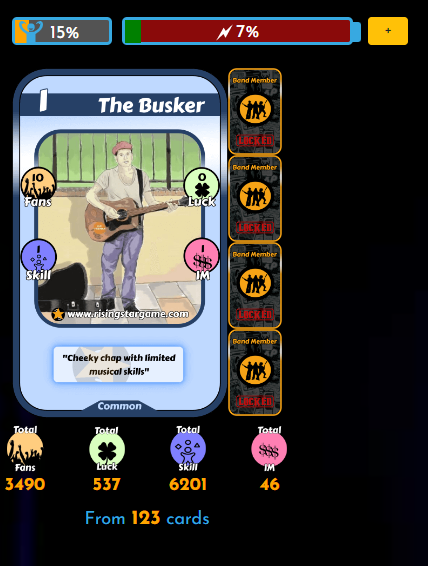 My level is now 70, only 5 away from the next major milestone. At level 75, several new missions open up to the player. I can't wait to be able to start working on all the new things that are in store at and above that level.

Weekly Pack Purchase
I received the standard rare and two common in my pack.
i81 Busker R10 - 5 Luck
i84 SS Eleven - 5 Luck
R199 Harriet - 100 Fans, 125 Skill, 2 Luck and 2 IM
I already have all of these cards so no new unique cards for me with this card pack purchase. I have found that unique cards help with my ranking more than just getting duplicate cards. The instruments will help to increase the max skill points I receive from music lessons.

---
If you are interested in playing, check it out at the below link. It is free to join, login with your Hive Keychain.
https://www.risingstargame.com?referrer=darmst5339
Posted using 1UP - Play2Earn & NFTs
---
---