Rising Star - Lvl 72 Achieved and Earning Starpro
Last week, I mentioned that I was running the new Record Signing mission which to run you must have reached a specific Fan Club Level. The Fan Club card I need is FC5 so I am now running more Fan Club missions to get there and I ran out of Starpro to run those missions.
Earning Starpro
There are two ways of getting Starpro tokens earning them or purchasing them on the market. I prefer to earn them.
To earn them you need to participate in Music Promoter. You must transfer your Starbits to your pool and then bid on different missions to be completed. If you are the highest bidder, you receive shares which at the end of each day depending on how many shares you earned during the day, you receive a payout in Starpro.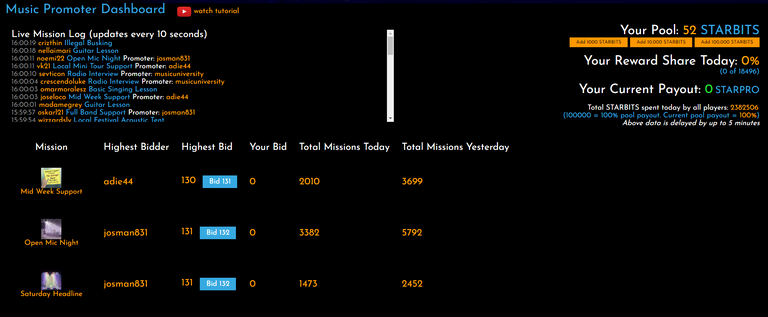 The reason I earn Starpro this way instead of buying them on the market is the current price of a Starpro on the market is $3.557


If you are aware of other ways to get Starpro in a more efficient way, please let me know.
Weekly Progress
To be able to tell if you are making any progress toward anything you set out to do is to record your starting position and then periodically measure how far you have progressed since your last measurement.
I have been playing Rising Star consistently since the first of 2022. It helps me to track my progress so that I can see what areas may need additional attention.
I made it back into the top 1000 ranking, now sitting at 883 from 1054 last week. I need to see if I can consistently be under 1000. To do this, I need to always keep my "Weekly Minutes" high and add cards and IM to my collection if I want to keep moving up.
Here are my Jun 25th stats:
Ranking: 1054 (+171)


Current Stats
I am slowing increasing all of my stats. Most of my drunk fans woke up since my last report. I had been working so hard on running the music lesson missions at least twice a day that I was making great progress on lowering my Ego. It is now at 5% but I know how quickly that can change so I will continue to run it until I get to 0% without any drunk fans.
Fans: 3042 (-448)
Ego: 5% (-10)
Skill: 6638 (+437)
Luck: 547 (+10)
IM: 48 (+2)
My level is now 72, up two levels from last week. Only 3 away from the next major milestone. At level 75, several new missions open up to the player. I can't wait to be able to start working on all the new things that are in store at and above that level. It will only be two or three weeks at the most before I will be at level 75.

Weekly Pack Purchase
I received the standard rare and two common in my pack.
i6 Mid Range Acoustic - 10 Luck
87 Donna - 10 Fans
R198 Dominic - 150 Fans, 150 Skill, 4 Luck and 4 IM
Both Donna and Dominic are new unique cards for me with this card pack purchase. This should have maintain or increase my ranking next week. I have found that unique cards help with my ranking more than just getting duplicate cards. The instrument with 10 Luck may draw more drunk fans but if I keep running the music lessons I should be all right.

---
If you are interested in playing, check it out at the below link. It is free to join, login with your Hive Keychain.
https://www.risingstargame.com?referrer=darmst5339
Posted using 1UP - Play2Earn & NFTs
---
---