Rising Star - Lvl 75 Achieved and New Band Auditions Mission Unlocked
I finally made it to Level 75 a few days ago and was going to wait for my normal weekly update to share with everyone but I could not wait. With this achievement, the Band Auditions Mission has unlocked so that I can start running it going forward.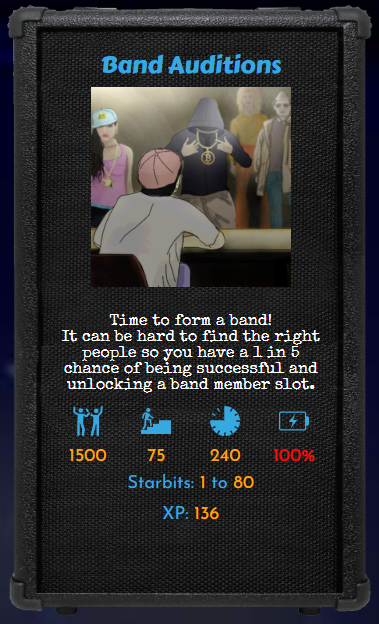 I have been able to run the band audition mission three times already and not lucky enough to open up any additional slots. I noticed I do have the Singer slot open. Also I have an Instrument and Vehicle slot Unlocked.

I don't know what to do next so I am going to guess that I need to assign cards to those slots. For my Singer, I have selected E64 Valerie playing i76 Talking Drum. The only vehicle card I have is the Cheap Car so I added it.

Weekly Progress
Level 75 is now mine. I am very excited that I made it to this milestone in the game. Now to run the audition missions so that I can fill up my band and open up the next mission region. I can't wait to open up my first slot.

In my last post, I shared that I had dropped out of the top 1000 again. Well this week, I was able to get back in the top 1000 to a ranking of 858
Here are my Jul 14th stats:
Ranking: 858 (+175)



Current Stats
Week by Week, I am increasing my stats. This past week, all of my drunk fans woke up and I also was running the music lessons each day to keep my ego in check.
Fans: 3250 (+531)
Ego: 4% (-7)
Skill: 7444 (+195)
Luck: 647 (+8)
IM: 55 (+3)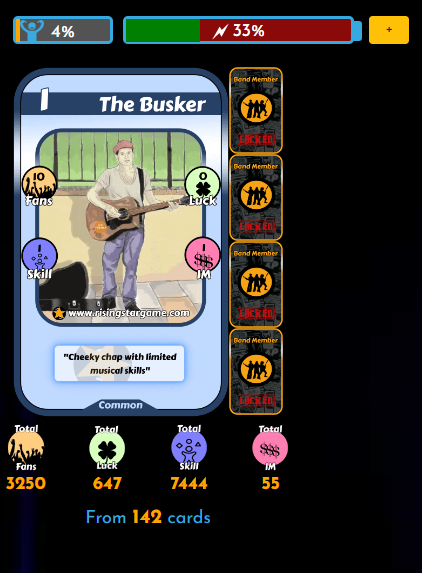 Weekly Pack Purchase
I really hoping to get the new S41 Abs card in the packs that I am purchasing but I have not been that lucky yet. I want to run the Summer Breeze mission.
I received the standard rare and two common in my pack.
i83 Hand Carved Djembe - 5 Luck
R196 Star Visionary - 50 Luck
90 Hugh - 10 Fans and 5 Skill
Only R196 Star Visionary is a new unique card for me with this card pack purchase. I have found that unique cards help with my ranking more than just getting duplicate cards.

Since unique cards help your ranking, I purchased the cheapest one that I could find from the market for 359 Starbits. Not bad for a new to me unique card.

---
If you are interested in playing, check it out at the below link. It is free to join, login with your Hive Keychain.
https://www.risingstargame.com?referrer=darmst5339
Posted using 1UP - Play2Earn & NFTs
---
---