Rising Star - Lvl 76 Achieved and First Band Member Slot Unlocked
I was finally able to get my first band member slot unlocked after 7 tries. I am hoping that it does not take me 7 tries for each of the remaining three slots to unlock.
Well, that might be ok since the first mission in the new Country Tour area can not be run until you get to level 80 and I am only at level 76. I still have 4 more levels to go before I need to have the last slot unlocked. Since it is taking me one week per level, it will be about 4 weeks before I am there.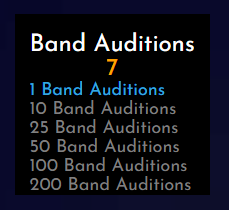 Weekly Progress
I have made it to Level 76. The only bad part is that I will not have any new missions I can run until I reach level 80 and unlock all of the remaining band member slots. But I am find with taking my time in advancing. Hopefully I will be able to keep my ego in check during all of those band audition missions.

Ugh...I dropped by about rank 1000 again. I was hoping to stay below 1000 but I have having a difficult time doing so.
Here are my Jul 19th stats:
Ranking: 1010 (-152)



Current Stats
Week by Week, I am increasing my stats. This past week, all of my drunk fans woke up and I also was running the music lessons each day to keep my ego in check.
Fans: 3262 (+12)
Ego: 4% (+0)
Skill: 7533 (+89)
Luck: 708 (+61)
IM: 54 (-1)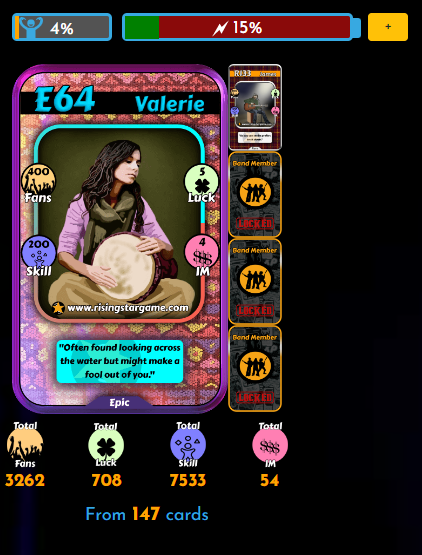 Weekly Pack Purchase
Again, I really hoping to get the new S41 Abs card in the packs that I am purchasing but I have not been that lucky yet. I want to run the Summer Breeze mission.
I received the standard rare and two common in my pack.
92 Susie - 10 Fans
R196 Star Visionary - 50 Luck
i87 Native American Drum - 1 Luck
I received the R196 Star Visionary last week and again this week. I guess I am lucky so to speak since I received another 50 Luck. The only problem with luck is that you will attract more drunk fans. At least, Susie was a new unique card for me. I have found that unique cards help with my ranking more than just getting duplicate cards.

Since unique cards help your ranking, I purchased the cheapest one that I could find from the market for 289 Starbits. I think it was great that I was able to get it for less than 300 Starbits.
---
If you are interested in playing, check it out at the below link. It is free to join, login with your Hive Keychain.
---
---