Rising Star - Lvl 77 Achieved and All Band Member Slot Unlocked
In last week's post, I shared that I had run the band audition 7 times and only unlocked 1 of the band member slots.
https://www.1up.zone/@darmst5339/rising-star-lvl-76-achieved-and-first-band-member-slot-unlocked
Well, I have run it 4 more times for a total of 11 runs and have unlocked all of the slots.

Here is a sample of the music created from my selection of band members and instruments. Not the best but it is a good start.
https://risingstargame.com/track.asp?id=29141
Weekly Progress
I was not expecting to open up all the slots so quickly. I have made it to level 77 but will not be able to run any of the new missions in the Country Tour area until I reach level 80.

This time I expected to drop in rank but not be as much as I did. My rank dropped to . I was hoping to stay below 1000 but I have having a difficult time doing so.
Here are my Jul 25th stats:
Ranking: 1737 (-727)
As you can see my drop was mainly driven by the reduction of weekly minutes of running missions. I was on a trip for three days during this time period so did not run the missions as often as I could have. But if that is the only reason for the drop, I should be able to jump back up this next week.


Current Stats
I continue to work on improving my stats so that I can climb in the rankings and earn more Starbits. This week was no exception, on the growing my stats front anyway.
Fans: 3856 (+594)
Ego: 10% (+6)
Skill: 7637 (+104)
Luck: 764 (+56)
IM: 54 (+0)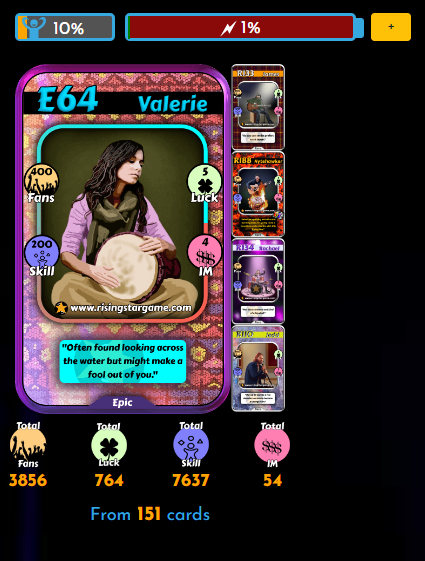 Weekly Pack Purchase
I am still working to get the new S41 Abs card in the packs that I am purchasing but I have not been that lucky yet. I want to run the Summer Breeze mission.
I received the standard rare and two common in my pack.
94 Kirk - 10 Fans and 5 Skill
90 Hugh - 10 Fans and 5 Skill
R188 Nytehawker - 125 Fans, 75 Skill, 3 Luck and 2 IM
I received the R188 Nytehawker in a prior week so now have two copies of that card. This is my third copy of 90 Hugh. The only unique card I received is 94 Kirk. I have found that unique cards help with my ranking more than just getting duplicate cards.

Since unique cards help your ranking, I am getting into the habit of purchasing the cheapest unique card on the market. This week it cost me 359 Starbits but I think that is still great for the value it will help me in the ranking.

---
If you are interested in playing, check it out at the below link. It is free to join, login with your Hive Keychain.
https://www.risingstargame.com?referrer=darmst5339
Posted using 1UP - Play2Earn & NFTs
---
---