Splinterlands - Trick to Use PeakMonster to Find High CP/Dec cards for rent
Here is a below the radar trick for using PeakMonsters to find the highest CP/DEC cards for rent. It must be underused or not included on many people because I see lower CP/DEC bids for cards but these are not being rented as quickly.
Level Filter
The trick is to use the Level filter when looking for cards to rent.
Below is the standard screen that appears when looking for cards to rent. As you can see, the highest CP/Dec is at the top of the screen. This card, Dragon Spirit, has 200 Collection Power for rent at 0.176 DEC per day or 1136.364 CP/DEC.
That is not a bad CP/DEC rental price but you can do better. And there are 9 more cards for rent at 1000 CP/DEC or better.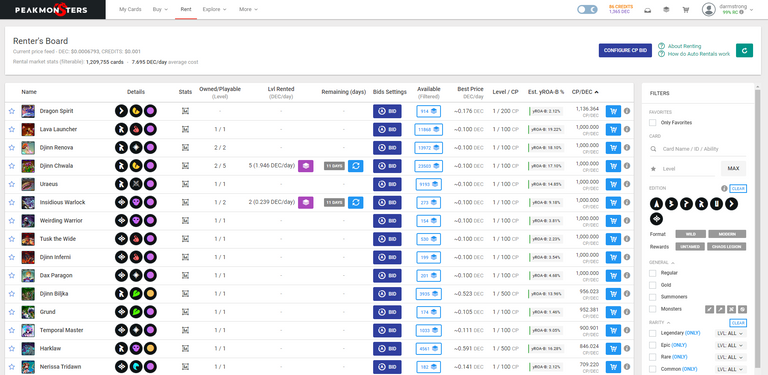 Check by Level
In this example, all I did was input 3 as the level in the level filter and low and behold cards that are renting at a higher CP/DEC than by not using the level filter appear.
Here there are two cards, both common reward cards, that you can get 125 CP @ 0.10 Dec/day which is 1,250 CP/DEC. This is a better rate than in the first screen.
Granted these are cards that you probably already have in your deck but if you are trying to level up to the next tier for the cheapest cost. This will help you get there.
Check Max Level
Also you will need to click the "MAX" button on the filter. It will bring back cards that have been maxed out. A maxed out card has 5% more CP than non-maxed out cards so the CP/DEC rental can be slightly better.
The highest CP/DEC that I found was with the Max button clicked. There is a common reward card maxed out with 2,100 CP @ 1.417 DEC/day equating to 1.482.004 CP/DEC. This is the highest yet and did not show up on the standard card renting screen.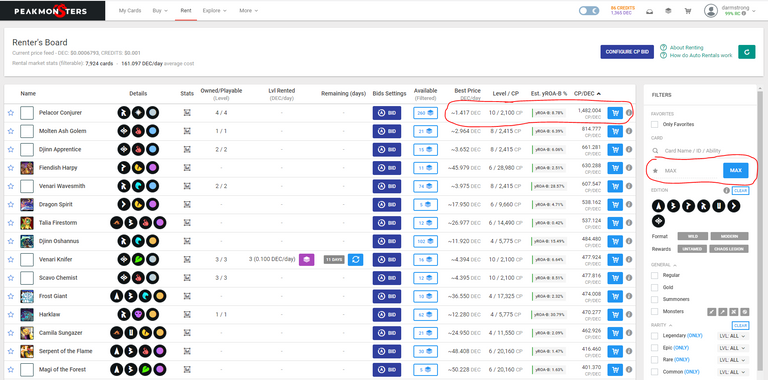 Just remember that to get back you will need to click on the "Max" button again and it will reset to normal. It will not let you enter a new level until you unclick that box. At first I tried and tried until it finally dawned on me to click the box again to unselect it.
---
If you have not started playing this exciting Play2Earn game, you should start. Here is my link to sign up:
https://splinterlands.com?ref=darmstrong
Posted using Splintertalk
---
---