Blockchain Technology in the Healthcare sector of the economy.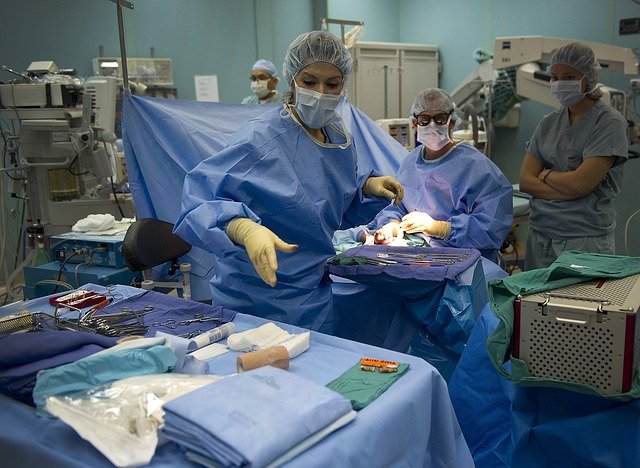 Pixabay
INTRODUCTION
Before taking an elaborate anatomy into the application of Blockchain in the healthcare sector, it's considerably sagacious to substantially review the meaning of Blockchain.
The Blockchain is a decentralized and distributed ledger (meaning that each observer or person has his own ledger) that proves or authenticates the transaction of a digitalized asset which stands unmodifiable, immutable and indestructible and this invariably substantiates it as an exquisite technology fit for every single sector in an economy as it rids off fraud, reduces risk and also promotes transparency in any business at all.
On the other hand, the healthcare sector is the sector of an economy that provides services to treat people or patients with rehabilitative, palliative, preventive and even possibly curative care.
This sector goes as far as commercializing their services and goods in order to maintain health through well equipped professionals and paraprofessionals in the field and according to International Standard Industrial Classification ( ISIC ) this sector has the following dichotomy:
1- hospital practices or activities
2- Dental and Medical practices
3- Other human health practices.
Nevertheless, the healthcare sector also runs with myriads of data that has been compromised and breached most times for reasons that may not be fathomed by the public but to mitigate against this and many other desirable factors which we would want to see in the healthcare sector, absolutely exhausts on the subject matter for the implicit application of Blockchain technology in this sector.
POSSIBLE REVOLUTIONIZATION OF THE HEALTHCARE SECTOR USING THE BLOCKCHAIN.
1- SECURITY OF INFORMATION:
The application of Blockchain technology in this sector will absolutely permit for confidential protection of data globally which on the other hand reduce rate of data loss that has been in most developing nation's.
2- SHARE OF DATA:
This invention will allow researched data to be shared or distributed among health researchers and scientists globally which in other ways will help them in researching and proficiently coming up with solutions to many medical challenges bedeviling the world.
3- EASY FUNDING USING CRYPTOCURRENCY:
Since the blockchain technology does not use our mere paper money, it will permit for easy funding of research using cryptocurrencies and regulations will be enacted to check for financial fairness in exchanges
4 REDUCTION IN WORLD HEALTH DISPARITY
This invention will offer private agencies the opportunity to collaborate with each other thereby imposing the ability to reduce world health differences while solving health problems.
THE APPLICATION OF BLOCKCHAIN IN THE HEALTHCARE SECTOR
1- FASTER, CHEAPER AND QUICKER PATIENT CARE
The application of Blockchain technology in this industry will help for rapid retrieval of stored data by authorized users and this will extinguish the miscommunication between professionals involved in taking care of patients, mistakes can be skunked thereby thereby exposing the rate of medical attention due for a patient.
2- EASY SWITCHING OF PATIENTS BETWEEN HEALTHCARE PRACTITIONERS
The information of patients that are provided on the could actually be accessed using the patient's private key and subsequently can be used by different experts to treat the patient. This can make health information collaborative among different healthcare practitioners.
3- FURTHER RESEARCH
We actually know that the data on Blockchain is immutable. Nevertheless, patients data that has been stored on the Blockchain can be used by medical and non medical practitioners for further research in their areas of interest.
4- PROTECTING AND MANAGING HEALTHCARE DATA
The Blockchain technology as we all knows has the possibility of security information for donkey years with the aid of a users generated private keys which must be kept anonymous from all third party and on the contrary, since every data on the Blockchain technology is immutable, it will act as an infinite storage of data from this sector perpetually.
PROS AND CONS OF BLOCKCHAIN IN HEALTHCARE SECTOR
The Blockchain was actually created to distance the functions of middlemen in business and it's capacity for the sustainability of data and the confidential securing of data has made it an exquisite invention that needs to be implemented in every business setting as most industries and businesses has started embracing it majorly for the sake of accuracy, Immutability and transparency of it's transaction.
Nevertheless, it is obvious that most businesses that adopted it are actually enjoying its benefits and contrary, its adoption or possible adoption in the healthcare sector will help in the sustainability of data supply of healthcare equipment and shipping, transparent tracking of shipping transactions within the sector and more options although this is not without disadvantages. On the contrary, let's emphatically pinpoint it's pros and cons which are but not limited to the following:
NEED FOR THE APPLICATION OF BLOCKCHAIN IN THE HEALTHCARE SECTOR
1- IT ASSIST IN THE IMMUTABILITY AND TRANSPARENCY OF DATA
We know that the Blockchain is actually acquainted with the confidential keeping of data and it's immutability amongst many others. On this note, this will help in the immutability of patient's identification verification
2- IMPROVED DATA MANAGEMENT
In our normal traditional data base, the system only permits for a central management of data but with the acceptance and invention of the decentralized blockchain system which runs on a peer to peer and decentralized modus operandi, it will now be easier for a better management of individuals data and those data can also be easily accessed using individuals private keys.
3- IMPROVED PRIVACY OPTION
The application of Blockchain technology in this sector will also aid users in confidentially securing and keeping their information using the private keys generated by the system thereby making the disposition of this information more valid and authentic since it was generated directly from the professional bodies or personnels who carried out the analysis or diagnosis.
4- AIDS FOR EASY AND ACCOUNTABLE TRANSACTION
The Blockchain technology as we all know uses cryptocurrency in authenticating it's transactions which can easily be tracked by anyone, so a patient or even the health practitioner wouldn't be needing the stress of making transactions that may not easily be tracked rather with the cryptocurrency at their disposal, they can easily validate their transactions at their comfort zone.
ARGUMENT AGAINST THE APPLICATION OF BLOCKCHAIN IN THE HEALTHCARE SECTOR
Let's now go through some obvious challenges that hinder Blockchain technology in this sector of the economy.
1- COST OF DEVELOPMENT
We can agree to the fact that the Blockchain technology for every sectors is quite peculiar to them for example in the financial sector they deal with monetary values and certain personal data which can be anonymous or open to the public and this may not be applicable in the same modus-operandi to the health sector therefore this further entails that the health sector has to spend a huge sum of money as to be able to get a desirable blockchain that can suit their operations and probably they might be connecting it with internet of things IoT.
2 IMMUTABILITY
This has been a great threat to blockchains although it also favours most sectors like the financial sector and others but I believe that it may not likewise apply to the healthcare sector as patients data especially are static and cannot be altered thereby denying them the right to their current health status.
For example a patient that had coronavirus let's assume in 2020 and was registered in the blockchain as a coronavirus patient and later the patient through medication was restored, since his data was imputed in the blockchain, it now stands immutable thereby leaving an indelible remark that the individual in question once had Coronavirus I'm probably the public must you assume that this person is still with the virus if they couldn't go on further navigation about the person.
3- PRIVACY ISSUE
This is another problem with the blockchain technology, as one can easily navigate through many people's interface to check on their current health status. The four this the night the audience and the general public the right to privacy which may cause a very big mayhem on patients especially.
For instance one may still wish to navigate on somebody's health issue through the blockchain to see if he can actually do business or relate in certain things probably social life with such person and let's further assume that the person who's interface was navigated has a chronic health issue this may now permit most people to start avoiding the person in question, thereby denying the person his social exertions.
4- EXPERT OPTION
We know that the health care sector is not actually the financial sector that's been well developed to fit in the blockchain technology. And on the contrary it might be difficult to get or hire a blockchain expert as they are quite different from our normal developers.
Nevertheless even after developing the healthcare sector blockchain technology, there is still the need to train existing managers and personnels who will get acquainted with the blockchain system to be able to carry out the day-to-day activity that is demanding in the healthcare sector as to fit in into the blockchain technology appropriately.
SOME OF THE HEALTHCARE COMPANIES THAT HAVE ADOPTED BLOCKCHAIN TECHNOLOGY
Let's see some of the companies that offer healthcare services in blockchain below.
1- AKIRI
This company is based in Foster city CA, and they have a very distinct work as they provide information or data only to the parties that are involved and the mixture that this data is anonymous to the public.
2- BURSTIQ
This company is located in Colorado and they specifically manage patients data while using the blockchain technology, by safely licensing and sharing data to parties involved.
3- FACTOM
This company is based in Austin Texas, they provide products that assist the health industry to confidentially store data by the company's Blockchain which can only be accessed by hospitals and the health sector.
4- MEDICAL CHAIN
This blockchain technology company that deals in electronic health and it's based in London and they provide patients data which has a traceable origin to laboratories, Doctors and hospitals when ever it's needed, and many others.
5- CORAL HEALTH RESEARCH & DISCOVERY
This is a healthcare industrial technology that is based in Vancouver in Canada. They help in expediting healthcare process and improving patients' health outcomes and they do this by disbursing patients' medical condition through the blockchain technology to Doctors lab technicians and other health authorities and they also authenticate smart contracts between patients and medical practitioners for a more convenient and confidential transaction.
SOME COUNTRIES THAT HAS ADOPTED THE USE OF BLOCKCHAIN TECHNOLOGY IN THEIR HEALTHCARE SECTOR
| S/N | COUNTRIES |
| --- | --- |
| 1. | China |
| 2. | Japan |
| 3. | United States |
| 4. | Estonia |
| 5. | United Kingdom |
---
---