Crypto Investment Opportunities in 2023// An inkling into the coins and tokens with better potentials.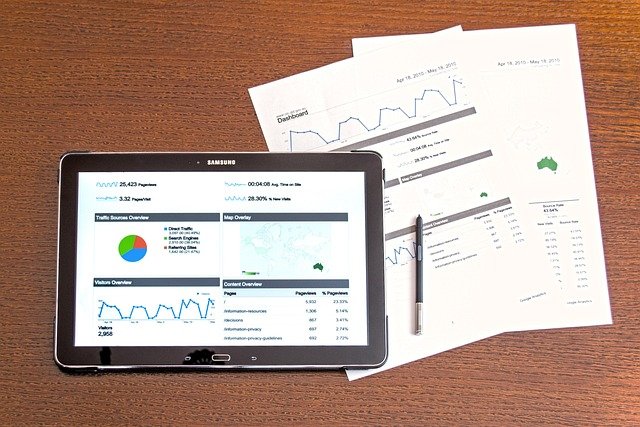 Pixabay
The crypto market has become one of the most yielding and profitable investments contemporarily, and ever since its inception in 2008 with the BTC lording over the virtual token, the rate of returns has been proliferated consistently by different exchanges and developers to see that their customers and investors are well incentivized.
There are disparate and requisite odds to investigate before investing in a token or coin, and these are but not limited to the following: the market cap of a coin, cost of producing a coin, availability of the coin on exchanges, regulation of the coin, governance and how competitive the coin is.
Market capitalization of a coin.
This is one of the most vital contributions to the price of a token which an investor should look up to before investing in a token. For instance, coins with an encouraging value of market capitalization have the tendency of becoming less volatile especially when considering the bear market which most traders and investors have never liked. Contrarily, this can also be referred to as the market demand and supply of a coin or token.
Cost of producing a coin.
New coins or tokens are mined or produced through a decentralized process called mining which is a means through which different nodes in a blockchain confirms blocks through proof of work mechanism and thereafter are remunerated by the Blockchain protocol.
Nonetheless, the nodes that operate this process make use of electricity and also cover other costs like purchase of equipment for mining. If the price of a coin is encouraging and the incentive for mining is high, it will woo miners to do more in terms of keeping the mining process afloat against covering mining cost which inturn increases the availability of the coin and also boost it's price but on a realistic note, it attracts more investors to hold or invest in the coin.
availability of the coin in exchanges.
Availability of liquidity is one of the most important factors which credible investors look out for when buying or investing in a crypto token. Most exchanges are not supplied with enough liquidity from a development protocol which makes investors to defer from investing in a token but contrarily, if there is enough supply of liquidity of a token, it will definitely lead to investors considering to hold such coin or token without much thought since they can easily pull their coin at any time they may chose.
Trade volume is also another important factor to consider when investing in a token or coin. For instance, no sane investor would possibly choose a coin that has a trade volume of 500 over a token that has a trade volume of 5000 this is simply because past events or historical performance of a token has a stake in it's future occurrences ceteris paribus.
There are so many things to consider when investing in a token outside of the deductions which are lucidly adduced above that is factually part of a fundamental analysis. Nevertheless, an investor may also consider taking a technical analysis using charts and other credible indicators while diving into any investment and these are all in response to trading either as a long or short term trader.
Above all odds, the rate of returns is one of the best incentives and stakes that can solely woo an investor into considering whether to invest into a project or not. Every investor would like to farm into a token that can yield based on time proximity and no one would like to invest into a token that has a long term recovery period. And we can attest to this on what's obtained on the HBD savings mechanism if there's none to mention.
Nonetheless, let's see a few projects with some desirable qualities that investors can consider within this period.
The hive savings feature is a very good investment strategy to take up in 2023 because of the high rate of its annual percentage yield (APY) that is pegged at 20%
Moreover, I also tried navigating through the decentralized app on the trust wallet and realized that there are other projects with higher yields than what's obtainable in the hive ecosystem.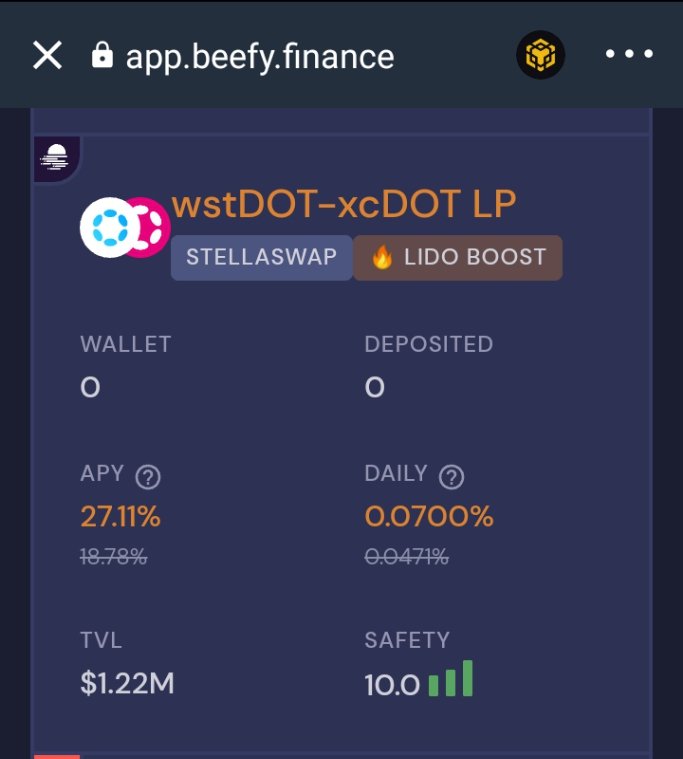 A slide into the beefy finance as shown in the screenshot above which was gotten from the trust wallet shows that projects like xcDOT liquidity pool has a total value locked of $1.22m which is incredible, a trust rate of 10 and most especially an APY of 27.11% which is about 7.11% above the hive savings rate.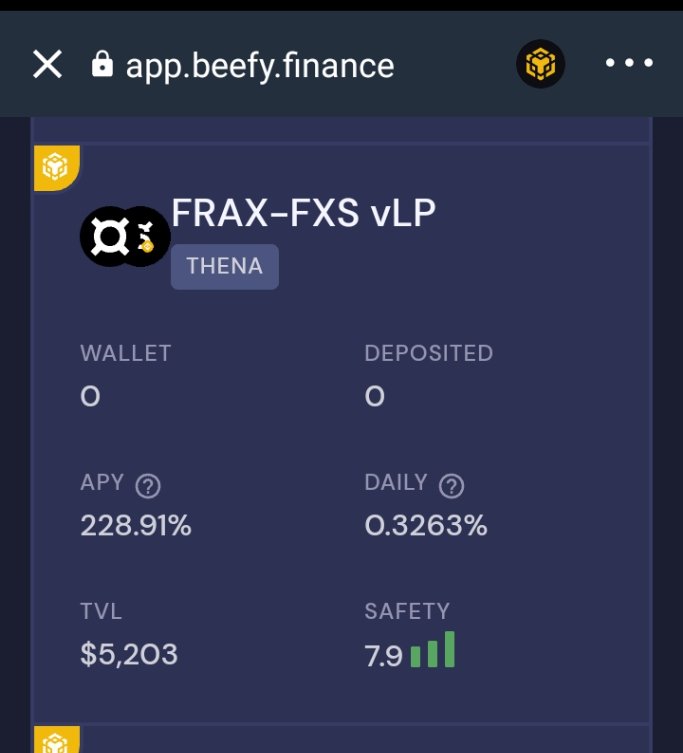 Another speculation of the FRAX-FSX indicates a total value locked up of $5,203 which isn't that much and most importantly an APY of 228.91% which is irrationally abnormal but based on time proximity of investor's demand, everyone may consider investing in to this project because of its short term yield advantage but based on risk management, the like of such investment mayn't be the best for institutional investors and whales.
I would also consider the Bitcoin which has a very encouraging market capitalization of 394.53b and most notably, it is not too volatile when compared to most crypto tokens that can easily surg and dwindle irrationally leaving traders with nothing.
Conclusion
As an investor, you can chose to either lock up a portion of your token into different pools based on demand with respect to a well scrutinized observation regarding the coin governance, insurance in the investment if any and other rational analysis you may be considering.
contrarily, if an investor happens to be either a short or long term trader, it is best to look out for those token with higher liquidity, increased volume of trade and high value of market cap. In this regard, I will lay my preference in favor of the BTC because of its low volatility rate and other obvious potentials in it like it's market value.
Finally the information obtained from this publication is based on personal research and analysis and may not be considered absolute when considering any investment strategy as you can also effect your research to ascertain what's best for business.Thanks for checking through my article, hope you found it intriguing.
The two screenshots above where taken by me, from app.beefy.finance
---
---