How to Get FREE Bitcoin ($1-2/month) by Browsing the Web
"There ain't no such thing as a free lunch"? That's totally true, of course. Sometimes though, you can get a little something for free. In this case, it's a little bit of free Bitcoin.
Today we explore a little strategy to help you get $1-2/month of free Bitcoin just by browsing the web.
This is super easy to do and won't take too much of your time. You'll keep browsing the web as you do everyday. But then, at the end of the month, you'll be able to get some Bitcoin practically for free.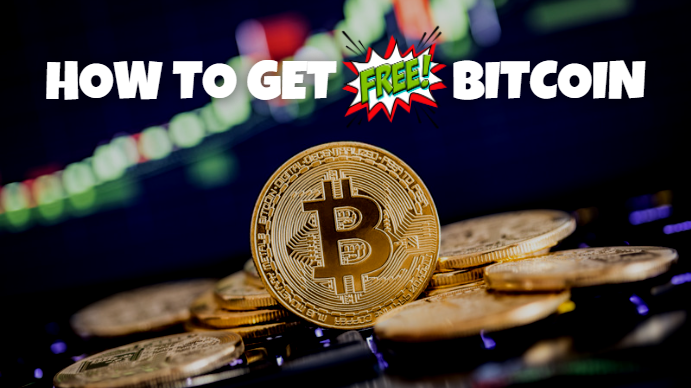 Step 1 - Download Brave: The Privacy-Focused Browser
The first thing you need to do is download Brave (image below), which is a privacy-focused crypto-based browser.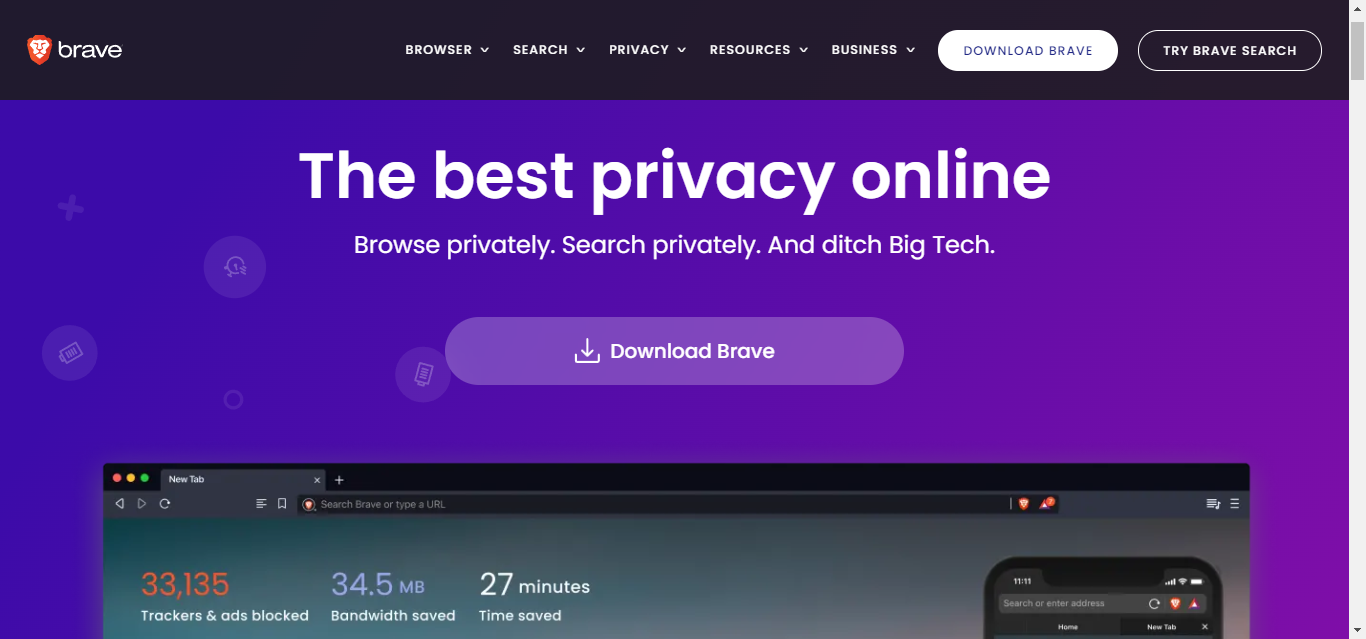 Brave does a lot of things I like:
It blocks creepy ads from most websites by default
Natively integrate with crypto wallets
Incognito windows or incognito windows with Tor 🤯
One-click import feature for bookmarks, history, cookies, passwords
It's chromium-based, so it works exactly like Chrome
And much more
This is how Brave compares to the other solutions out there.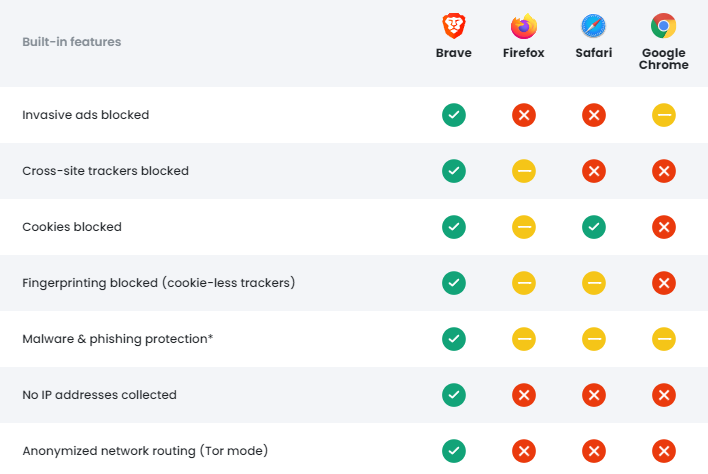 Image credit: brave.com
Anyway, let's get moving...
Step 2 - Optin to Brave Rewards: A Game-Changer
After you install the browser, you want to join the Brave Rewards program 👇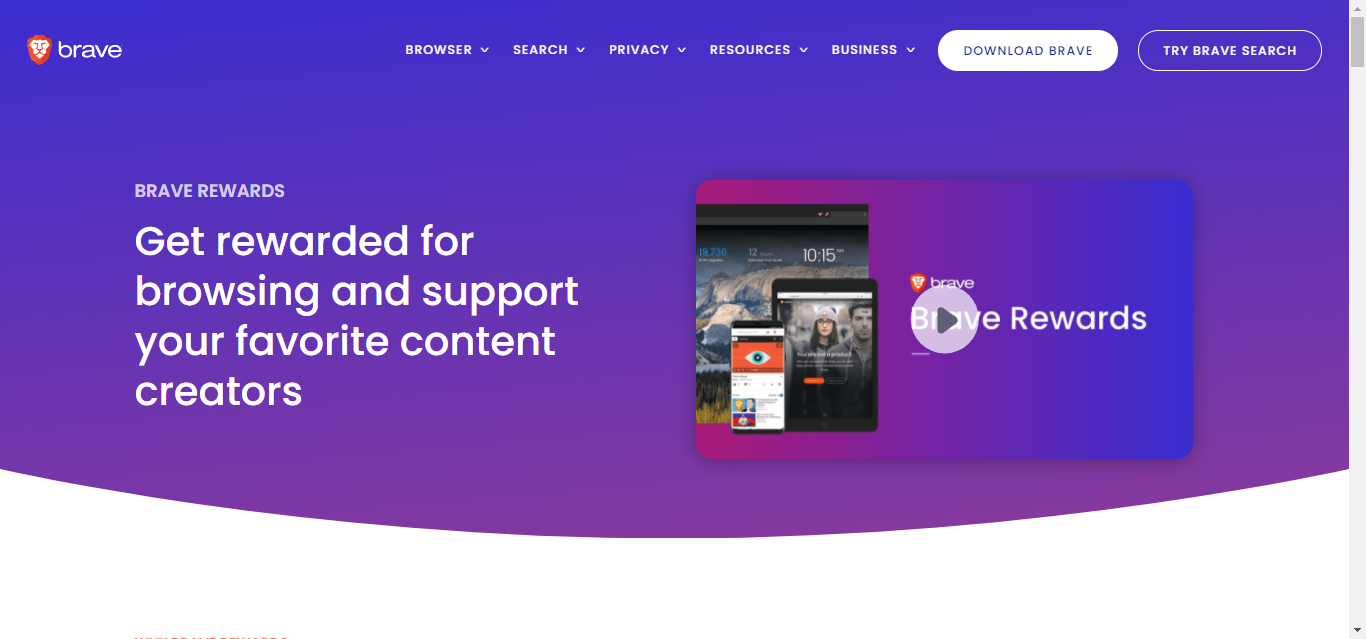 With Brave Rewards you get rewarded with Basic Attention Token(s) (BAT) simply for browsing the web. By joining the program, you will earn BAT by viewing privacy-respecting ads.
If you think about it, this is a game-changer.
With your old browser, you do actually pay to browse the web:
You pay by viewing ads with your valuable attention and not getting anything back
You pay by giving away your precious private data to advertisers who know a lot about you
With Brave, your time is valued and you get rewarded when watching an ad.
And the ads, at least for now, are darn good lookin'.
Here's an example below.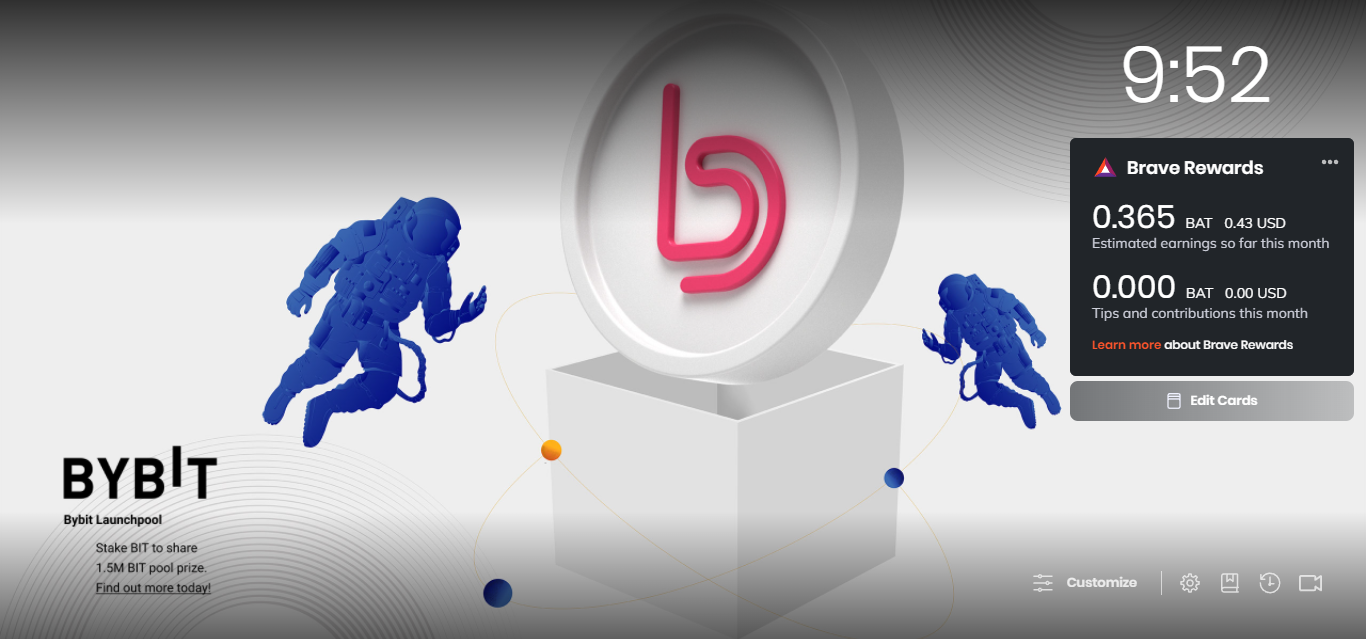 And another one.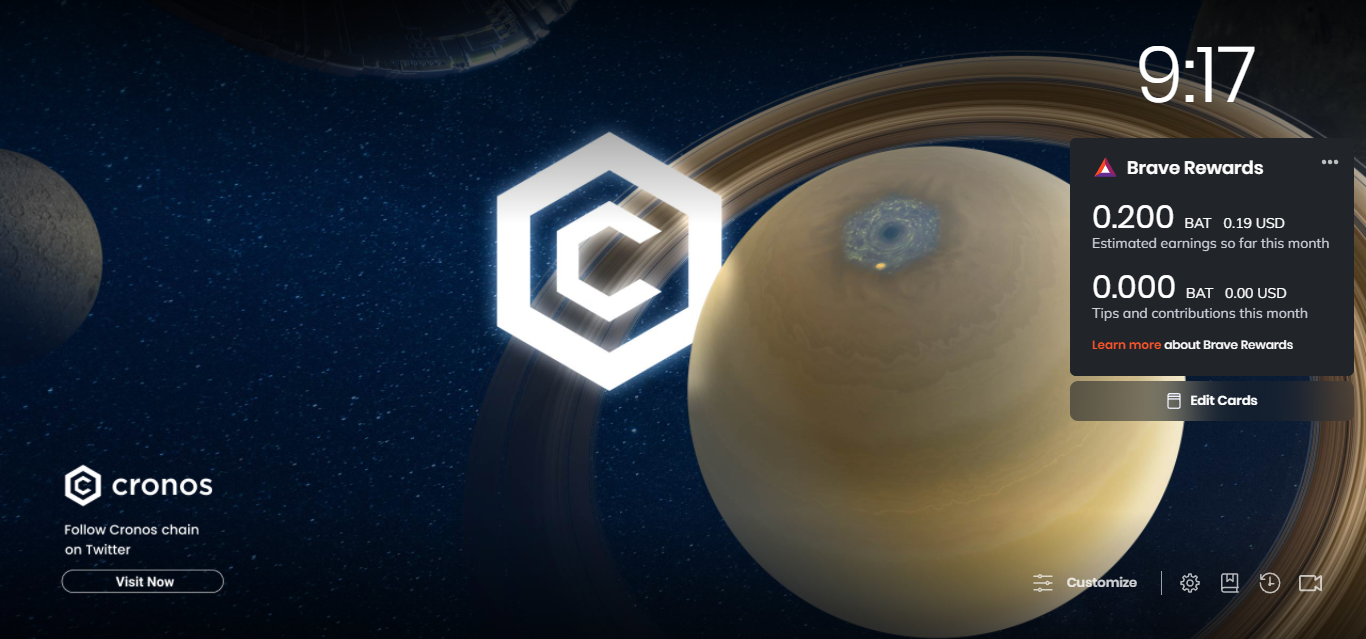 Crypto-related ads is all I get. I think that Brave is mainly utilized by crypto-savvy people, and that's probably the reason.
Brave will show you ads almost every time you open a new tab. They'll also send you in-browser notifications, but you can turn them off if you like.
As you watch the ads, your Brave Rewards will accumulate during the month.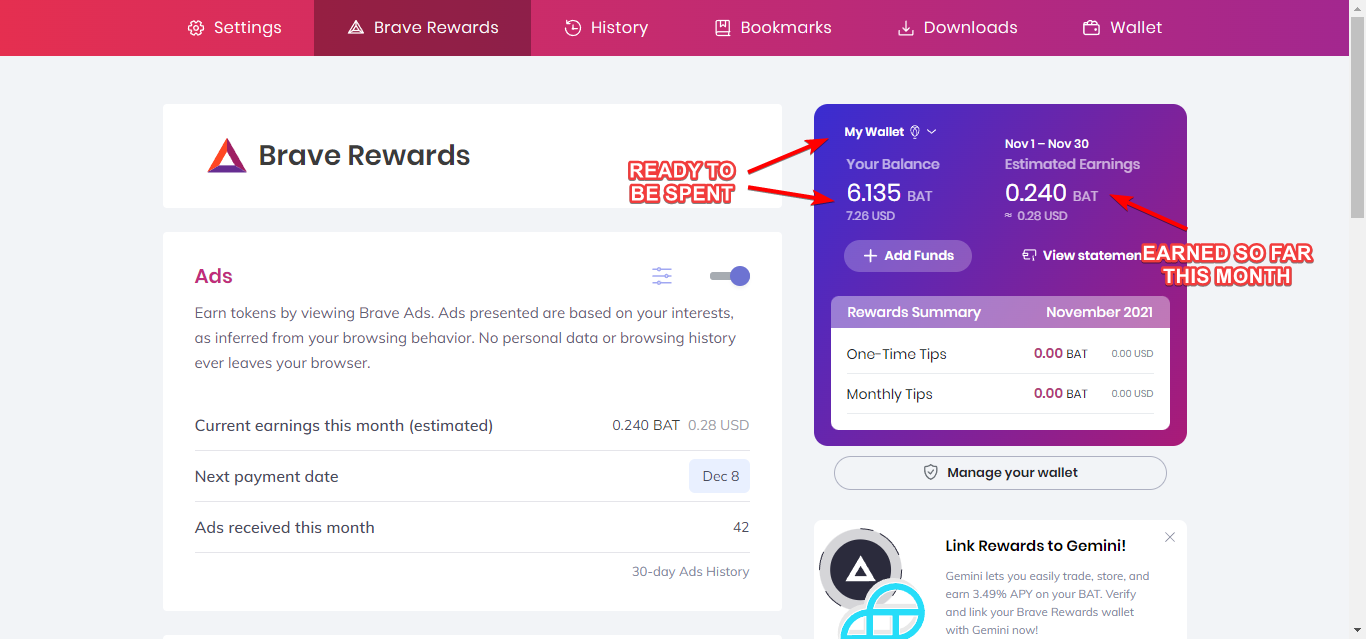 This month, so far, I've earned 0.240 BAT, which is 0.28 USD at today's rate. As I get shown more and more ads, that balance will increase. I usually earn roughly US$1-2/month.
As you can see from below, I linked Brave Rewards to my Uphold wallet.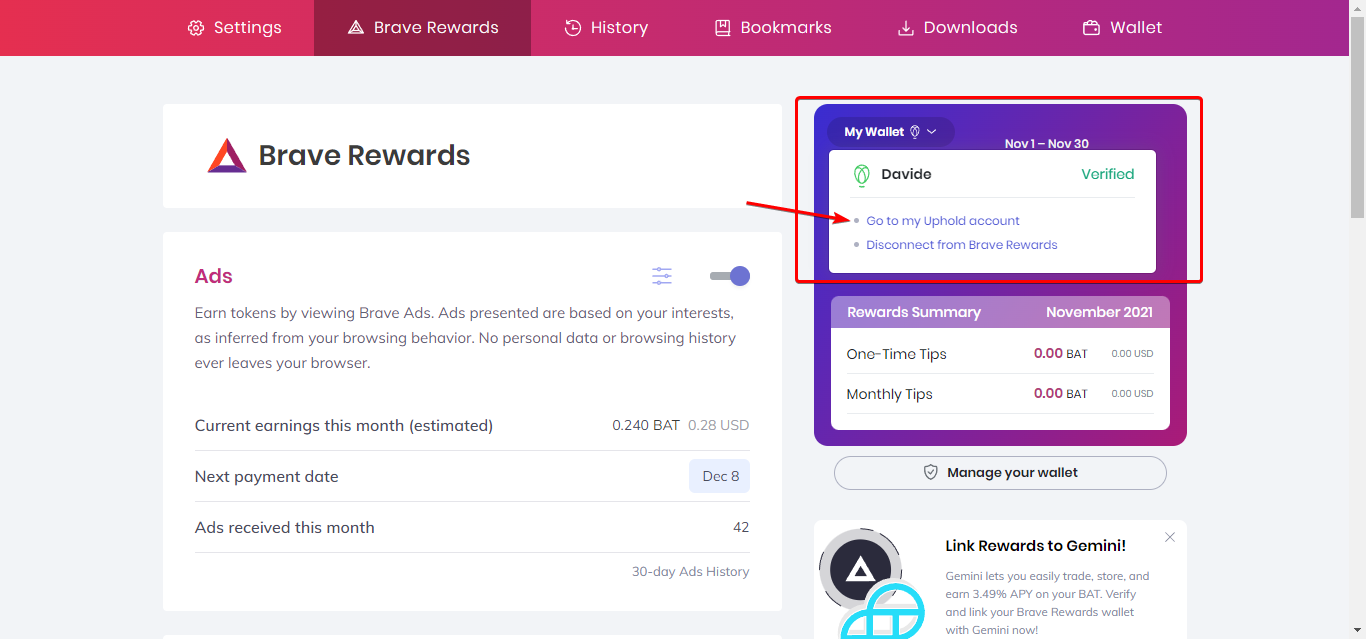 Power tip: When you join Brave Rewards, remember to toggle that option 👇 off, otherwise you'll be auto contributing BAT to others without knowing it.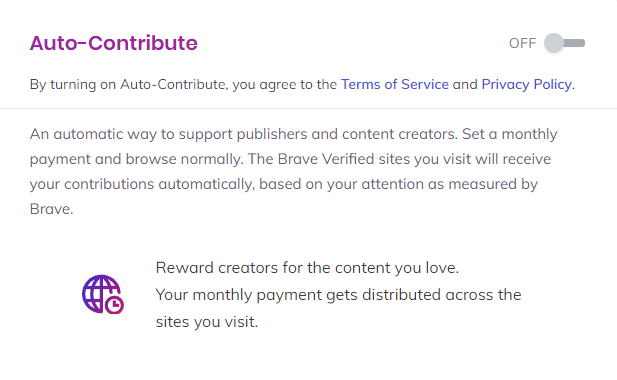 Step 3 - Link Your Wallet to Easily Buy Bitcoin
Brave partnered with 2 wallet companies: Uphold and Gemini. I'm using Uphold for now.
Linking your wallet to Brave is super easy (lots of tutorials about this online).
This below is my account/wallet in Uphold.
I have 6.13499 BAT ($7.41) in my wallet that I want to use now to purchase Bitcoin.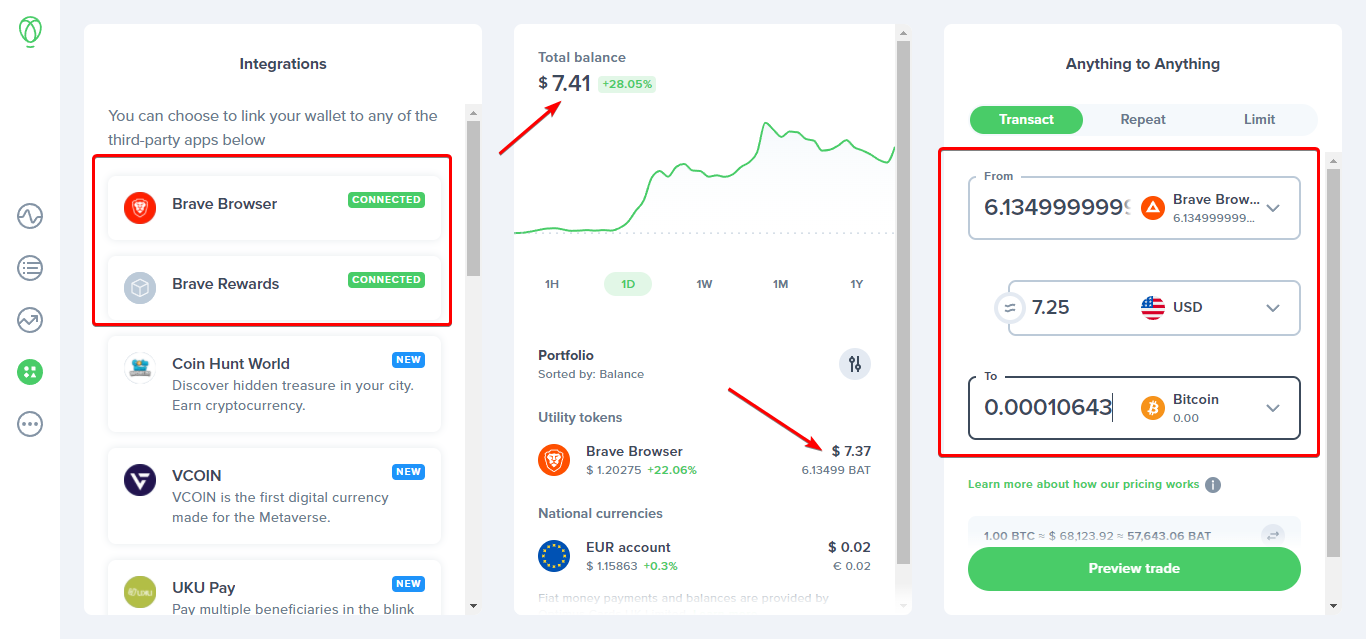 The trade is very simple to do from the right-hand side panel (image above).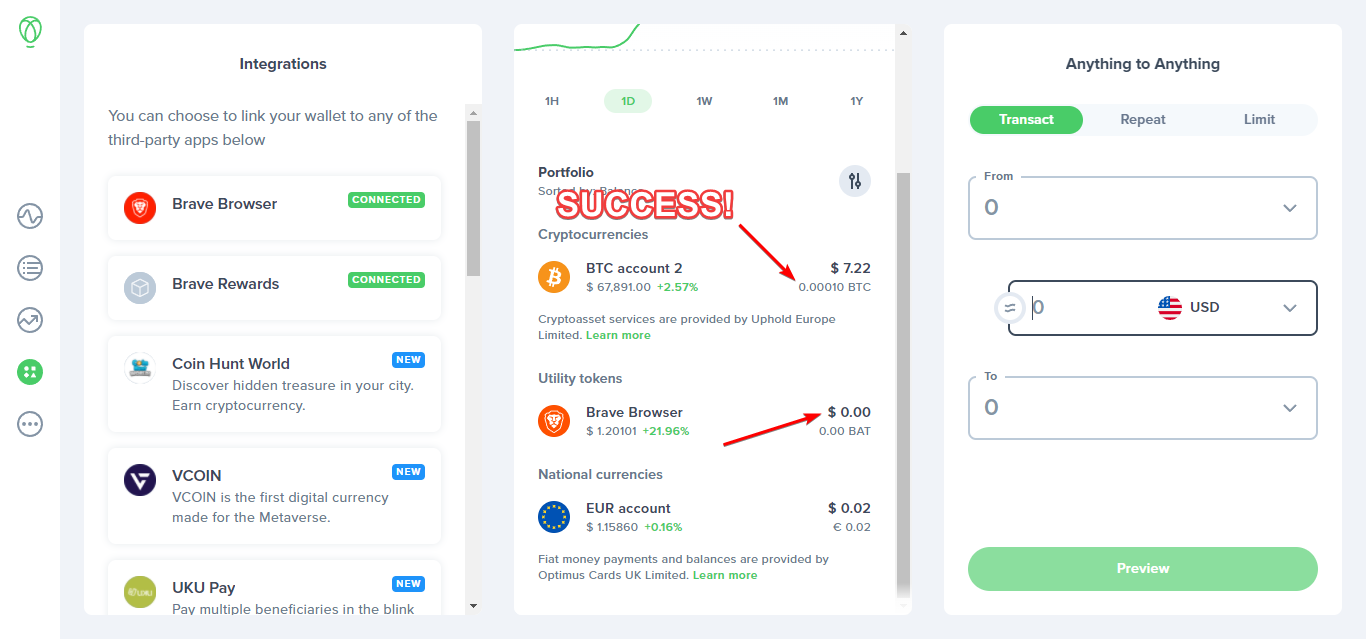 And that's it. I now have 0.00010 BTC ($7.23) that I got basically for free.
And, I'll keep doing this every month.
Extra Tip: Move Your Bitcoin to a Hardware Wallet
This goes beyond the scope of this post, but I'd strongly recommend moving Bitcoin to a hardware wallet. I have a Nano Ledger, but you can use anything you want.
Uphold seems to be a pretty strong platform, but it's always best to be extra careful when it comes to crypto.
Step 4 - Connect Multiple Devices to the Same Account
It's worth noting that you can also connect mobile devices to your Brave Rewards and Uphold accounts; so you can earn BAT while being lazy on the couch 🛋
As you can see below, I synced Brave to my phone too. You can do that with your Android or iPhone, as well as tablet or iPad.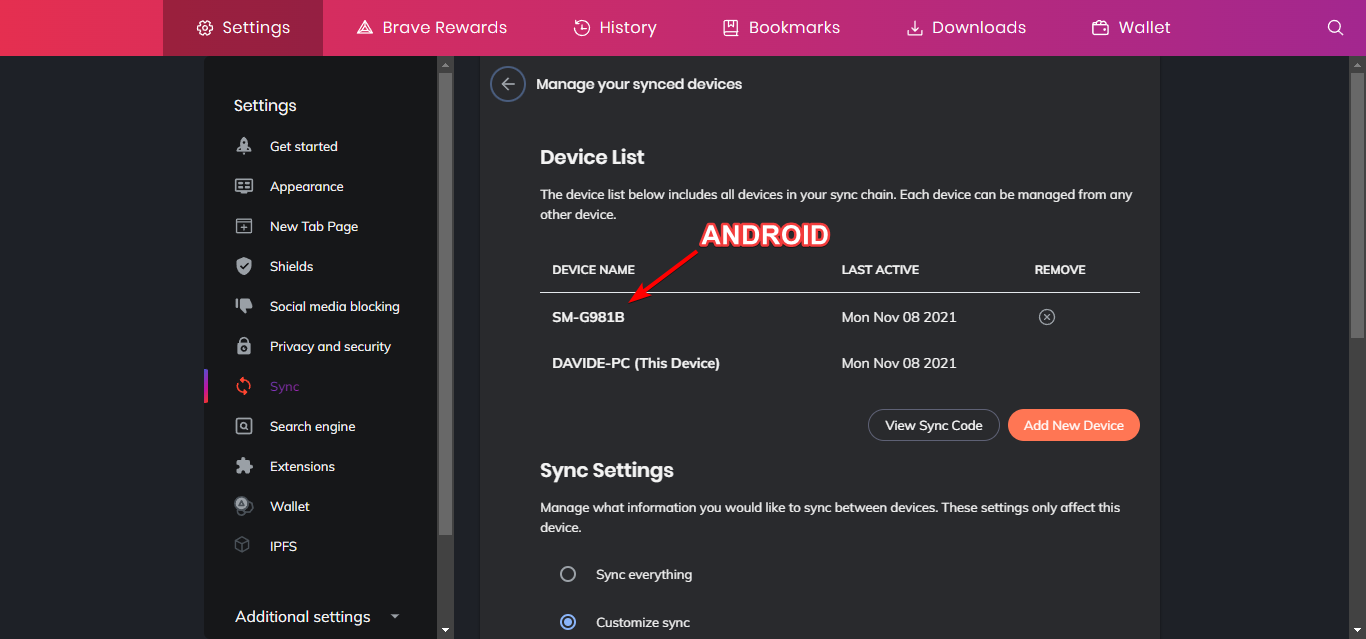 In conclusion, I've been using Brave for 5-6 months now. I've been earning, pretty consistently, $1-2/month. This won't get you rich, but being able to get some free Bitcoin by simply browsing the web is just too sexy to let this pass.
Would you agree? Let me know in the comments what you think.
PS: Don't forget who gave this tip when you'll be a millionaire in a few years.
Ciao 👋😃
Posted Using LeoFinance Beta
---
---