Win 10 $HIVE Tokens >> The Weekly Challenge >> From D.Buzz (ROUND 79)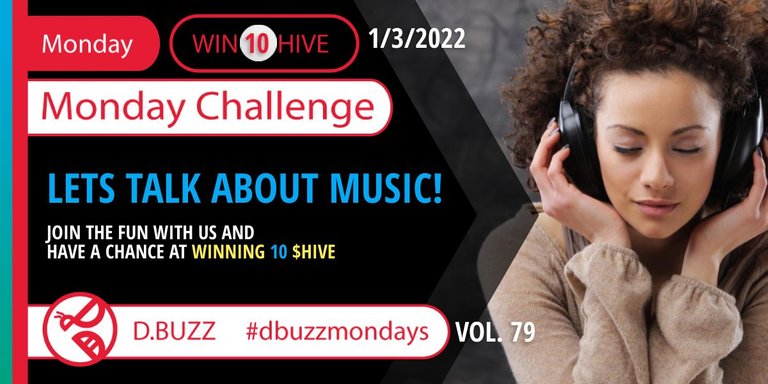 ---
Monday Challenges from D.Buzz
>> Round 79 << | >> Win 10 HIVE<<
---
Hello friends.
It's been proven that music helps people get through tough times, and helps them get pumped up during sports. From a little kid playing a toy xylophone to a world-known musician, all humans need a good beat to keep going.
The beat from the music is what keeps the world going round. A long time ago, when people danced together around a blazing fire, their drumming instruments were what supported the beat of the music. We know that the sound of music can make us feel alive when we are in a bad mood, but sometimes it can also stir us up. Either way, music is a huge part of the world and everyone's life.
Music is a universal language. It helps us bond and it makes us feel better. Listening to great music can make a tough workout or a tough day go a little smoother. Music also brings communities together. People hear the same music on the radio and on the TV, and through that, they can share a moment. We all have a favourite song that makes us feel a certain way. There's something about music that speaks to all of us.
So, let's celebrate music and have a Music Monday Challenge!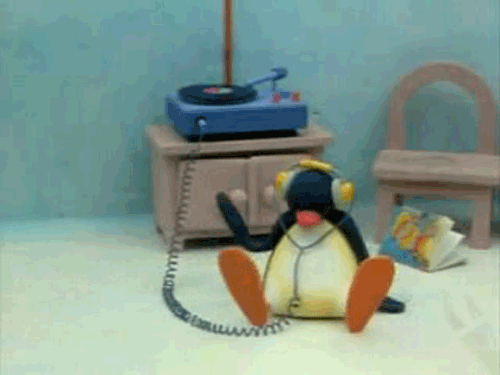 Music makes us a happy penguin.
---
Today's challenge
We want to know what your favorite song is, and where you like to listen to it.
This question is probably up there with one of the most difficult questions to answer. Personally, we like many types of music, like Gypsy Punk like The Gogol Bordello, or classical like "The Four Seasons" By Vivaldi. We also like more upbeat dance music like the beats that Dj.Shadow drops, but then, we also like Frank Sinatra and Queen. So many great bands and music to love, It's hard to select one.
On a post on D.Buzz, tell us your favorite song, and why it is your favorite. If you can also add a link, great!
---
This week's challenge
At some point in the next 6 days...
On a post on D.Buzz, tell us your favorite song, and why it is your favorite. If you have a link to it, please share.
Hashtag that post with #MusicMonday.
Post a link to your buzz on a comment below.
Buzz to Twitter for an extra high-five from us! ;)
---
Thank You
---
Rules:
After seven days (Next Monday, at some point), we will select a winner from all valid entries.
We will then make an announcement post on the following Monday and tag you.
The prize will be sent to the winner soon after the winner is announced.
No, follow, or upvote required to join.
---
What is the prize?
The prize is 10 HIVE sent to you.
---
Last Week's Winner!
By random draw, the winner of last week's challenge is...
---
Who posted this Buzz:
https://d.buzz/#/@oogabooga0411/c/t6iy8ejf1t9tnsku41vmxx
We are grateful for you!
Congratulations on winning!
You will receive the prize from our rewards account shortly. :)
---
Thank you for playing!
---
Questions? Concerns? Comments?
Just comment below.
---
---
A censorship-resistant short-form microblogging platform that empowers you to share your thoughts in 280 characters or fewer.
Censorship-resistant and built for the community with love.
---
We strive to have a fun and neutral stance on topics. If you have any concerns with the content, please contact @jacuzzi who writes and generates the content for our articles, or the @dbuzz team for clarification.
---
D.Buzz online at:
Join us on Discord at https://discord.gg/BKg5Ptg9ss
---
---