Win 10 $HIVE Tokens >> The Weekly Challenge >> From D.Buzz (ROUND 86)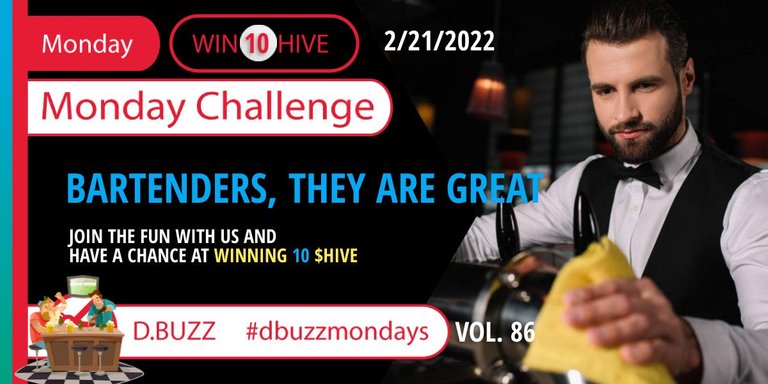 ---
Monday Challenges from D.Buzz
>> Round 86 << | >> Win 10 HIVE<<
---
Hello friends.
If you're like most people, you go to the bar to drink and socialize. But, what about the bartender? They often become your best friend. They know your favorite drink, they know your favorite song, and they know your favorite seat. So, the next time you're at the bar, make sure to say hello to your favorite bartender and buy them a drink!
Moreover, if you're looking for someone to talk to, the bartender is often your best friend. They're used to listening to people's problems and are always up for a good conversation. So, next time you're at the bar, don't be afraid to chat with the bartender. They'll be more than happy to listen.
This all brings us to what this week is... February 24th is World Bartender day! Let us be the first to say Happy World Bartender Day! Today, we raise a glass to all the bartenders out there who make our drinks, keep us entertained, and basically make our lives a little better. So thank you, bartenders, for all that you do! We couldn't do without you!
With a drink raised, it is time to talk about this week's Monday Mission!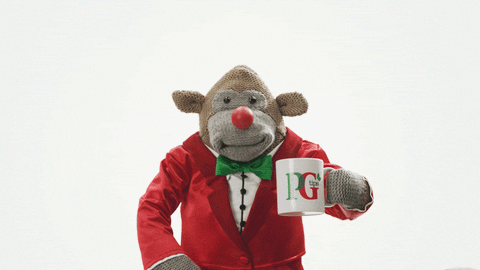 Here to you, bartenders of the world!
---
Today's challenge
After you get your drink, you say cheers to the room, clink that glass with a good wish and enjoy. When we raise our glasses and say "cheers," what are we really saying? Contrary to what many people believe, we're not just wishing each other a good time. The word "cheers" actually has a much more significant meaning. It is derived from the Old French word "ciere," which means "to salute" or "to wish well." So when you say "cheers," you're actually wishing your friends and loved ones all the best. We want to know your favorite way to toast or say cheers before you have a drink.
On a post on D.Buzz, tell us, show us, or in another way... about how you say cheers.
As always, please share a link to your buzz below, so it is easy for us to find it!
---
This week's challenge
At some point in the next 6 days...
On a post on D.Buzz, tell us or show us your favorite cheers or toast.
Hashtag that post with #bartenderday.
Post a link to your buzz on a comment below.
Buzz to Twitter for an extra high-five from us! ;)
---
Thank You
---
Rules:
After seven days (next Monday, at some point), we will select a winner from all valid entries.
We will then make an announcement post on the following Monday and tag you.
The prize will be sent to the winner soon after the winner is announced.
No, follow, or upvote required to join.
---
What is the prize?
The prize is 10 HIVE sent to you.
---
Last Week's Winner!
By random draw, the winner of last week's challenge is...
---
Who posted this Buzz:
https://d.buzz/#/@harulovesanime/c/kt5cf5yk0z5jjslsya802m
Fantastic drawing too! NICE work!
Congratulations on winning!
You will receive the prize from our rewards account shortly. :)
---
Thank you for playing!
---
Questions? Concerns? Comments?
Just comment below.
---
---
A censorship-resistant short-form microblogging platform that empowers you to share your thoughts in 280 characters or fewer.
Censorship-resistant and built for the community with love.
---
We strive to have a fun and neutral stance on topics. If you have any concerns with the content, please contact @jacuzzi who writes and generates the content for our articles, or the @dbuzz team for clarification.
---
D.Buzz online at:
Join us on Discord at https://discord.gg/BKg5Ptg9ss
---
---