Win 10 $HIVE Tokens >> The Weekly Challenge >> From D.Buzz (ROUND 98)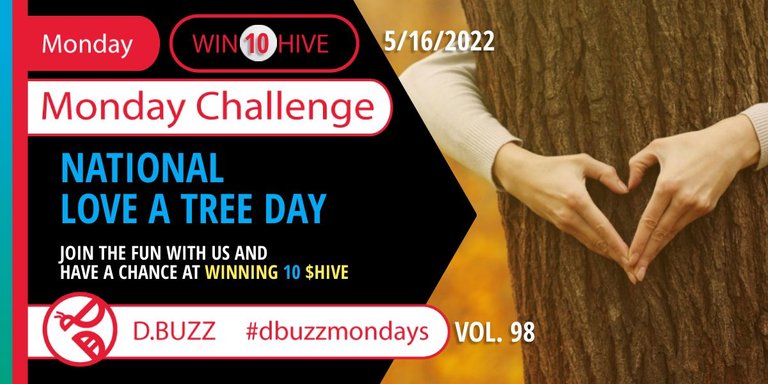 ---
Monday Challenges from D.Buzz
>> Round 98 << | >> Win 10 HIVE<<
---
Hello friends.
Tree-huggers rejoice! National Love A Tree Day is upon us! This day, set aside time to show our appreciation for the often-overlooked greenery in our lives. Today is the perfect opportunity to get outside and show your love for the trees. Trees provide us with so much - from the oxygen we need to breathe, to the homes for the wildlife we love to watch.
There are so many ways to enjoy today, from hugging a tree to taking a walk in the woods and taking in all the sights and sounds of nature. Smell the freshness of the air, and feel the warmth of the sun on your skin. Listen to the birds singing, and the leaves rustling in the wind. Today is the day to celebrate the trees!
Or, if you feel like taking this holiday to the next level and showing some love to the earth, why not plant a tree? Not to mention they make our world more beautiful. So grab a shovel and head outside to show your love for our planet by planting a tree today!
And this brings us to today's challenge.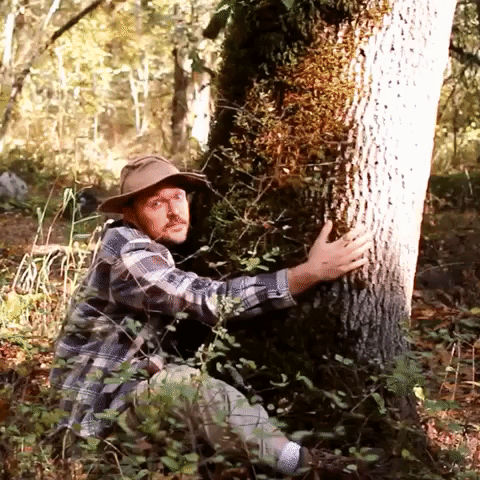 Hug a tree today!
---
Today's challenge
Today is about giving trees some love. So, let's do that.
Post a photo on D.Buzz of you doing one of the following.
Going for a walk in nature
Hugging a tree
Planting a tree
If perhaps you live on a boat, in the desert or frozen poles and do not have access to trees (*First, sorry to hear that), you can also post a poem or story about trees and nature to be accepted into this contest. :D
SPECIAL : If you post a recent photo of you planting a new tree and are selected, we will x 2 your reward, so instead of getting 10 HIVE, you will get 20 HIVE!
Will you join in the fun?
---
This week's challenge
At some point in the next 6 days...
On a post on D.Buzz, post a photo of you doing one of the abovementioned activities with trees.
Hashtag that post with #dbuzztree
Post a link to your buzz on a comment below.
Buzz to Twitter for an extra high-five from us! ;)
---
Thank You
---
Rules:
After seven days (next Monday, at some point), we will select a winner from all valid entries.
We will then make an announcement post on the following Monday and tag you.
The prize will be sent to the winner soon after the winner is announced.
No, follow, or upvote required to join.
---
What is the prize?
The prize is 10 HIVE sent to you.

THIS WEEK ONLY: +10 more HIVE if you post a photo of you planting a tree!
---
Last Week's Winner!
By random draw, the winner of last week's challenge is...
---
Who posted this Buzz:
https://d.buzz/#/@joseal2020/c/9yssfnfimtvsmmai4fb1m5
a very touching poem as well - so, so nice. :) Thank you.
Congratulations on winning!
You will receive the prize from our rewards account shortly. :)
---
Thank you for playing!
---
Questions? Concerns? Comments?
Just comment below.
---
---
A censorship-resistant short-form microblogging platform that empowers you to share your thoughts in 280 characters or fewer.
Censorship-resistant and built for the community with love.
---
We strive to have a fun and neutral stance on topics. If you have any concerns with the content, please contact @jacuzzi who writes and generates the content for our articles, or the @dbuzz team for clarification.
---
D.Buzz online at:
Join us on Discord at https://discord.gg/BKg5Ptg9ss
---
---