Win 10 $HIVE Tokens >> The Weekly Challenge >> From D.Buzz (ROUND 99)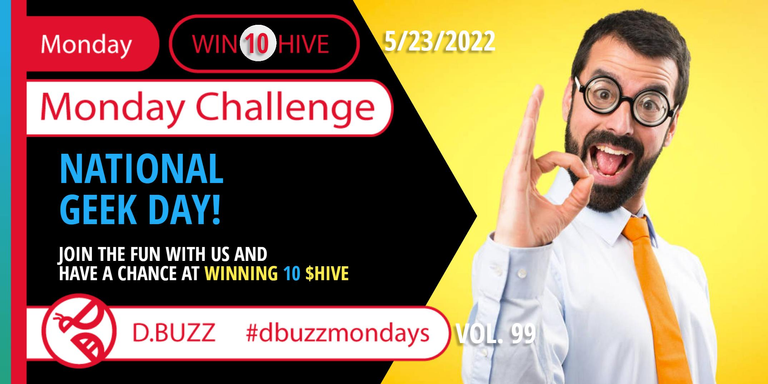 ---
Monday Challenges from D.Buzz
>> Round 99 << | >> Win 10 HIVE<<
---
Hello friends.
Geeks are often misunderstood. They are not just people who are into technology and gaming. Being a geek is about being passionate about something and being part of a community of like-minded people. It's about being curious and excited about the world around you. It's about having a deep love for learning. Geeks are creative and unique individuals who see the world in their own special way.
To be a geek is to be someone who is passionate about a particular topic or interest. Geeks are often considered to be experts in their field and are often very enthusiastic about sharing their knowledge with others. Being a geek is also often associated with being a bit of an outsider, as many geeks are passionate about interests that are not mainstream.
May 25 is National Geek Day, and we're celebrating by doing what we do best: being geeky! Whether you're a sci-fi fan, a video game enthusiast, or a history buff, May 25th and this whole week long is the time to let your inner geek shine. Embrace your inner geek and celebrate National Geek Day!
And this brings us to today's challenge.
Being Geek is sheek!
---
Today's challenge
A geek is someone who has a lot of knowledge of a topic that may not be mainstream. Hive, for example. If you know how to use Hive, vote on witnesses, and stake tokens, you are a geek about this topic. But we are sure you can be a geek about many other topics as well.
To honor that inner geek you have, we want to know what you geek out about and why.
n a post on D.Buzz, let us know the topic that you geek out about. Is it a strange sport like Cow Pie Bingo, being a a D&D fan, or perhaps quilting... Whatever it is, let us know! Then hashtag : #iamGeek.
Will you join in the fun?
---
This week's challenge
At some point in the next 6 days...
On a post on D.Buzz, tell us what you geek out about and why.
Hashtag that post with #iamgeek
Post a link to your buzz on a comment below.
Buzz to Twitter for an extra high-five from us! ;)
---
Thank You
---
Rules:
After seven days (next Monday, at some point), we will select a winner from all valid entries.
We will then make an announcement post on the following Monday and tag you.
The prize will be sent to the winner soon after the winner is announced.
No, follow, or upvote required to join.
---
What is the prize?
The prize is 10 HIVE sent to you.
---
Last Week's Winner!
By random draw, the winner of last week's challenge is...
---
Who posted this Buzz:
https://d.buzz/#/@russellstockley/c/1ait2ipsa631mj7pt0o20e
Looks like a great river to sit along!
Congratulations on winning!
You will receive the prize from our rewards account shortly. :)
---
Thank you for playing!
---
Questions? Concerns? Comments?
Just comment below.
---
---
A censorship-resistant short-form microblogging platform that empowers you to share your thoughts in 280 characters or fewer.
Censorship-resistant and built for the community with love.
---
We strive to have a fun and neutral stance on topics. If you have any concerns with the content, please contact @jacuzzi who writes and generates the content for our articles, or the @dbuzz team for clarification.
---
D.Buzz online at:
Join us on Discord at https://discord.gg/BKg5Ptg9ss
---
---