Win 15 HIVE >> The Weekly Challenge >> From D.Buzz (ROUND 70)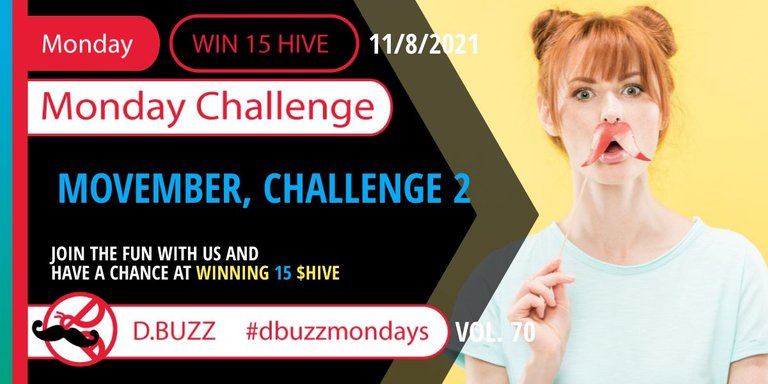 ---
Monday Challenges from D.Buzz
>> Round 69 << | >> Win 15 HIVE <<
---
Hello friends.
Welcome to Monday. :)
Mustaches are an expression of creativity. When you think about mustaches, your first thought might be of a man with a handlebar mustache - maybe in a historical costume. However, many people use the bushy mustache in modern times to express creativity. It's true that some men use their mustaches to express masculinity, or even just to be stylish. But other people style their mustache to express individualism. And some people use their mustache to show their humor or to just to be goofy.
The mighty mustache, the slender soul patch. This month is Movember, which is held to celebrate and raise awareness for men's health. As such, we are doing 4 Mondays of challenges based on facial hair. This week we kick off our second-in-a-row Monday challenge to raise awareness for men's health. Here is an excerpt from the webpage about this movement taking about what Movember is about.
MOVEMBER IS THE LEADING CHARITY CHANGING THE FACE OF MEN'S HEALTH ON A GLOBAL SCALE, FOCUSING ON MENTAL HEALTH AND SUICIDE PREVENTION, PROSTATE CANCER AND TESTICULAR CANCER. Source: Movember website
This week, we're going to get a bit silly with those cookie dusters. We will express individualism, and challenge you to do something fun! Continue down the article for this week's Monday challenge, and your chance to win 15 Hive!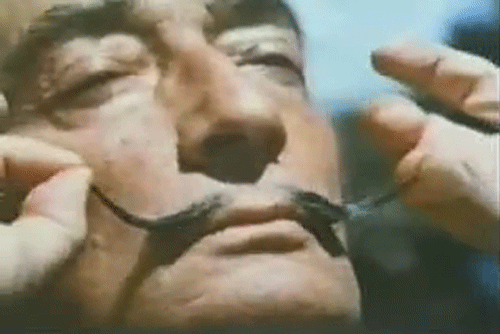 Dali, he is an iconic mustache indeed.
---
Today's challenge :
On a post on D.Buzz, we want you to take a selfie of yourself using any prop in your house or office, or anywhere really, and give yourself a mustache with it.
This may be as simple as holding up your finger across your upper lip, to mimic that of a mustache. Perhaps more advanced like knitting yourself a crocheted mustache. Finding a strange accoutrement that you can use to simulate that of a mustache... Whatever it may be, take a selfie with you and use that thing as a stache (or beard).
---
This week's challenge
At some point in the next 6 days...
Make a Buzz on D.Buzz and host a selfie of you using some item as a mustache or beard.
Be sure to add some text to let us know what you call this new stache.
Hashtag that post with #MOVEMBER.
Post a link to your buzz on a comment below.
Use the Buzz to Twitter for an extra high-five from us! ;)
---
Thank You
---
Rules:
After seven days (Next Monday, at some point), we will select a winner from all valid entries.
We will then make an announcement post on the following Monday and tag you.
The 15 HIVE prize will be sent to the winner soon after the winner is announced.
No, follow, or upvote required to join.
---
What is the prize?
The prize is 15 HIVE tokens sent to you.
---
Last Week's Winner!
By random draw, the winner of last week's challenge is...
---
Who posted this Buzz:
https://d.buzz/#/@buffalobison/c/i17a4qyim2q4ppgtobn2pl
Dastardly Dan had a masterful mustache indeed.
Congratulations on winning!!
You will receive the HIVE from our rewards account shortly. :)
---
Questions? Concerns? Comments?
Just comment below.
---
---
A censorship-resistant short-form microblogging platform that empowers you to share your thoughts in 280 characters or fewer.
Censorship-resistant and built for the community with love.
---
We strive to have a fun and neutral stance on topics. If you have any concerns with the content, please contact @jacuzzi who writes and generates the content for our articles, or the @dbuzz team for clarification.
---
D.Buzz online at:
Join us on Discord at https://discord.gg/BKg5Ptg9ss

---
---