DCooperation progress in 4 months !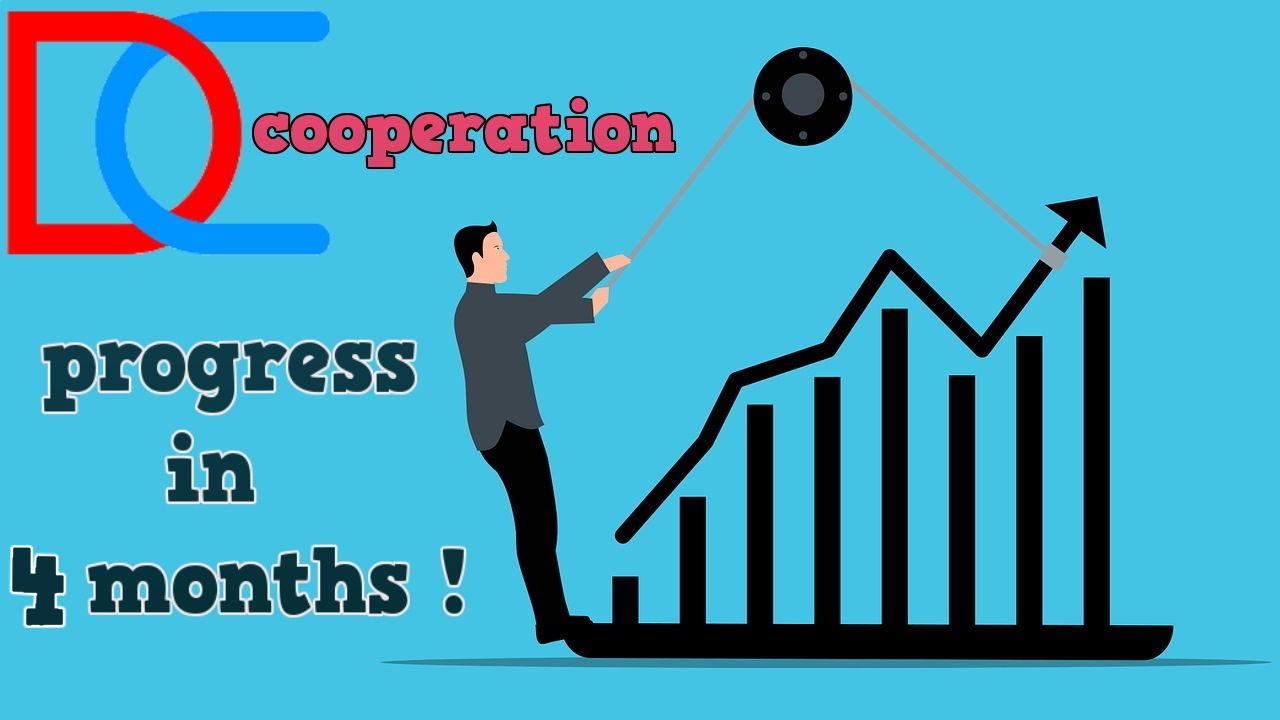 I'm @clixmoney the founder of @dcooperation !
We will hit soon 4 months since we restored the community. I can say we, because we have now a team working on all this. @lennyblogs00 who is helping me with the moderation sometime. @starstrings01 who is following our curation trail and supporting #dcc tag. @natebowie who is helping in creating the movie about hive. @binkyprod the editor of scripts and posts sometimes. @projectmamabg who will help to promote our contests and initiatives. @alokkumar121 who is always around. And recently @garybilbao we are collaborating with.
The team is not that big, but we are planing to add more people in the future. After all anyone could be a partner if you want to help the project in any form you like. Just let us know about that and you will be added to the team.

So, the project is in fact more than 3 years old, but we took a year break and now we are active for the fourth month on hive blockchain. During this time, DCC token was created and it will hit soon two months. Great contests in #dcc supporting collaborations. We are working on the hive movie as I wrote before. As well we have an awesome collaboration with @elcomentador. And I think there is more to come. We just need to find those who like to collaborate. We are open to any suggestions.
Links :
---
---
We are also powering up all the hive earned and tokens, and we have :
| Stake | Amount |
| --- | --- |
| HIVE | 425 Hive Power |
| BPC | 1653 BPC Power |
| SPORTS | 287 SPORTS Power |
| BHT | 304 BHT Power |
| POB | 118 POB Power |
| LEO | 40 LEO Power |
| CTP | 34 CTP Power |
| NEOXIAN | 35 Neoxian Power |
| CENT | 21 CENT Power |
| CINETV | 19 CINETV Power |
| PAL | 16 PAL Power |

I would like as well to welcome those who joined us recently : @laschilcas, @malopie, @fragozar01, @californiacrypto, @projectmamabg, @actioncats, @damadama, @gaboamc2393, @nahupuku, @librepensadora, @hectorfaria1, @mercmarg, @aramza, @soychalbed, @anthony2019, @panmonagas, @brujita18, @aichel, @parauri, @musageta298, @camborio, @mili2801, @matheusggr, @onwugbenuvictor.
Most of them subscribed thanks to our new collaboration with @elcomentador , what we should really thankful for.
As well, I would like to share some introductions from our discord server :
Hello guys,
My name is Hristina (almost the same like Christina). I am 33 yo mommy who tend to do many things. My main work is SEO and I wokk remote in one company in my country(Bulgaria). At the moment I am in my motherhood and I find lots of time about anything. I am kinda new here in the Hive platform, but accourding to some older users they said that I've beat their knowledge only for 3 months. At the moment I am running a blog in Hive about "Exploring Hive" and teaching the new users in my country some "dummy's lessons" how to work in the ecosystem. I said dummy lessons, because I've found many articles in English explaining the platform in a very high level and most of the people who doesn't understand English needed a translator to do any tricks (bolding texts, making the content on 2 rows etc.)
Greetings friends. My name is Ramon Alexis Fragoza and I am from Venezuela, Maturin, Monagas. I am in the Hive platform since January this year and I am an enthusiast of the cryptocurrency world and Blockchain technology. You can reach me as @fragozar01 and in my other networks as fragozar. Delighted to belong to this community and I am part of the @elcomentador project team at Hive.
I am Venezuelan, specifically from Caracas. My user is @orimusic, I'm dabbling in the world of music as a bass player, and I'm also dedicated to modeling, photography and writing. I have a degree in Education with a specialization in Cultural Development. I am also moderator in two projects of the platform and I know that I am still able to continue taking on challenges and proposals within the platform.
Hello everyone. My HIVE username is @GaboAMC2393 but everyone calls me Gabo. I'm new to HIVE, I arrived at the end of April this year and my blog is basically about a little bit of everything. I do crafts, write stories, make designs, cook; in short, a little bit of everything. As I say in my blog, I'm a computer scientist by profession but an artist at heart, I'm also very creative so that's what you'll find in my blog, creativity.
Hello, hello, I'm Musageta, I'm in my twenties and I write narrative and short stories (sometimes poetry)... or any story that crosses my mind. Anyway, raise your glass with me and let's toast to love, life and the adventures of our existences.
---

---
---
---
---