Great news about DCooperation !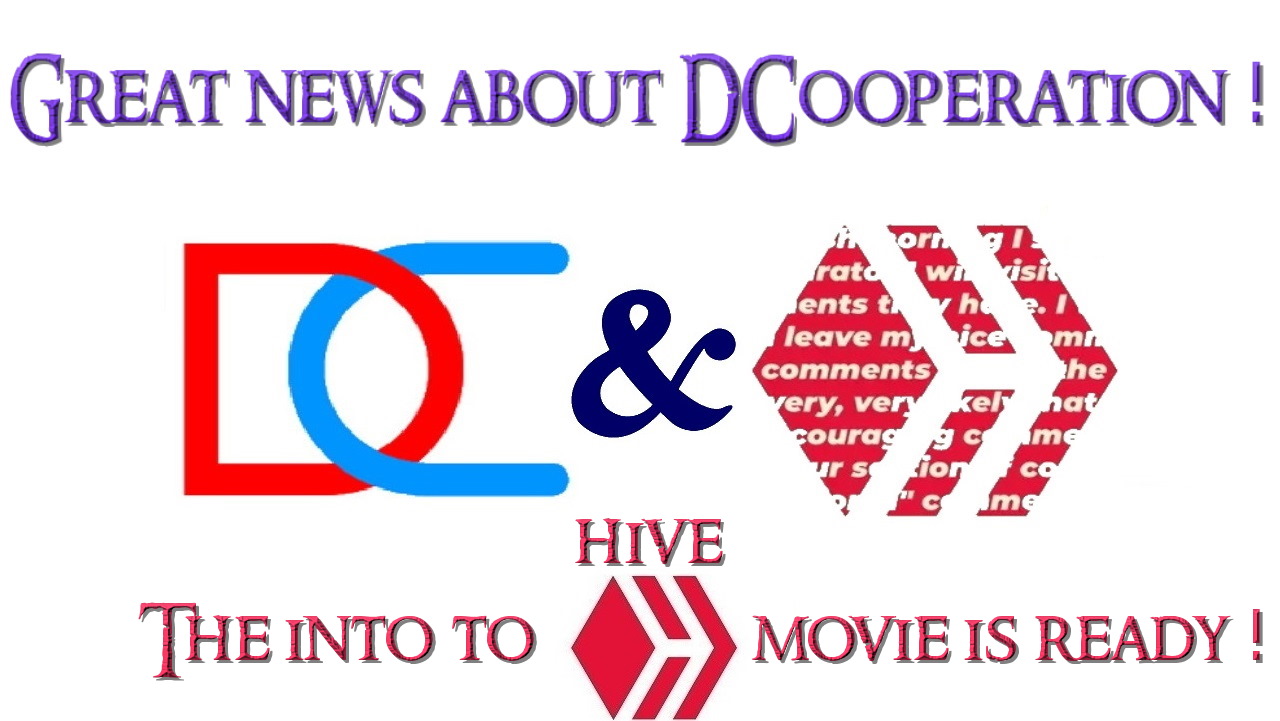 I'm @clixmoney , the founder of @dcooperation !
It has been an other 10 days with working on @dcooperation and #dcc tag.
Exactly in 3 months after relaunching the community we reached the following achievements :
400 Hive Power and 3334 delegated to us.
250 subscribers and 52 members in discord.
All the tokens in the tribes staked.
The tag #dcc is getting more popular.
The token DCC is in more hands.
The intro to hive movie is almost ready !
Plus the big news we have is our collaboration with the project @elcomentador !
---
This project is to curate comments on hive. And knowing the importance of commenting, I created a channel where the best comments will be shared and supported. Join us here to curate the best comments !

Besides that, the script of the intro of the Hive Movie written by @natebowie and edited by @binkyprod is ready. I even have the audio sent and recorded by @natebowie. I'll need just to find some time, download some videos, edit them all together, add some music and the intro will be ready.
Now we welcome actors for this movie. If you want to participate in it, let me know about that. Anyone can send a video, even without face. For example we start by recording how we joined hive. So, 3 hivers could already record videos about how they joined hive and sent it to : clixsensemoney3@gmail.com using this website : wetransfer.com.

I would like as well to welcome those who joined our discord server recently, those are : @garybilbao the leader of @commentcuration, @mayllerlys , @marin42 , @nanyuris , @musageta , @mundomanaure , @Psyshock1 , @cesarsj5 , @yenmendt , @ary21 , @DerZweile , @joseantpp , @onwugbenuvictor.
Thanks as well for those who introduced themselves :
Hello greetings my name is Mayllerlys, in all my social networks you can find me by my name (it is unique in the world) I am from Maturin, state of Monagas, Commercial Education Teacher, mommy of 2 princesses, dancer at heart (it is my passion) currently dabbling in the world of cryptocurrencies and makeup. Proudly part of the team of The Commentator Project.
Very good morning my people, happy Tuesday, I am a touristologist by profession and fashion illustrator by conviction. I was born in Caracas and I live in the State of Miranda - Venezuela, I have a little more than two months in this great platform and I have learned a lot, generating valuable content, follow me here and in other networks! a hug on line.
Good morning everyone, my Hive name is @onwugbenuvictor. I joined Hive 1st of August 2021. I'm a Nigerian, my current location is Nigeria. I found this great community through a friend @readthisplease. I love talking about crypto and I give great movie recommendation.

Here is our progress in tribes as well :
| Stake | Amount |
| --- | --- |
| BPC | 1343 BPC Power |
| SPORTS | 287 SPORTS Power |
| BHT | 272 BHT Power |
| POB | 83 POB Power |
| LEO | 40 LEO Power |
| NEOXIAN | 35 Neoxian Power |
| CTP | 31 CTP Power |
| CENT | 20 CENT Power |
| PAL | 16 PAL Power |

---
---
---
---