Looks Like Binance is Banned Out Here
Hello friends, hope you are having a good day. According to Minister of State for Finance and Revenue Aisha Ghaus Pasha, "crypto will never be legalized in Pakistan".
I my previous post, I wrote, "I have been cashing out through crypto exchange Binance for a few times, but I don't if I could now or later be able to cash out from Binance. Don't how far the government could go about this claim, but these sort of news doesn't look refreshing."
I tried opening Binance with VPN but this is what I got.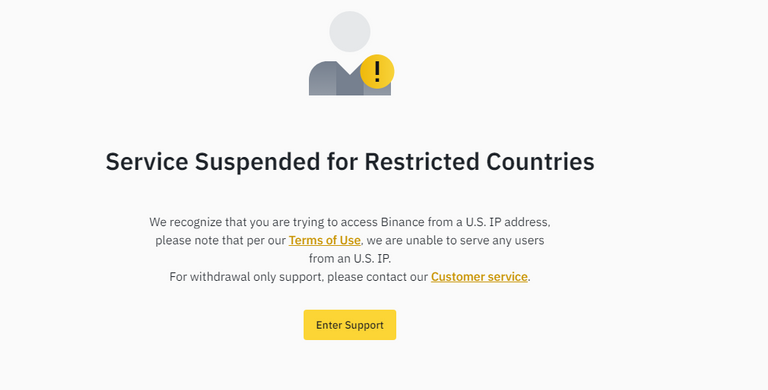 I didn't know Binance ain't opening in US.
The reason I was trying to use VPN is because of this. Today I tried to open Binance but it was not opening.
I checked it if it's only an error but I then tried to open Binance through VPN and it opened. This made me thinking, Binance is probably now banned in Pakistan. I don't know if this is the case, but it looks like.
Let's see if we could access Binance later but things don't look okay to me. It looks like the government has started cracking down on cryptocurrency and crypto exchanges.
I don't know who is the winner out here. The government? The local crypto community? Or the Financial Action Task Force (FATF)? I am not able to understand.
As FATF is said to be imposing this condition on the country. This might now be a matter of concern for the millions of Pakistanis out there who are into the crypto industry.
I don't know how far this could go, but things don't look fair for the crypto community out here.
Any thoughts?
---
---
Follow me:
Hive: @decoding
Twitter: www.twitter.com/decoding1011
Discord: decoding#9631
Other Reads
If You Don't Have a Will You May Find a Bunch of Excuses
FATF's Sword and Crypto Ban in Pakistan
The Banking Hostility is Back?
Next Bitcoin Halving is Probably Less Than a Year Away | What to Expect?
Promotion Through PR and Press Releases
---
---