HIVE Magnets. Shipping worldwide!
Few days ago I posted on Twitter back of my car which looks like this: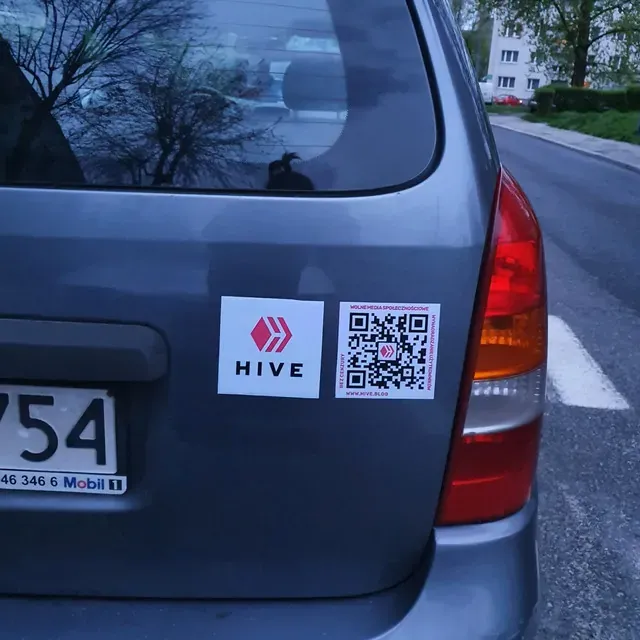 I asked the community if there is an interest in similar Hive promoting magnets in English. Post got over 130 likes and counting with many people commenting, so I think I'm ready to start production and shipping worldwide!
Magnets are 10x10cm in size and produced in solvent printing technique on foil 1mm thick, these are corrosion-resistant and can be used as a bumper sticker, on your fridge, or any flat ferromagnetic surface.
There are several examples of projects to choose from:
General Hive logo 1:

General Hive holographic logo 2 by @doze cut to square:

General Hive logo 3 by @doze:

QR code leading to main page hive.blog by @mciszczon:

QR codes of major Hive frontends from this post by @doze. Some of these are GIFs, the static version will be used for print.
QR code leading to your own blog page on any of Hive frontends. Unique QR code will be designed by @mciszczon
Actually anything you want as long as it's square, properly licensed and orbiting around the Hive ecosystem or cryptocurrencies.
By default I'll be sending two magnets for 10 $HIVE, and since the biggest part of this price is international shipping from Poland, there might be 4magnets sent to you for 12 $HIVE.
Any bigger order will be priced individually, since it will exceed the basic shipping service provided by the post office.
This is non-business venture. Any earning left will be either invested in next batch of magnets or will be powered-up to further support the community.
After transferring to me $HIVE, please send your physical address together with your Hive login and chosen design in one of the following ways:
To my email address, at: przemekoglaza@gmail.com
via Discord to deepresearch#3235
via Twitter private message at @deepresearch_
You can use www.privenote.com to hide your address and leave no trace on the Internet.
Orders will be printed and completed after certain amount of magnets ordered, I estimate around 10 orders is minimal. Otherwise, your transfer will be refunded. After packing and sending your order you will get notified in the comments of this post.
Any suggestions and comments welcomed.
Partial beneficiaries of this post, as authors of graphics, are @doze and @mciszczon.
Cheers!
---
---