When Things Get Tough... Return to the Old Ways
Well, that was fun... NOT.
Watching the financial markets crumble is never "fun," unless you perhaps are a short seller. Which I'm not... even though I have on occasion had a remarkable talent for picking ideas and projects that are about to fail, monumentally. But that's a whole other story.

This is sea glass, or beach glass, and it is how I once made a living...
As I watch the meltdown in both the legacy financial markets as well as the cryptosphere — and ponder the reality that just a few months ago we had $1.62 Hive — I find myself looking backwards to a part of life where crypto wasn't even on the map yet.
Sure, Bitcoin had been "invented," but it was little more than a somewhat exotic attempt at "Invisible Internet Nerd Money."
But I was enjoying my own version of "making something out of nothing," in the form of actually being a beach comber for "a living."
Yes, I was actually able to walk on the beach, pick up "interesting things," and market and sell them to jewelers and artists around the world who work with "found objects."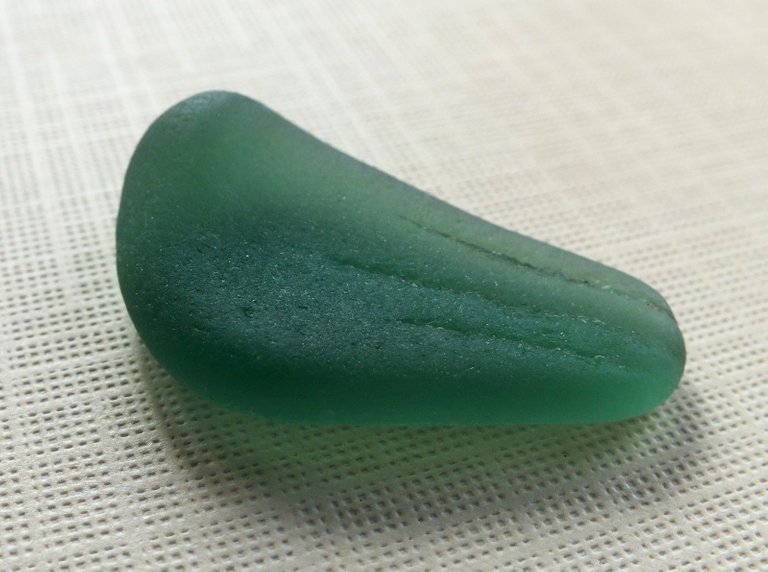 A large piece of sea glass, possibly from the bottom of a glass dish with part of a "startburst" pattern still showing
I've already written about this, in the past, so I won't repeat myself... but with economic uncertainty on the upswing, and "blogging on Hive" increasingly off the map (as an INCOME proposition, not as an INTEREST), I am spending rather more time looking at the beach combing business again.
Of course, most of the sea glass is now gone, but I recently had the good fortune to be invited to help a friend — and former customer of by business — sell her lifetime collection of sea glass and other beach treasures.
Of course, we split the proceeds, but the attraction here is that it is something I really enjoy puttering around with... AND selling things that people buy to create things in the hope of making money tends to be a really good place to be, when the economic conditions are a bit sketchy, as they are now.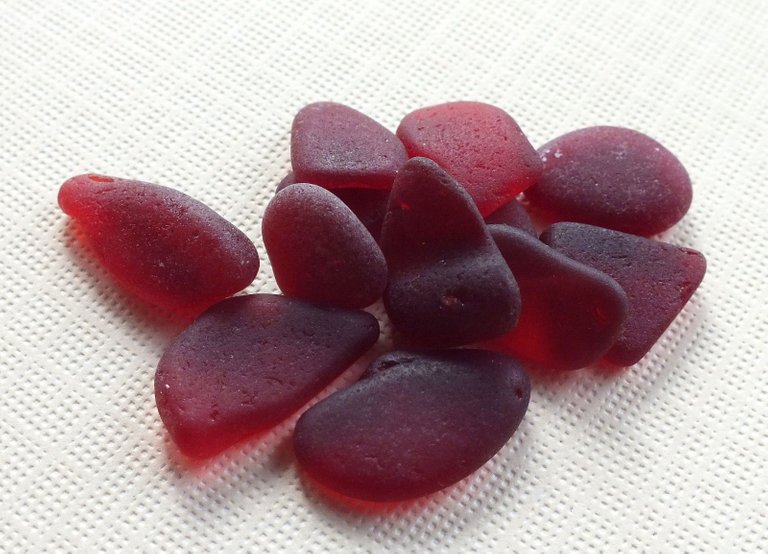 Deep red sea glass. Red sea glass is VERY rare, but also sought after by jewelry makers
You might find yourself wondering why anyone would buy what's essentially "broken glass," but there is a certain "mystique" surrounding sea glass... going back many many years.
The glass starts as the usual sharp broken shards we expect when we think "broken glass," but after years — decades, even — of being naturally tumbled in the ocean with rocks and sand, the soft rounded shapes you see in these photos become the result.
I started picking it up when I was a little kid, and we would be living in various more or less exotic locales where glass trash had found its way into the water and gradually became "polished."
Sea glass has actually become fairly rare, since we get most things in plastic these days, not in glass.

Cornflower blue sea glass, likely from an old "Milk of Magnesia" bottle
Yes, this is definitely a "niche market." The number of people involved in some aspect of trading with or using sea glass is only in the thousands or possibly tens of thousands... WORLDWIDE.
But it's a very dedicated and loyal community of artists and collectors.
So what was my overall point here?
Well, when things get sort of rough, it's perhaps a good idea to take a step or two back and re-evaluate where we are putting our energies. Or rather, where we expect the grocery money to come from.
As for Hive and Crypto? Well, I'm glad I am in this for the very long haul and my reason for being here is more about a love of writing and the creative process... than about actual investing and making money. Definitely not going anywhere, but going to focus more on building than on earning.
Thanks for stopping by, and have a great remainder of your week!
How about YOU? Are you likely to "change directions" or "adjust" in some way, in response to current economic changes? Or are things going to be unchanged for you? Comments, feedback and other interaction is invited and welcomed! Because — after all — SOCIAL content is about interacting, right? Leave a comment — share your experiences — be part of the conversation!

---
Greetings bloggers and social content creators! This article was created via PeakD, a blogging application that's part of the Hive Social Content Experience. If you're a blogger, writer, poet, artist, vlogger, musician or other creative content wizard, come join us! Hive is a little "different" because it's not run by a "company;" it operates via the consensus of its users and your content can't be banned, censored, taken down or demonetized. And that COUNTS for something, in these uncertain times! So if you're ready for the next generation of social content where YOU retain ownership and control, come by and learn about Hive and make an account!

(As usual, all text and images by the author, unless otherwise credited. This is original content, created expressly and uniquely for this platform — NOT cross posted anywhere else!)
Created at 20220614 13:40 PDT
0591/1837
---
---