BATTLE MAGE SECRETS: SMALL MANA BLAST TEAM - FISH N FROG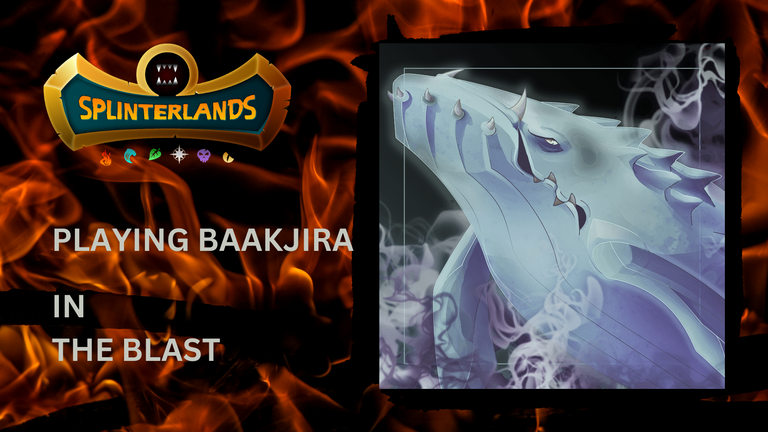 Good Morning Hivers, welcome back to my weekly Splinterlands BATTLE MAGE SECRETS. As for today Battle Mage Secrets topic, We have this Explosive Weaponry ruleset.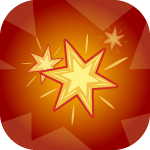 EXPLOSIVE WEAPONRY Ruleset gives all cards or monsters on the battle field, a BLAST Ability. The blast ability is an ability that makes attack having a blast effect, making the next to monster from the target suffer additional damage that is equivalent to main damage divided by 2. So this ruleset makes everyone in both line up dangerous, dealing more damages than they should do. So there are many strategy that we could do during this ruleset:
1. PUMP YOUR SPEED
This is the best and the most favorite strategy during this ruleset. Makes your team very fast, hit first and kill first before your opponent get any chance to launch their attack.
In term of defense, this works best too. Most of the time, its useless to withstand opponent blast attacks. The target can survive however their teammates die from the blast effect.
2. UTILIZE REFLECTION SHIELD
Recently this one become the second favorite approach during this ruleset. Because cards with Reflection Shield ability can barricade and nullify the blast damage.

Venator Kinjo is a perfect example why having a reflection shield makes him very important regardless how weak he is individually. Only by standing behind the main tank, or next to taunting backline monsters, he can negate any incoming blast effect.
3. AVOID DIRECT STRAIGHT TARGETING
Due to the REFLECTION SHIELD, sending a straight line attacks sometime doesn't work because your opponent already make a defensive meta to withstand those attacks. Having Snipers, Sneak Attackers, and some Opportunist will be a great advantage here.
4. EXTRA DEFENSIVE ABILITY
Having Shield and void bring great advantage during this ruleset, because they can reduce and negate the blast damage. Immortalis is a perfect example for this approach. His void can make a decent magic blast effect become negated.
5. BETTER FIRE POWER
Because Explosive Weaponry is about delivering more damage to your opponent, having more damage per round can be really crucial and decisive. It's a pity if you hit first but fail to kill your target, then opponent retaliate but his attack kills your units.
So It's always a good approach to have as highest damage per round as possible,which the consideration not dropping the speed or increasing odds of missing out your target.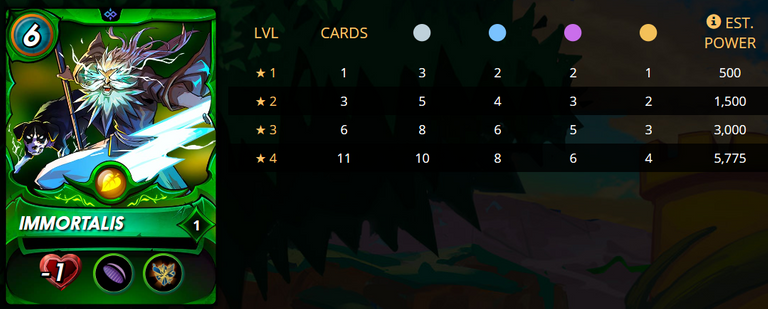 Anyway Magic Reflect from Owster Rotwell and Return Fire from Lir Deepswimmer are the good example too. However this approach is still a 50:50 chance, because it's useless you prepare to counter magic attacks but your oppoonent comes with Melee or Range. Vice Vera
Now the question, what can we do during SMALL MANA CAP? the choice is very limited...

THE BATTLE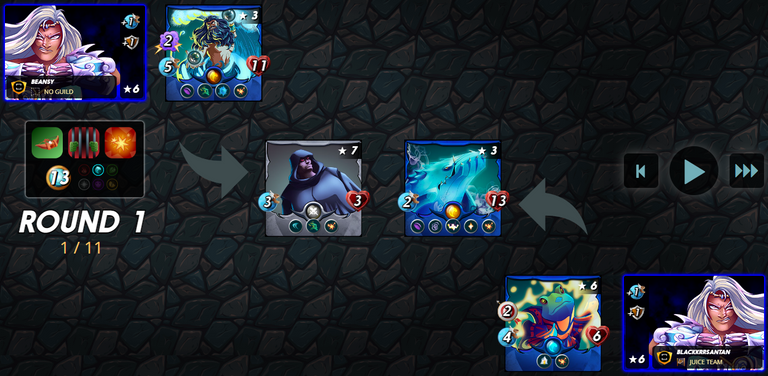 ~Click The Image Above To See the Full Battle~
This was a Modern gold league rank battle, I was using Blackkrrsantan, a scholarship account from Bulldog1205 guild.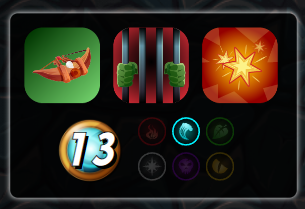 13 Mana Cap without any Melee Card available could mean everything would come from main door... no Snakers, No opportunist and small posibility of Sniper. Let See how things would go
ROUND 1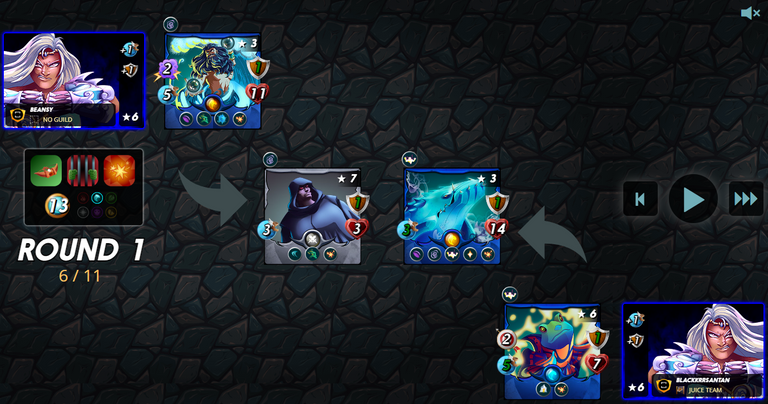 The battle started with both of us Buffing up our team and debuffing our opponents.
My opponent came with 2 magic damage.
My team had 2 range damage.
This battle was to negative, and from the start I already knew I won this one
ROUND 2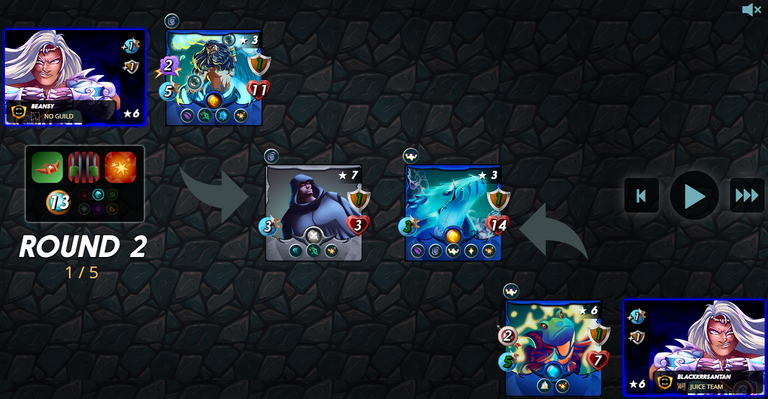 It seemed nothing happen in round 1. I am fast forwarding this battle because it was very boring long rounds battle due to both party playing defensively.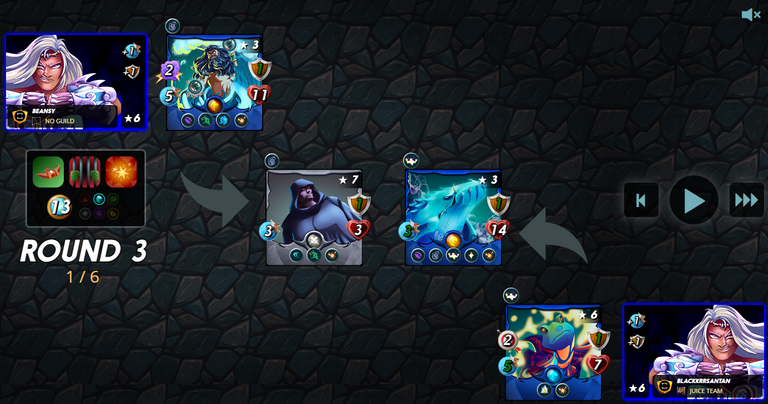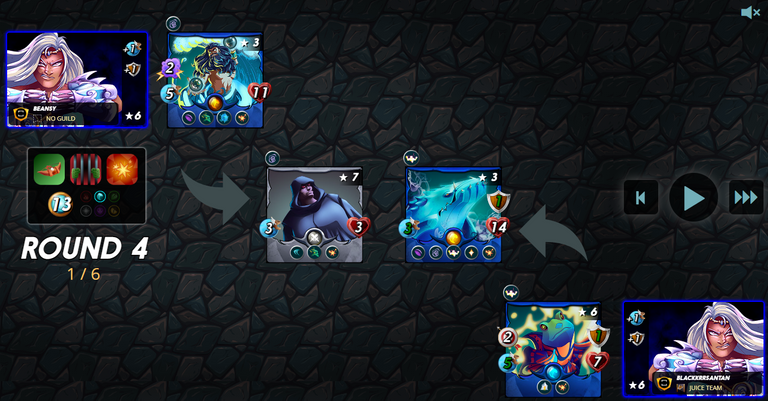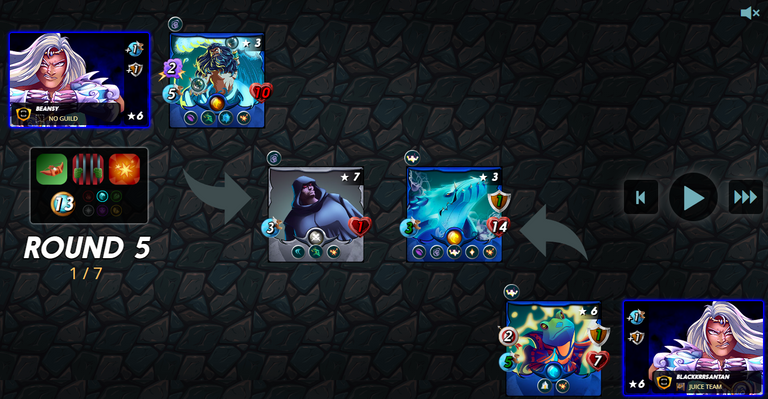 Their Chaos Agent died here in this round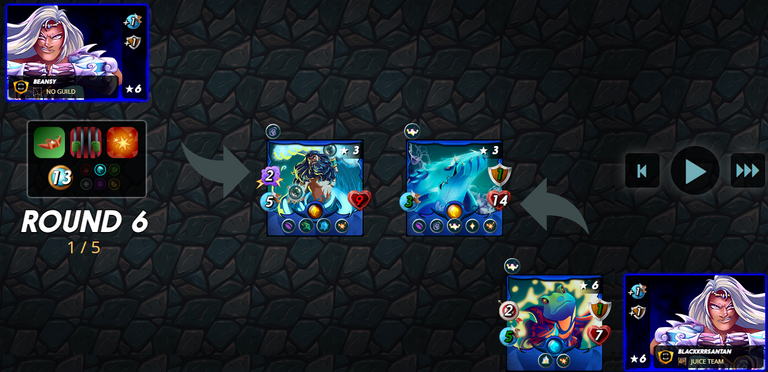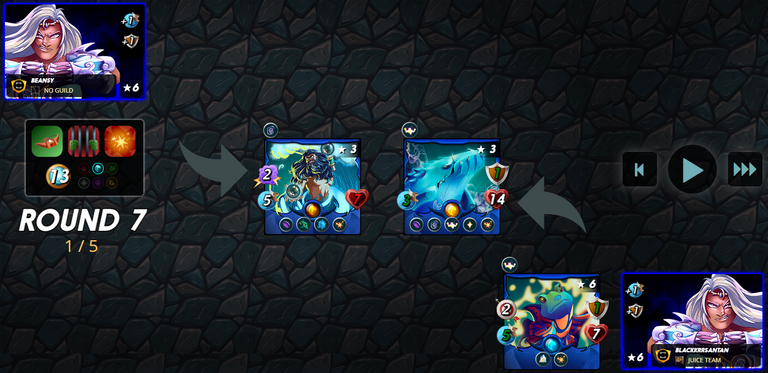 Let's fast forward the upcoming rounds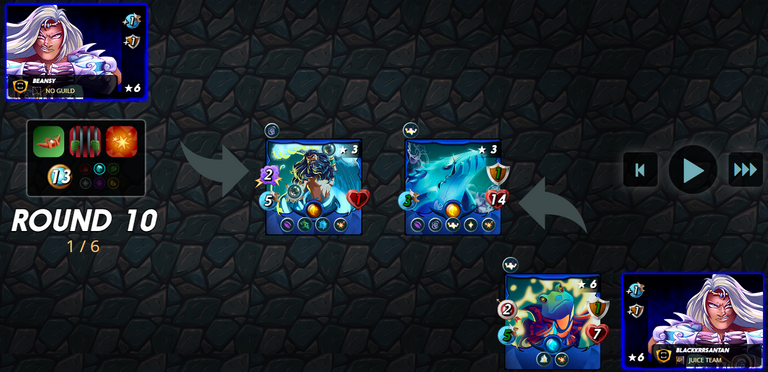 Ok round 10 was the last. Good Game

CLOSURE AND DISCUSSION
My opponent did the right thing. He had his team very fast, dodgy by using Chaos Agent. Djinn Oshannus had Void and Phase. Everything were right by the text book, too good exactly as if he was a bot... maybe his bot was the one who played...
So how did it go wrong? or Why I won by using some half ass line up?
the key was the Keep Your distance ruleset and small mana cap. Without any Melee Units available, like I have said above, we can expect no Deeplurker, no Pelacor Bandit, No Uraeus, or any Sneak-Opportunity Melee attackers
And 13 mana cap negates any possibility using small sniping mage... let's face this fact, no magic attacker with snipe ability in Water Element. You can use 5 mana sniping Narwhall, but do you dare to gamble it? once your tank get killed, range attackers can not do any.
LIMITED DAMAGE VS HEALING CAP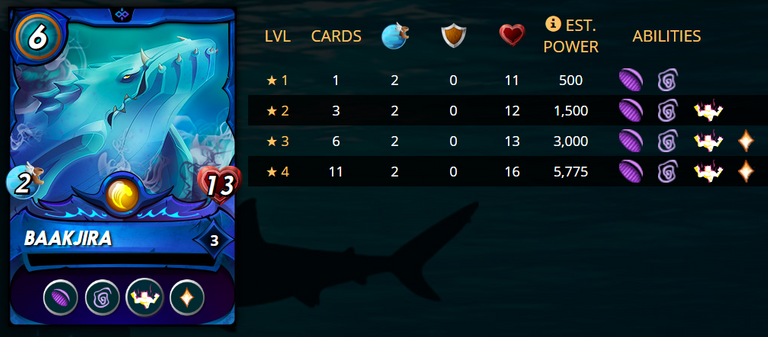 Baakjira is not a wise choice during Explosive Weaponry ruleset, however he is a great choice in lower mana cap battles. With 13 health point, he will keep regenerating 4 health poin every round, which means that if your opponent comes with less than 4 damage per round, they could not kill the Baakjira. It's a matter of time before fatigue comes and everyone dies except the Baakjira.
That's why from beginning when I saw opponent had Djinn Oshannus with 2 magic damage only, I knew directly this would be a win for my side.
The lesson we can learn from this battle is that everytime we have less than 16 mana cap, we should rethink and update our preferable line up first. Many meta do not work well in very small mana cap. They still can work well in 18-22 mana cap,but lesser than 16 mana, things change. For example, a self healing unit without attack, such as Baakjira can be an OP meta.
This get worse with the limitation of the cards available. for Example if we have Melee Only, Xenith Monk will be the only choice for tank and the win will only be decided from which cards which have the same rarity and speed, will move first.
Ok that's all for today post. Have fun with your EXPLOSIVE WEAPONRY battles!!

---
Thank you for visiting my BATTLE MAGE SECRETS Weekly Challenge, don't forget to leave your comments and feedback below. There are credits in this post for these people:
@splinterlands : for holding weekly social media challenge events
carrieallen : for ultimate markdown tutorial
bulldog1205 : for the scholarship account : blackkrrsantan
thepeakstudio : for wonderful divider art
---
---