A Piece of the PIZZA Action (and BEANS?!?!?!)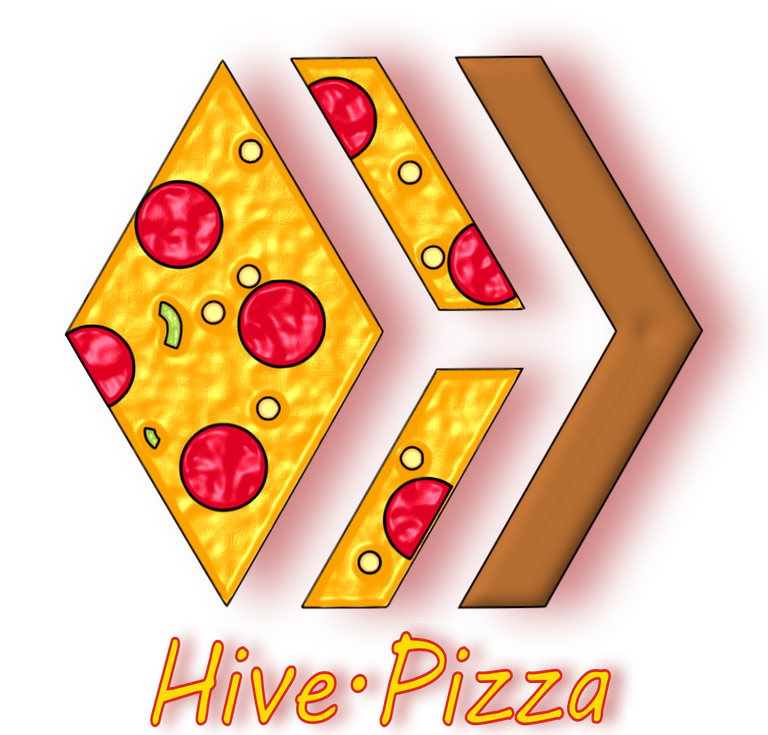 I haven't posted about $PIZZA for a while, outside of my normal Tale of Two Pizza's posts anyway! So I figured it's about time to get an update up about some recent developments!
I've posted in the past about some of the cool things you can do with $PIZZA beyond using it as a tipping token! Things like Staking returns, Diesel Pools, Delegation earnings, all add to the value of the token. But it's real strength lies in it's community- it is at its heart a project about engagement and community building. The PIZZA token can be tipped to anyone anywhere on HIVE by typing !PIZZA in the comment section if you have 20 PIZZA staked. That's the piece that most of you already know about PIZZA. Here comes the pieces you might not!
Hive.Pizza account regularly curates across HIVE in gaming, music, art, and creativity communities with a pretty hefty upvote! using the #hivepizza tag can get the curators looking at your post!
The Hive Pizza Store sells PC games that can be bought with $PIZZA and $HBD and will soon have other products available!
The Roadmap is very ambitious and includes plans for chain games and other awesome features in the future!
The Hive Pizza Community has started to pick up some steam! You'll see lots of contests and ways to earn $PIZZA showing up here in the future!
The Hive Pizza Discord is where a heck of a lot of the magic happens and it has received a lot of updates recently! This is what I want to focus on as it is the center of the PIZZA community and project!
Did you know there are servers for various games run by Hive.Pizza? You do now!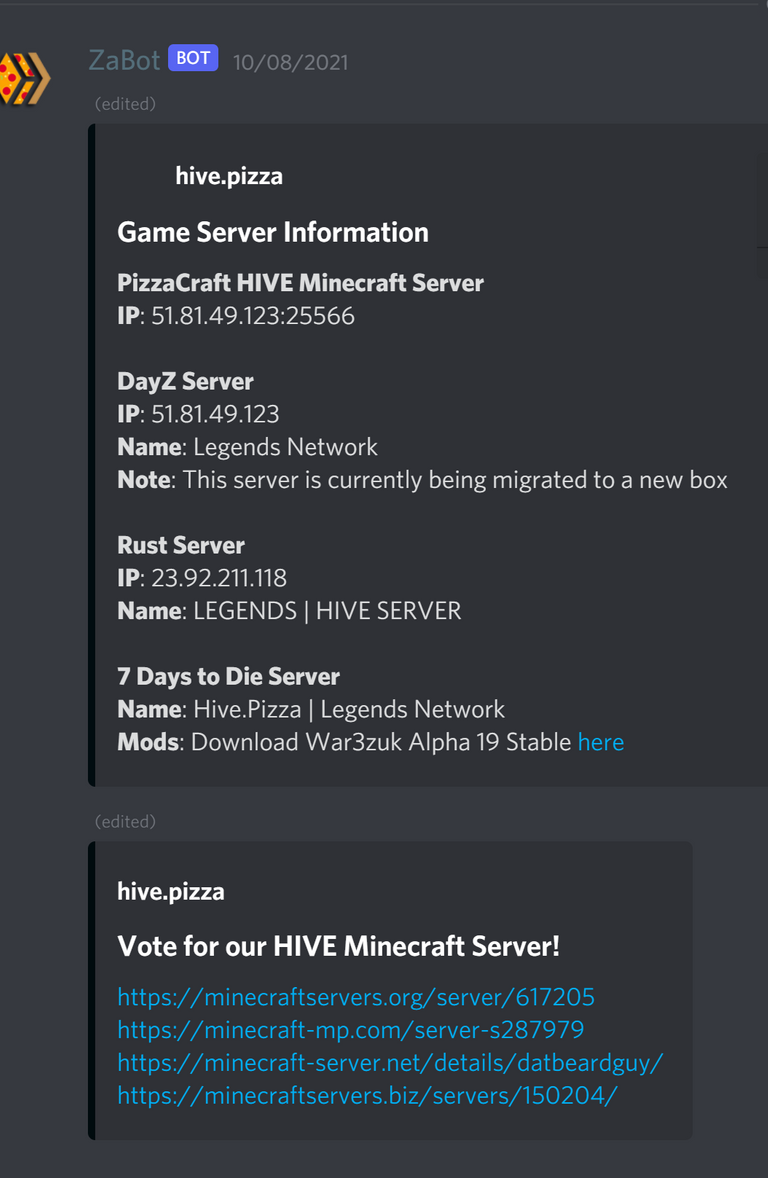 How about Hive Games? Hive.Pizza is deeply involved in most(if not all) Hive Games! With 3 Splinterlands guilds, a developing alliance on Exode, and community members regularly playing across Dcity, Dcrops, Rising Star, Rabona, Hashkings, Brew Master, Ocean Planet, Muterra, and Unsung-Hero the Hive.Pizza Discord is a great place to get tips and tricks on these games and connect with other players! You may also notice the VIMM Going Live Channel for links to folks streaming! The Pizza community is pretty good about hopping in to support members that are streaming with a vote and to chat a bit!

Part of the recent update to Discord has brought more focus on community engagement and incentives to get involved with PIZZA! The team recently added various Discord bots and games as well! With Tatsu, Dankmemer, Piggy, and Pokeverse to play there's a lot of fun to be had right in the Discord!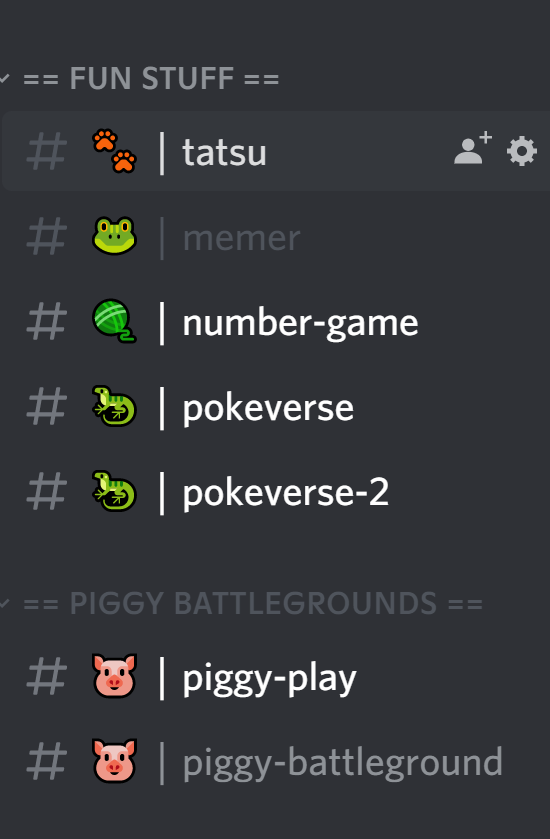 All of these changes and updates to the Discord have been leading us somewhere- and we got to see a little piece of that recently! @thebeardflex and @hivetrending are set up to incentivize engagement and support of the project within the discord. There have been recent giveaways for community members who vote for the discord server, opportunities to win STEAM game keys and PIZZA, and it looks like many more to come in future as well!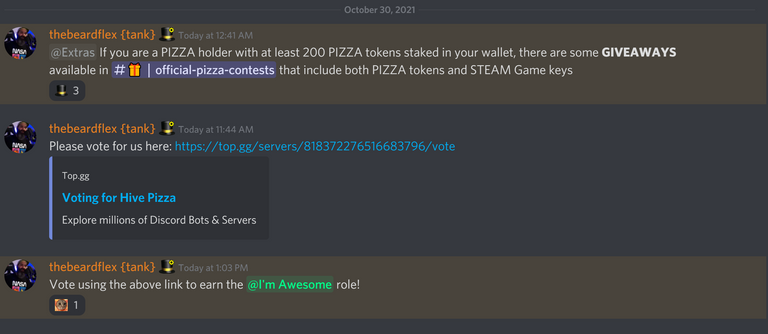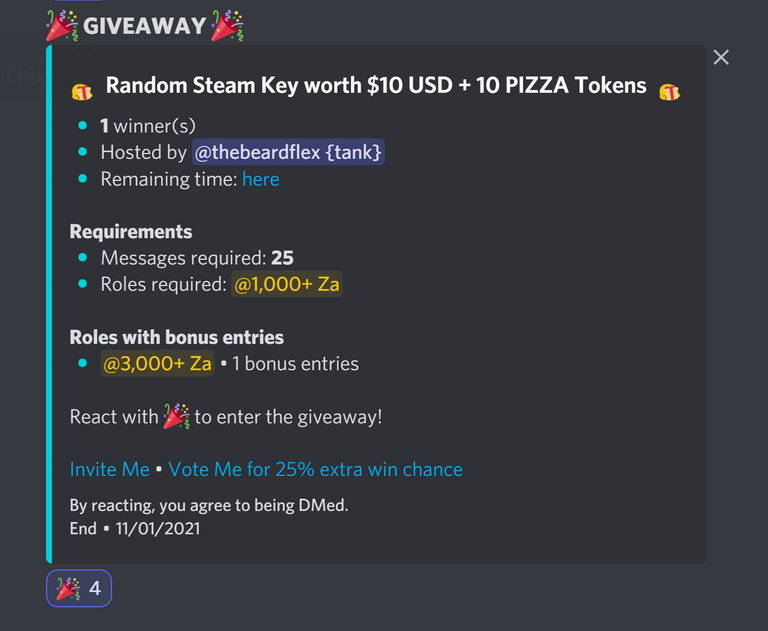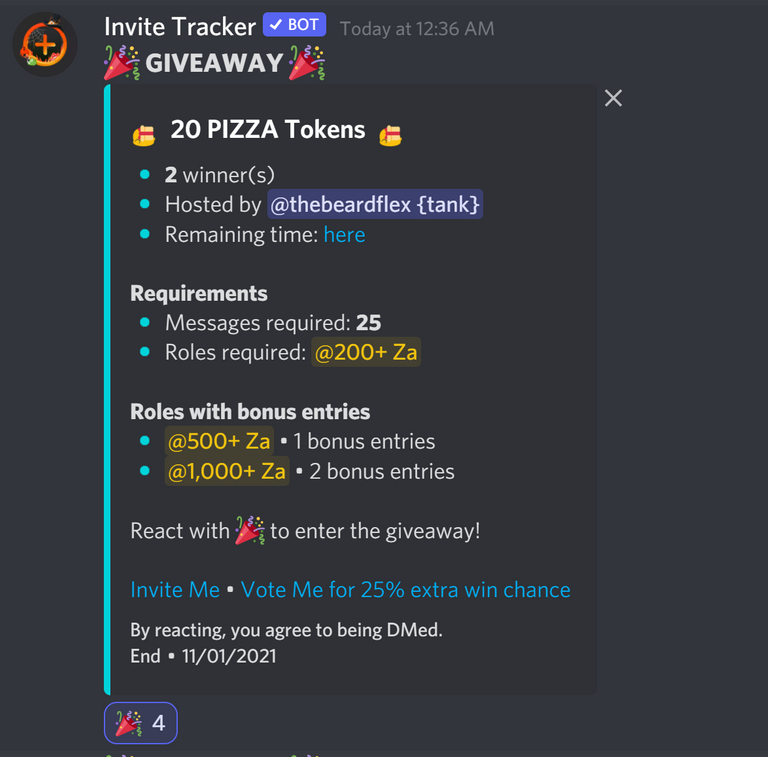 You may note that both of these giveaways grant extra entries to community members that have more Pizza Staked and hold the relevant role. This is all part of the projects intent to gamify staking and earning PIZZA! It's an additional benefit to holding Staked PIZZA beyond the Top 10 Holder rewards or the various lottery tiers that pay a dividend of PIZZA each week!
Now that I've gone over some of these new updates that have already been pushed to the discord. It's time to delve a little into something that seems to be just over the horizon. Allow me to draw your attention to this discord message:

I quickly demanded that he spill the beans! Which led us down a rabbit hole: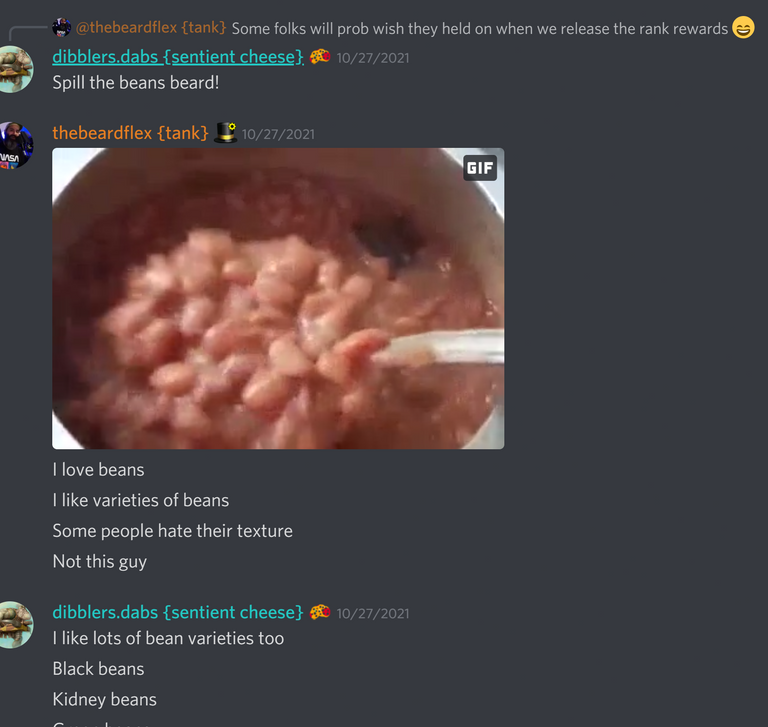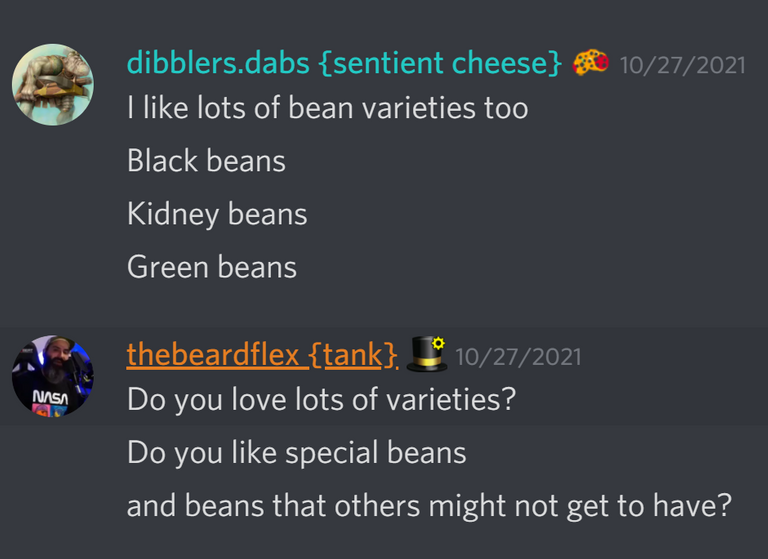 I think @thebeardflex might have been trying to tell us something... Something about BEANS of various types... Linked somehow to Staked Pizza amounts! Who knows... Maybe I'm reading too much into it?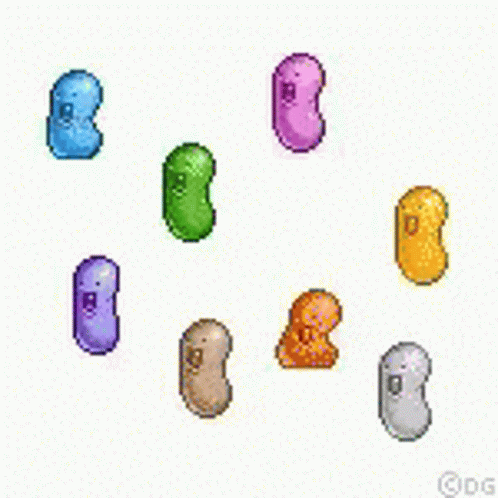 Regardless I am impressed with the slew of discord updates- the renewed focus on gaming and community engagement- and the additional opportunities to earn PIZZA from doing what I do normally- hang out and chat in Discord while bumbling around HIVE and the various on chain games!
I can't lie though- I'm pretty curious about these BEANS and glad I am holding onto my stack of PIZZA with diamond hands! I hope some of you might join me doing the same! Pizza has developed a lot in just a few short months- more than can be seen from most projects across HIVE. Do yourself a favor and grab a slice or two- I may just drop a couple in the comments myself 😁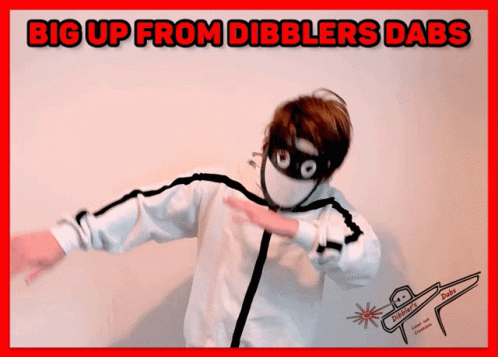 ---
---