Adventures in the Woods and Progress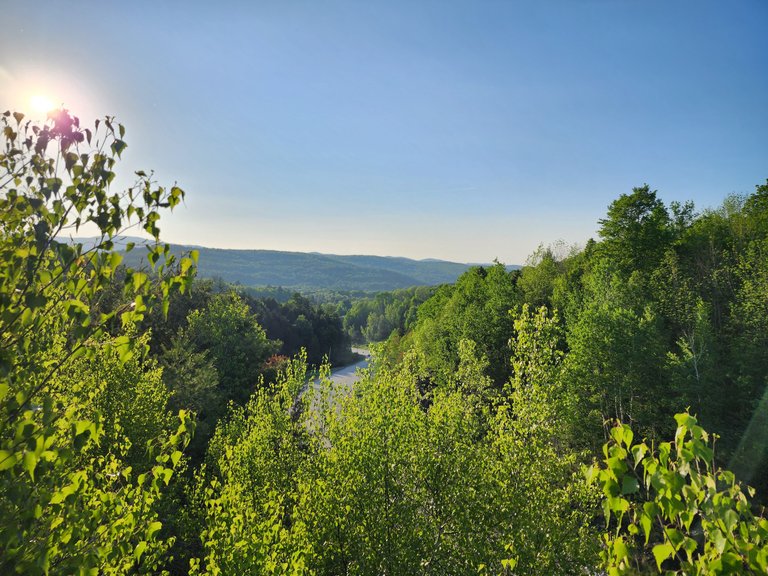 A busy and productive weekend! We are Alive! I spent most of the day on Saturday up on the land continuing to clear the buildsite. I've already felled most of the trees and just had to limb them, cut them into lengths, move the logs, and pile the brush.
Simples right?
Not so when you're moving everything by hand. Lugging eight foot logs around all day is a hassle. Some of them were hefty. Of course hauling all the branches and limbs around was good fun too...
Regardless. I've got it done. By my very rough estimate I've got 3, maybe 4 cords of good wood, mostly Ash and Maple in log lengths of 8 feet or so. Thinner trees I cut into longer lengths as they are easier to move. This is all stacked off to the south of my intended build site against the treeline and will give me a nice headstart on firewood. The photo below doesn't really do the amount of wood justice, but I'm pretty pleased to have made this much progress already!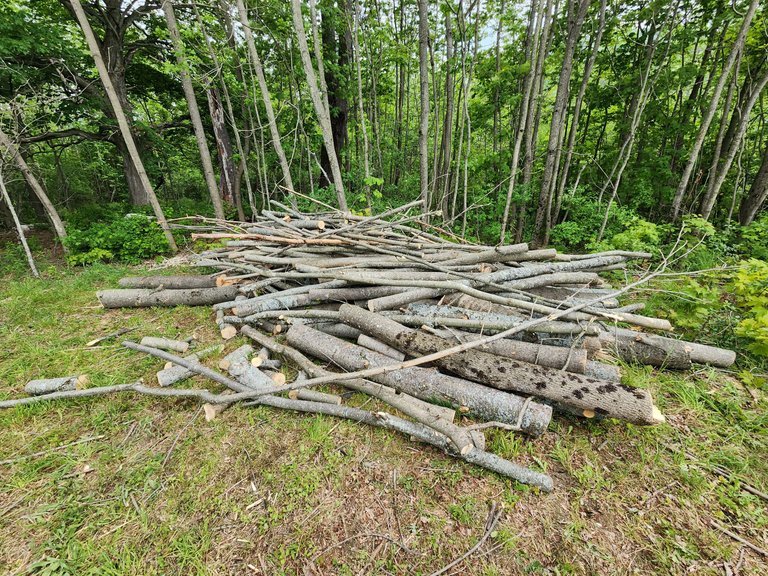 Next step is to go back through and cut the stumps off at ground level, and get a stump grinder to take care of any that are problematic for the build.
That was all yesterday, it took me a good 6 hours of cutting, lifting and hauling to get it truly cleared.
Today was a lot more fun, I didn't have the gumption to put in a bunch more heavy work. Instead we went on an adventure in the woods!
Past the buildsite there's a steeper section with a rough trail that flattens out before it dissapears. Pushing through some brush and pines we met up with an old overgrown logging road that starts on the neighboring property but then runs the full length of mine. With a little work the existing trail that wanders down the steeper section will connect up with it. This will give me convenient access to all of the wooded hillside for regular woodland management, harvesting wood, and will form the backbone of a trail network that will cover the whole property!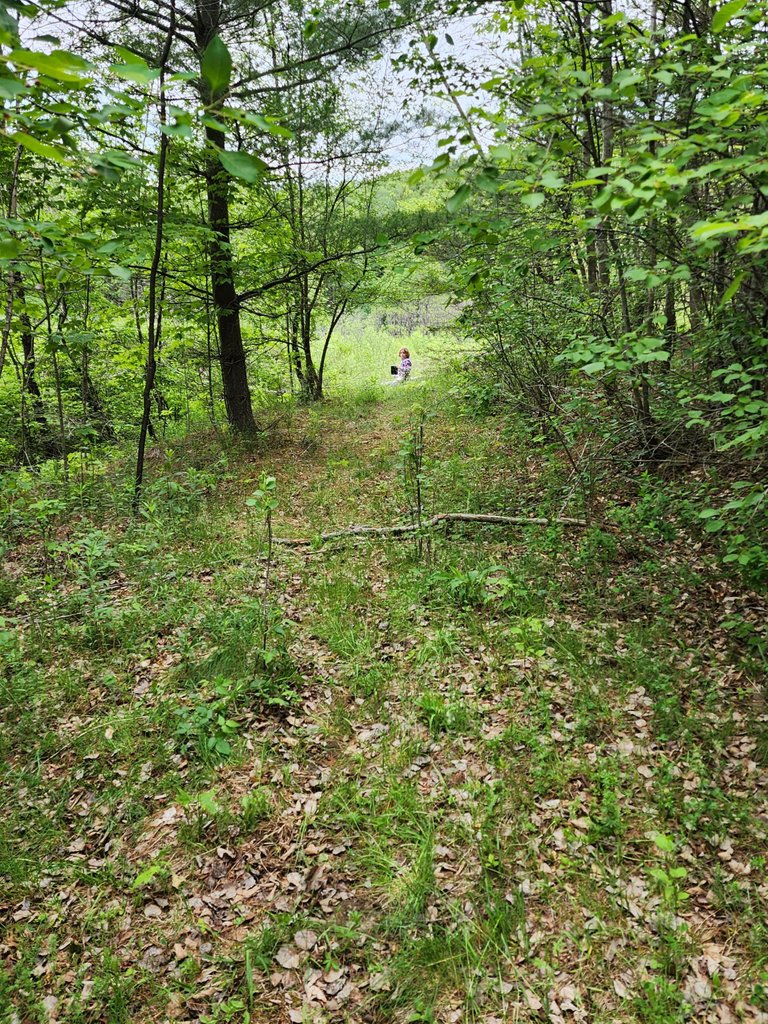 Where Sky is sitting on a fallen birch (drawing her own map of our adventure so far) is just over the line onto the neighboring plot where the old logging road breaks into the open. That plot is currently empty, though effort has clearly been made in the past to clear a house site. If it remains empty it could be something I investigate purchasing in the future to expand my own property.
Once she had finished her drawing we continued down the logging trail on our land, cutting back some brush and branches as we went. It definitely needs a little attention before I can bring a vehicle down here, but cutting back a few branches and saplings each time we walk will have it in better shape in no time. This logging road and connected trail network is a low key project that I'll pick away at over time, other things are way more important to get done first!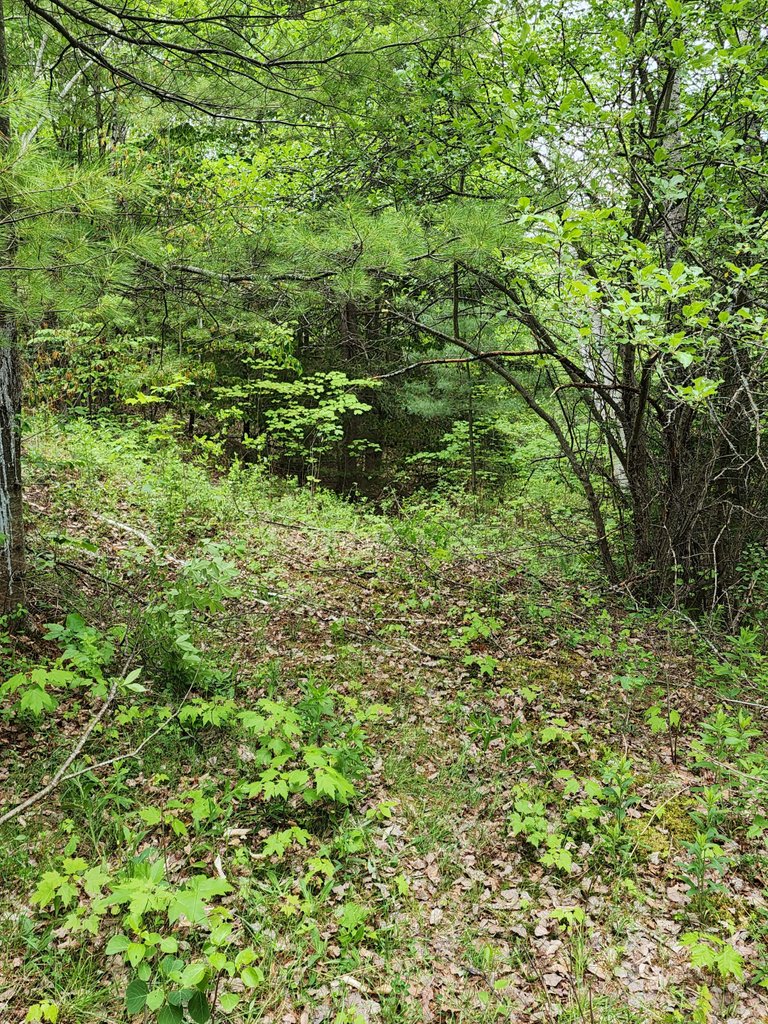 The other day in the Hive.Pizza discord we were having a chat about some of my plans for the property and we got talking about coppicing.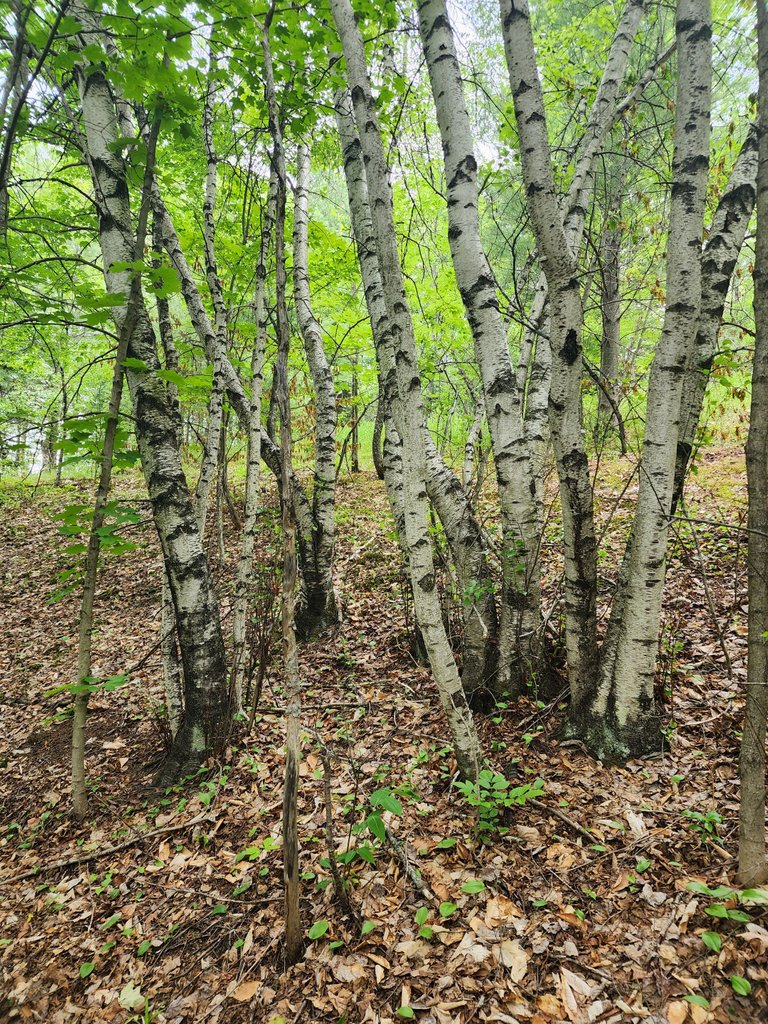 With stands of birch and other species in tight-knit clumps like this all over the property I'll have no trouble establishing a rotation to harvest all of my firewood using a coppice system. This stand alone is a pretty substantial amount of usable wood. Judging by how close the trunks are (especially the grouping to the right, this may even have been felled and allowed to regrow... the essence of a coppicing system. Birch, Ash, and Maple are all great candidates for coppicing with varying rates of regrowth, and I've got plenty of all three.
After we reached about the halfway point on our logging road we paused for a snack and then turned and cut directly through the woods uphill without a trail. It was fun tromping through the underbrush and we took our time exploring.
Once we reached the open field at the top again we were almost ready to call it a day. Before we did we uprooted a few of the many Maple saplings and replanted them along the northern edge of the field at the top of the cliffs. This is the only part of the property that is open to the road, even if it is elevated above it. I want to get some trees established to help screen things.
Besides, with so many trees being felled for the build site it's only right I help establish some new growth. The saplings we moved were shaded out under their parents, moving them into the open will help them thrive.
That's about all I've got for today! Stay tuned for more updates and adventures!
---
---