Pizza 102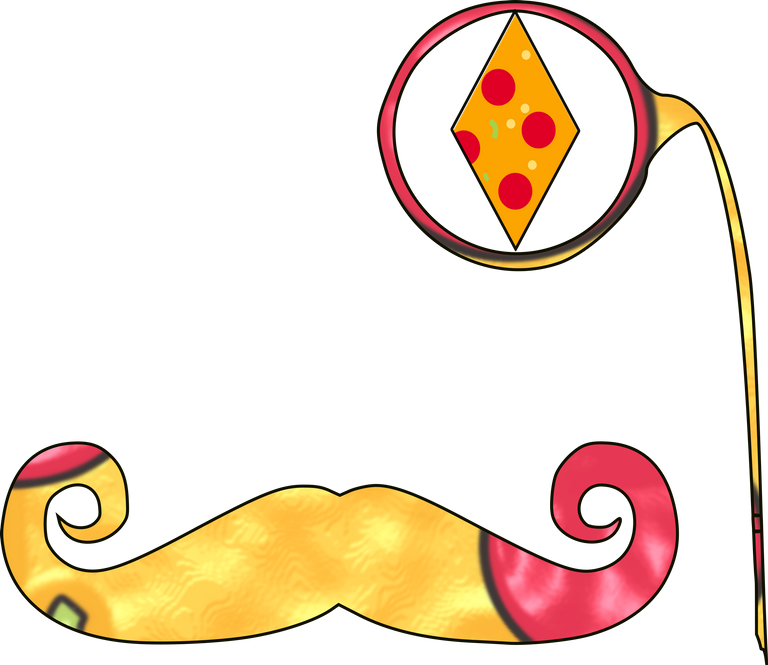 Ok everyone! There has been a lot of traffic into the Hive.Pizza Discordlately and we've had lots of questions about the $PIZZA token and what to do with it! Specifically people are interested in how the staking rewards work and how the diesel pools work. There is a lot more to Pizza than that but I'll start there!
First of all with 20 PIZZA staked you can send 0.1 PIZZA as a tip 10 times per day to other accounts in the comments on HIVE using the !PIZZA command. If you have 200 PIZZA staked you can send 0.1 PIZZA as a tip 20 times per day. All you have to do is type !PIZZA in the comments of a post anywhere on HIVE and the trusty PIZZABOT will swoop in to hand out a slice of PIZZA.
Second of all there are currently various tiers of lotteries available to stakers as well as the Top10 holder earnings:
Currently the top10 Pizza Holders receive a variable weekly return between 6 and 10 percent. Each week is a different percentage. If you want to break into the top10 you can really earn some sweet returns! These snips are taken from @thebeardflex's weekly update posts where he announces the amounts for that week and the winners of the various lottery tiers!


The first tier of lottery is the Lucky 5- Five random PIZZA holders that earn 3% of their holdings back in more PIZZA!


The second tier of lottery is the Bonus 5- Five random PIZZA holders selected from those holders with 500 or more PIZZA staked. These holders also earn 3% of their holdings back in more PIZZA!


The final lottery tier is a single winner selected from ALL stakers each day of the week that wins 4% of their holdings back in additional PIZZA!
All of the winners of these various tiers receives their earnings on Sunday when @thebeardflex puts his post up. To optimize the chance of winning one of the lotteries it is best to stake 500 PIZZA because it will make you eligible for all lottery tiers except for the top10. If you want to break into the competitive top10 Leaderboard and win guaranteed weekly earnings you'll need a whole stack of PIZZA (somewhere north of 24000 PIZZA at the time of writing) but the returns are beyond any doubt the best on HIVE amounting to more than 300% APR or more (since it is variable returns each week it is hard to nail down an exact APR... 300% is conservative) just for staking.

Moving on to the Diesel Pools! You can find the Diesel Pools either at Tribal Dex Or BeeSwap. There are various pools that you can add liquidity to in order to earn daily returns! Many of the pools provide rewards but not all! There are three Pools with Pizza and all offer a respectable APR in different tokens!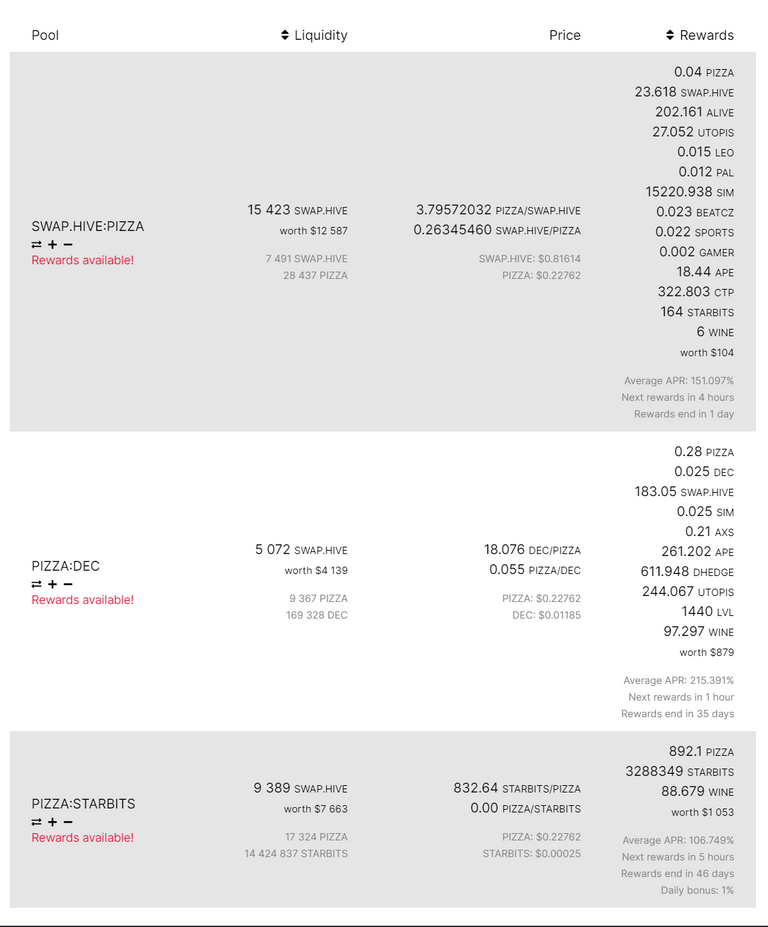 Image taken from Beeswap instead of Tribaldex because it shows more pertinent information (like APR)
You can see from left to right. Pool, Total Liquidity, Reference Prices, Rewards Pool.
These pools pay some of the best returns across all of the diesel pools that have rewards. You can see in the image they boast 151% APR, 215% APR, and 106% APR respectively. The list of tokens in the Rewards column is the total tokens that will be paid out daily to Liquidity Providers. The only one that offers returns in PIZZA right now is the PIZZA:STARBITS pool. The other two pools offer attractive returns in various tokens including UTOPIS, SWAP.HIVE, DHEDGE, and various others.
In order to add liquidity to one of these pools you will need an equal value of both PIZZA and the second token. You add the liquidity to the pool and after it has been in the pool for more than 24 hours you will start to earn daily payouts for your share of the pool! Just go to SWAP and ADD LIQUIDITY and you can get started.

As with any investment in Liquidity Pools there are risks! I recommend that anyone interested fully understand some of the risks involved- specifically the concept of "Impermanent Loss" before making the decision to add liquidity!

My strategy for PIZZA includes staking, delegating Hive Power to the @hive.pizza account for daily earnings, and liquidity in the various Diesel Pools. There have been a veritable barrage of hints lately about additional rewards for stakers. There have been more and more airdrops and bonuses already in the discord- new ranks and roles added in relation to the amount of staked PIZZA- and recently the release of a newly minted NFT as a reward for an engagement contest. Some of the giveaways and airdrops are only accessible to those holding a certain stake!
I think this is a sign of things to come! With more contests, airdrops, NFT's, and maybe even some changes to the staking structure and earnings coming in the future (pure speculation on my part). With all of that said I'm gonna continue to build my Pizza Stack for the long term.

Outside of the earnings Pizza has one of the most active and engaged communities in Hive. At the moment there are regular Movie Nights, Pizza run game servers, Pizza gaming sessions, contests, lively chatter, and a lot of really great people in the Discord! The community has a presence in all of the various Hive Games with 3 guilds involved in Splinterlands, a Pizza alliance in Exode that is building connections with other alliances to form a Coalition, and regular curation of Gaming, Art, Music, and Creativity related content across Hive! Use the #hivepizza tag or post in the Hive Pizza Community to get your posts in front of the curators!
Check out the Hive.Pizza website for roadmap and other info, as well as access to the Pizza Store where you can buy PC games with Pizza Tokens!
Want Pizza Merch? Check out My Hivelist Store to get some pretty sweet Pizza Merchandise (and other stuff)
Check out the first Pizza Collectibles NFT just released on Showroom!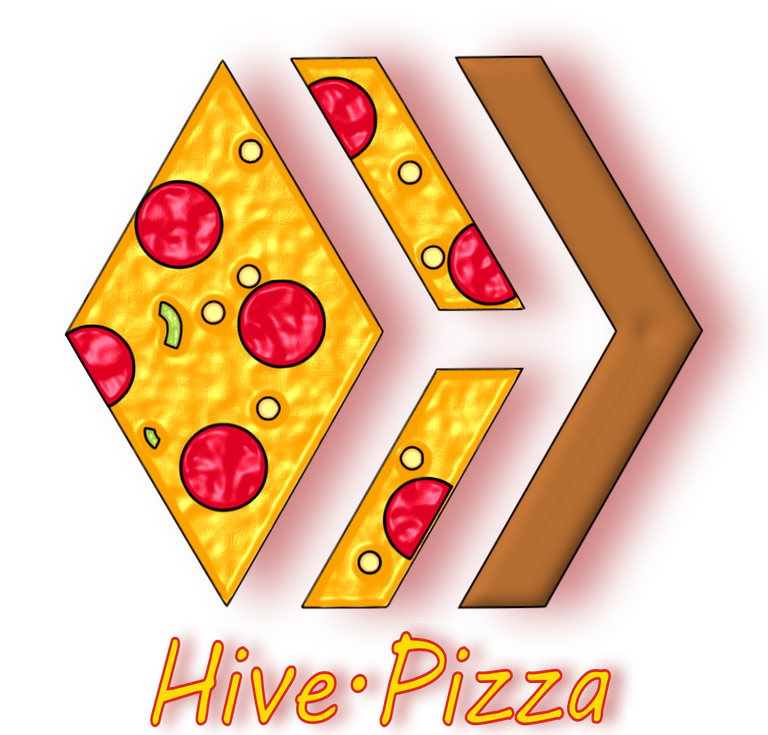 ---
---