MY PROGRESS IN RISING STAR. (ENG/ESP)

ENGLISH
MY PROGRESS IN RISING STAR.
Regards Hivers.
The month of November is over, the year is almost over.
![]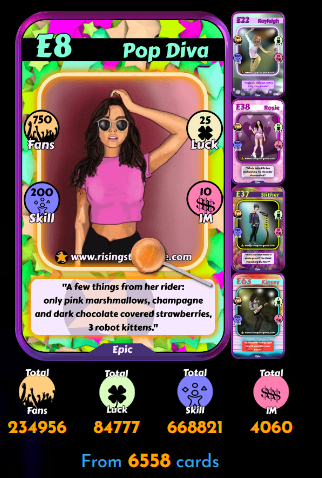 )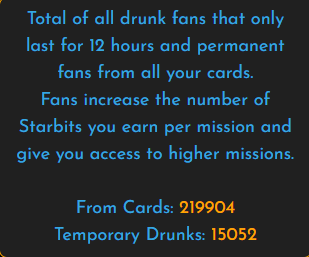 For this past week, I had the goal of reaching 100K of luck. I did not fulfill it but I made important progress.
I made the mistake of buying pianos with the intention of changing the type of instrument. Very bad decision. I ended up selling the pianos losing a few starbits.
I realized that even though the guitars are a little more expensive I should continue with them. I will buy when they are at a good price.
Thanks to our friend the mysterious Hacker I managed to buy like 98 Guitars 99 Flame Guitar. These guitars cost very little; the discount was 60%.
The important thing is that I greatly increased my guitar luck. And the maximum of the lesson went up a lot. Although the increase in total luck was not significant.
![](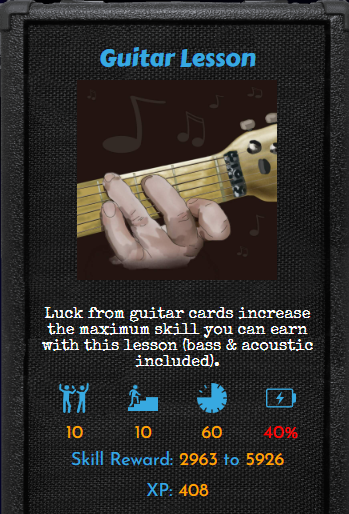 )
But get a lot of fans using fresh money. I opened many packs and they didn't turn out very good. There I lost between 300 and 400K of starbits. But I had the pleasure of opening many packs; the packs are addictive.
End the week adding 24k fans.
I have 219904 fans. Much of them are high value, low supply cards. I don't sell them because I consider them very cheap nowadays. I understand that it is a Collectible Cards game and that sooner or later the supply and rarity of the cards will have to be valued. A 10 fan card coming out in packs today cannot generate the same as a discontinued card. At some point Jux is going to have to modify the code. Neither the raves nor the starpro are going to solve the main problem of the game, which is the vision installed in the players of the starbit factory. Buy fans with the app, do missions and buy more fans, not even open packs.
I love low supply cards. I have a few. Those are hard to sell. I'm not going to do what more than one did of selling all the collectible cards to buy more cheap fans and make up for the drop in starbits.
As many sold and continue to sell these cards, the prices dropped. And they will take time to recover but when they do and when the game at the time of distributing starbits values ​​the age of the cards they will be very expensive.
For December I set myself as objectives:
1. Activate mission 2 of island 4.
2. Raise the guitar luck to add more skill with each lesson.
3. Exploit drunken fans properly. I haven't been doing the 5 hour mission because I fell asleep and didn't activate it.
As a suggestion for the game I think that the formula of the ranking score should be modified. There are a lot of players in the top 100 that shouldn't be there; many of them thanks to instruments of 1 and 5 luck, cards of 5 or 10 fans and cheap cars.
I suggest that the total card score be weighted by rarity and supply of the cards giving older cards more points. That will help give the cards the right collectible value.
I have a lot of room to grow in unique cards but I'm not incentivized to add them. What's the point of completing the collection if any player with fewer fans than me and less total luck outranks me by 1 and 5 luck cards.
Not only unique cards should be recognized. It is a must to recognize the supply and rarity of cards when calculating ranking.
For these reasons I am not going to continue incorporating unique cards, I grew a lot and climbed very little in the ranking. I don't mean the reward in hive; I think I was the first to suggest to Jux that he lower the prize. But it doesn't recognize collectible value properly when calculating ranking.
Rising has a lot of growth potential, but its base must be to break with the factory vision of starbits installed since the appearance of the Foxon app. Breaking this vision is not going to be achieved with Raves, Fanclub or Record Singing.
The FA card producers are very happy. They earn a good income from the sale of those cards; I hope they open packs and buy fans at the market when the rave fog passes.
I look forward to a new map with a fifth island. That raises the ego and revalues ​​the instruments. The packs are giving many instruments and their value in the market is very low. I remember when guitars were 100 per luck, Now 63 per luck is expensive.
Let the Raves debut soon so Jux can develop a new map. I hope it's the next step.
I hope you like this post.

ESPAÑOL.
MI PROGRESO EN RISING STAR.
Saludos Hivers.
Terminó el mes de noviembre, ya casi termina el año.
![]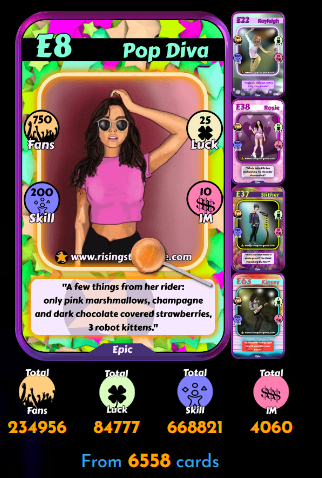 )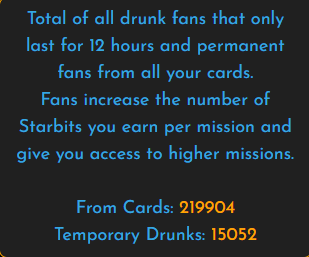 Para esta semana que paso tenía el objetivo de llegar a los 100K de luck. No lo cumpli pero logre importantes avances.
Cometí el error de comprar pianos con la intención de cambiar de tipo de instrumentos. Muy mala decisión. Terminé vendiendo los pianos perdiendo algunos starbits.
Me di cuenta que aunque las guitarras estén un poco más caras debo seguír con ellas. Compraré cuando estén a buen precio.
Gracias a nuestro amigo el Hacker misterioso logré comprar como 98 Guitarras 99 Flame Guitar.
Estas guitarras costaron muy poco; el descuento fue del 60%.
Lo importante es que aumenté mucho mi luck de guitarras. Y el máximo de la lección subió mucho.
![](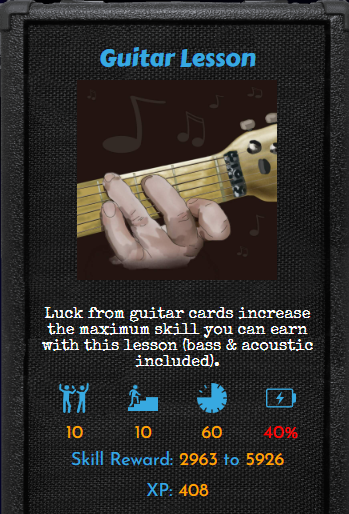 )
Aunque el aumento de luck total no fue importante.
Pero sume muchos fans utilizando dinero fresco. Abri muchos packs y no me salieron muy buenos. Ahí perdi entre 300 y 400K de starbits. Pero me di el gusto de abrir muchos packs; los packs son adictivos.
Termine la semana sumando 24k de fans.
Tengo 219904 Fans. Gran parte de ellos son tarjetas de supply bajo y de alto valor. No las vendo porque las considero muy baratas actualmente. Entiendo que es un juego de Tarjetas Coleccionables y que tarde o temprano se va a tener que valorar el supply y la rareza de las tarjetas. Una tarjeta de 10 fans que sale en packs hoy no puede generar lo mismo que una tarjeta discontinuada. En algún punto Jux va a tener que modificar el código. Ni las raves ni el starpro van a solucionar el problema principal del juego que es la visión instalada en los players de la fábrica de starbits. Comprar fans con la app, hacer misiones y comprar más fans, ni siquiera abrir packs.
Me encantan las tarjetas de suoply bajo. Tengo unas cuantas. Esas es difícil que las venda. No voy a hacer lo que hizo más de uno de vender todas las tarjetas coleccionables para comprar más fans baratos y compensar la caída del starbits.
Como muchos vendieron y siguen vendiendo esas tarjetas los precios bajaron. Y van a tardar en recomponerse pero cuando lo hagan y cuando el juego a la hora de repartir starbits valore la antigüedad de las tarjetas serán carísimas.
Para diciembre me planteo como objetivos:
1. Activar la misión 2 de la isla 4.
2. Subir la luck de guitarras para sumar más skill con cada lección.
3. Explotar los fans borrachos adecuadamente. No vengo realizando la misión de 5 horas porque me quedo dormido y no la activo.
Como sugerencia para el juego creo que hay que modificar la fórmula del puntaje del ranking. Hay mucho jugador en los 100 top que no deberían estar ahi; muchos de ellos gracias a intrumentos de 1 y 5 luck, tarjetas de 5 o 10 fans y cheap cars.
Sugiero que el puntaje de tarjetas totales se pondere por rareza y supply de las tarjetas dando más puntos a las tarjetas más antiguas. Eso contribuirá a darle el justo valor coleccionable a las tarjetas.
Tengo mucho margen para crecer en tarjetas únicas pero no estoy incentivado a sumarlas. Que sentido tiene completar la colección si cualquier player con menos fans que yo y menos luck total me supera en el ranking por tarjetas de 1 y 5 luck.
No solo se deben reconocer las tarjetas únicas. Es una necesidad reconocer el supply y la rareza de las tarjetas a la hora de calcular el ranking.
Por estas razones no voy a seguir incorporando tarjetas únicas, crecí un montón y subí muy poco en el ranking. No me refiero a la recompensa en hive; creo que fui el primero en sugerirle a Jux que baje el premio. Pero no se reconoce el valor coleccionable adecuadamente al calcular el ranking.
Rising tiene mucho potencial de crecimiento pero la base del mismo debe ser romper con la visión de fábrica de starbits instalada desde la aparición de la app de Foxon. Romper esta visión no se va a lograr con Raves, Fanclub ni Record Singing.
Los productores de tarjetas FA están muy contentos. Obtienen buenos ingresos por la venta de esas tarjetas; espero que abran packs y compren fans en el mercado cuando pase el fomo de las raves.
Espero con ganas un nuevo mapa con una quinta isla. Que haga subir el ego y revalorice los instrumentos. Los packs están dando muchos instrumentos y el valor de los mismos en el mercado es muy bajo. Recuerdo cuando las guitarras estaban a 100 por luck, Ahora 63 por luck es caro.
Que debuten pronto las Rave asi Jux puede desarrollar un nuevo mapa. Espero sea el siguiente paso.
Espero les guste este post.
![](

)
---
---