The Kind Deer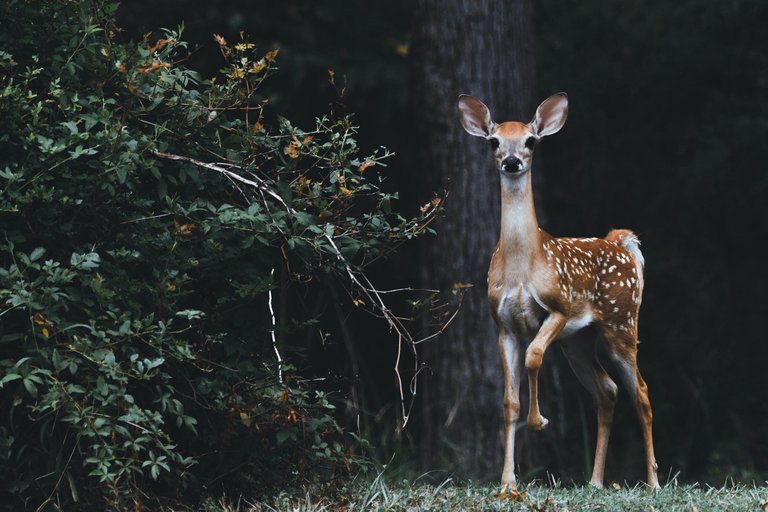 Source
On the outskirts of the rather calm and shanty town of Aluu nestled a lush forest. The animals in the forest were known to be hostile and violent to the otherwise kind and gentle people of Aluu except Daisy. Daisy was a deer known to be the only kind and gentle animal in the lush forest. She had lived in the village her entire life and had always been known for her compassionate nature.
She would often go out of her way to help others, whether it be by lending a listening ear to other animals in need or by offering a helping hand to those who were struggling. This endeared her to the other animals in the forest up until she started standing up to them in favour of the humans.
"you have to take a stand" the other animals would shout at her
"but I'm an animal like you guys and I've always stood by us" Daisy retorted
"this is different Daisy another animal snapped its either you are for us or you are against us"
"yes" a third animal joined in "history has told us what these humans has been doing to us since time immemorial"
"but these current humans have done nothing but be kind to us" Daisy said as he tried to convince the other animals.
"that's how they start before they eat you" the first animal concluded before motioning to the others as they walked away.
One day, a terrible storm swept through the village, leaving destruction in its wake. Many of the forest's inhabitants had lost their homes and possessions, and were left feeling hopeless and helpless. Daisy knew that she had to do something to help her friends and neighbours, so she set out to lend a hand in any way she could.
Daisy spent the next few days helping to clear debris, rebuilding homes, and providing comfort to those who were struggling. She listened to their stories of loss and heartache, and offered words of encouragement and hope. But she knew that she could not do it alone, so she set out to the nearby Aluu village to seek for help. To her surprise, the Aluu people were already waiting for a chance to lend a helping hand.
At first the animals were resistant, but eventually gave in after Daisy convinced them. She and the humans from Aluu village worked tirelessly, never once stopping to rest or complain, until the village was restored and all the structures reconstructed to make it a thriving and happy community once again.
The villagers were deeply touched by Daisy's selfless actions and her genuine sympathy for their plight. But above all they were amazed at her open heartedness to accept the humans. They knew that they would never have been able to recover from the storm without her help and that of the humans from Aluu village and they were forever grateful for her kindness and compassion.
As the years passed, Daisy's reputation as a compassionate and caring individual only grew. She continued to go out of her way to help others, and her kindness and generosity became legendary. She became known throughout the land and neighbouring forests and her name was spoken with reverence and respect throughout the land.
Even as she grew older, Daisy never lost her passion for helping others. She continued to be a beacon of hope and a symbol of sympathy for all those who needed it. When the time to appoint a new king of the forest came. Daisy - though she may have been just a simple deer - was chosen unanimously to be the next king of the forest, as her kindness and generosity left a lasting impact on the village and the hearts of all those she touched.
In the end, Daisy's legacy lived on, and she became an inspiration to all those around her who were struggling. She taught them that even in the darkest of times, there is always hope, and that a little bit of sympathy can go a long way in making the world a better place.
Welcome to my blog, you can relax and be rest assured of quality content on diverse topics. You're free to air your views and opinions in the comments section, and It'll be my pleasure to learn and engage

---
---