WHAT IF I WAS GAY?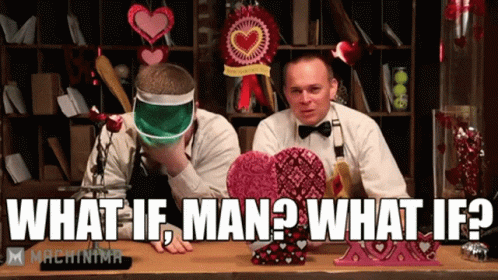 I'm a melancholic, I'm mostly sad, rarely smile and almost always keep a straight face. It doesn't mean I'm a serious person, just that I was born that way. My dad was an evangelist so I was raised in a pious home, where laughing unnecessarily is a sin punishable by the cane.
The church didn't help either, I mean almost every time he gets an opportunity to preach, our most senior elder kept on shouting "mbufo mme ino iwa usen Abasi (o ye who steal cassava on Sundays)" all these while looking in my direction. I will never understand what he meant because I've never stolen his cassava.
Wait, I hope you were not thinking of homosexuality when you read my title? Lol, me that loves those two balloons that can never burst and can be used as pillows more than anything in the world. That's the only thing that makes me smile anytime any day. My pastor even prescribed it as stress relief.
That's just how our choir director will be singing "it shall be permanent, it shall be permanent, what the Lord has done for me, it shall be permanent" in this church where most of us are living below the $1 threshold. How am I supposed to be gay to that? What happened to "do something new in my life, something new in my life (x2) Oh Lord?"
Now you see where I'm coming from. It's not like I'm deliberately 'ungay', it's just the situations around me. The other time I even tried joining the choir. I did my best and even sang my heart out. Then my choir master called me out to appreciate me and then he told me that I sound like a frog. That's how my music career ended. Now you see that I'm a gay person, it's just that the people and situations around me don't appreciate gaiety.
The other time when I decided to endeavor a little smile, this agbero(tout) decided that it's the best team to cross me. I slapped the idiot and removed two teeth. He thought I was Jesus and would forgive him. Lol, me that is chasing rubber bands and want it to come snappy.
But just this afternoon I saw this guy, a fun guy I guess. He was soaking garri (cassava flakes) in a bucket and of all the music in this world, he was jamming to "started from the bottom, now we're here" by Drake. He was even smiling and exuding excess gaiety. That's when I knew that if this guy could be gay, then there's hope for me.
But then, what if I was gay? After all, gay isn't such a bad thing.
Welcome to my blog, you can relax and be rest assured of quality content on diverse topics. You're free to air your views and opinions in the comments section, and It'll be my pleasure to learn and engaged

---
---