[ES | EN] Escribir y Ser Feliz | Dito Ferrer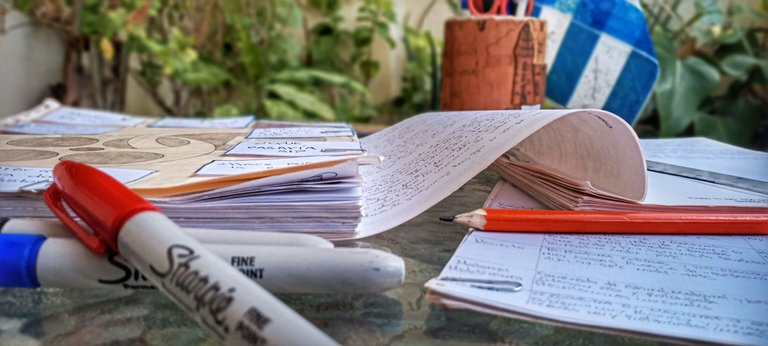 ---
Me despierto en mi cuarto a oscuras.
Seis de la mañana. Lado derecho de la cama.
Una respiración profunda y a la ventana. El cielo transita desde las diferentes tonalidades de azul hasta el violeta. Abro las persianas para permitir que la frialdad de la noche erice mi piel.
¿Estoy vivo? En efecto.
Entonces, si vivo... Puedo escribir.
Mi espacio de escritura, en una esquina de la habitación, no ocupa más de un metro cuadrado. Tengo una mesita redonda de cristal templado, ligera como un pedazo de papel. Sobre ella, una vorágine de elementos, algunos de ellos terminaron en el suelo aunque no sé como.
Dicen que la escritura es un acto de telepatía. ¿Me pregunto si puedes ver lo que yo veo?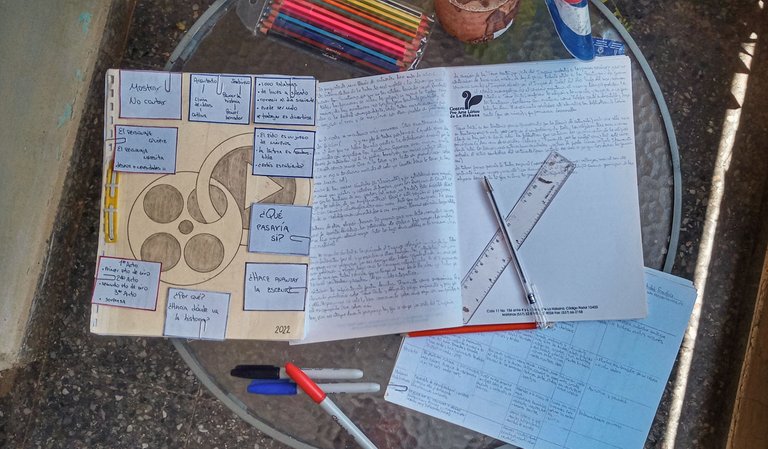 Mis lápices tienen diferentes tamaños y colores, y compiten por mi atención. Los talo con mesura y me preocupo de que tengan un buen extremo puntiagudo. Nadie me lo ha dicho pero sospecho que cuanto más afilados estén, así de aguzado estará mi intelecto.
Mi cuaderno de escribir permanece abierto en la última página conseguida con éxito. Así enfrento el bloqueo de escritor. Tengo notas sueltas regadas por doquier. Son expresión de mis pensamientos. Y son caóticos. Algunas de esas notas evolucionarán hacia animales de mayor envergadura. Otras irán al archivo, donde esperarán a ser retomadas por mi yo del futuro.
Mi silla no es cómoda. Demasiado baja y demasiado dura, los cojines no ayudan. Pero es en la que confío para saber cuando estoy conectado con mi historia, o si la trama es buena, porque me olvido del todo de su existencia.
En la pared de enfrente tengo colgado un mural, elementos que heredé de mi época como maestro. Estoy orgulloso de su diseño; un gran pedazo de cartón dividido al medio entre dos secciones de papel azul y rojo. Está lleno de recortes de papel sujetados con tachuelas. Allí registro mi progreso, mis metas, mis sueños, mis miedos.
La puerta, a dos pasos de distancia, permanece cerrada. Al otro lado me espera otra dimensión, otra realidad. Estoy aprendiendo a dividir la vida que sucede afuera de la que hago suceder adentro. Solo cuando estoy a solas puedo pronunciar mi verdadero nombre. En el exterior adopto una postura y miento, pero recluido en mi metro cuadrado no hay lugar para el engaño porque los elementos de mi mesa de escritura siempre me dicen quien soy. Y me gusta lo que escucho.
Es hora de empezar la faena, manos a la obra. Hago el intento por alinear mis neuronas e imponerles un poco de disciplina. Este es el primer día de una época maravillosa en la que me acomodaré en este espacio y pondré cada uno de mis pensamientos en la página. Alejado de falacias, de ilusiones ingenuas, de estereotipos. Solo sentarse a escribir.
Escribir y ser feliz.
Dicen que la escritura es un acto de telepatía así que te pregunto:
¿No puedes verte ahora mismo en esta silla?
ENGLISH
I wake up in my darkened room.
Six o'clock in the morning. The right side of the bed.
A deep breath and to the window. The sky transitions from different shades of blue to violet. I open the blinds to allow the coolness of the night to bristle my skin.
Am I alive? Yes, I am.
Then, if I am alive... I can write.
My writing space, in a corner of the room, occupies no more than a square meter. I have a little round table of tempered glass, light as a piece of paper. On it, was a maelstrom of items, some of them ended up on the floor although I don't know how.
They say writing is an act of telepathy, I wonder if you can see what I see?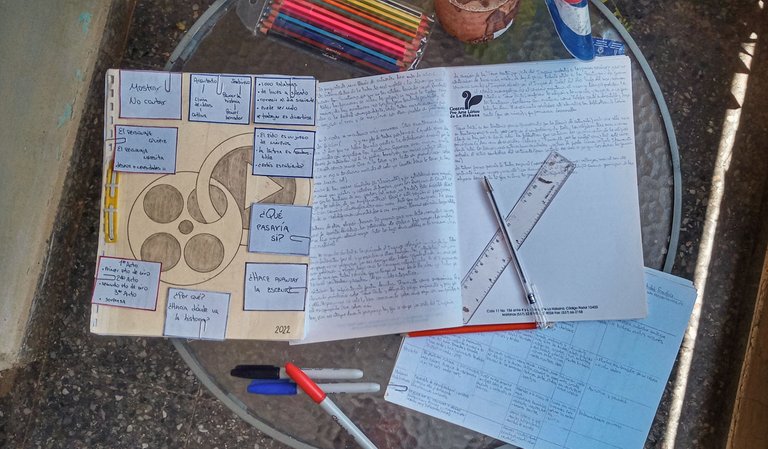 My pencils are of different sizes and colors, competing for my attention. I carve them sparingly and take care that they have a good pointed end. No one has told me but I suspect that the sharper they are, the sharper my intellect will be.
My writing notebook remains open on the last successful page. This is how I deal with writer's block. I have loose notes scattered everywhere. They are expressions of my thoughts. And they are chaotic. Some of those notes will evolve into larger animals. Others will go to the archive, where they will wait to be taken up by my future self.
My chair is not comfortable. Too low and too hard, the cushions don't help. But it's the one I rely on to know when I'm connected to my story, or if the plot is good because I forget all about its existence.
On the opposite wall I have a mural hanging, elements I inherited from my time as a teacher. I am proud of its design; a large piece of cardboard divided in the middle between two sections of blue and red paper. It is filled with paper cut-outs fastened with tacks. There I record my progress, my goals, my dreams, and my fears.
The door, two steps away, remains closed. On the other side awaits me another dimension, another reality. I am learning to divide the life that happens outside from the one I make happen inside. Only when I am alone can I pronounce my real name. On the outside I adopt a posture and lie, but secluded in my square meter there is no room for deception because the elements of my writing table always tell me who I am. And I like what I hear.
It's time to get down to business, let's get to work. I attempt to align my neurons and impose some discipline on them. This is the first day of a wonderful time in which I will settle into this space and put my every thought on the page. Away from fallacies, away from naive illusions, away from stereotypes. Just sit down to write.
Write and be happy.
They say writing is an act of telepathy so I ask you:
Can't you see yourself right now in this chair?
---


Otros textos de mi autoría
---
---
---