A Reggae Emoji Story ( How I invested time in learning a new skill)


A few years ago I was in the zone creating reggae emojis. Living in Japan I quickly saw the trend of emojis taking place and knew it would take the world by storm. I think no one uses emojis as much as Asians, I have seen conversations based off emojis alone. Interestingly they call them Stickers or stamps here in Japan.
Lets take look at the emoji sets I have created so far and how I ended up learning a little illustration and animation.
IDRIN
The first set I actually hired a designer to make back in 2015 I think. I made the emoji set in a way where it used the foundation slang of patois so it doesn't really go out of style and it is easy for people from other countries to catch on. I gave the character the name Idrin meaning good friend. It was a good back and forth with the designer to get the illustrations just how I wanted them.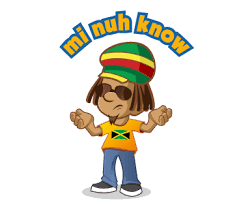 iMessage App Download link
Line messenger Download link
I was hesitant to create a part 2 to the Idrin emoji set as it was costly and the back and forth was time consuming. But what I did do was edit the AI files to fit into Apples iMessage appstore and another stream of income was created.
I then went ahead and animated some of the original Idrin images myself and released an animated version on line Messenger. It was a long process to animate the illustrations but I was determined to learn and my older brother who is actually an animator, quickly told me how bad some of them were.....He couldn't actually help me as he is busier than a worker bee with his own projects. I was basically on my own...but hey, thank God for youtube as that is where I learnt a lot about animation.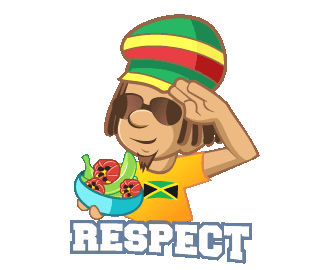 ---
Hotta Gyal
The next set I created was done through my designer again. The idea behind Hotta Gyal was simple, there were many reggae emojis popping up in Japan after mine was released. So instead of doing what I thought others would do, I switched it up and created a sticker set of Gals.
To be honest I kind of watered down the Line Messenger version and used less patois slang to appeal to wider market. But in the App store version I went back to the foundation. The app store version has more emojis, items and text images to play with compared to the Line version.
---
MadRass
Madrass was my first attempt at creating an emoji set on my own ( Idrin Animated came after) and boy was it some lameness IMO ( people still buy it. The idea behind this is that there was a dog and dancehall character ( as many males use "dawg" as a slang for their acquaintances in the culture.) Am yeah it was a crazy idea, so I gave it the name MADRASS, meaning crazy.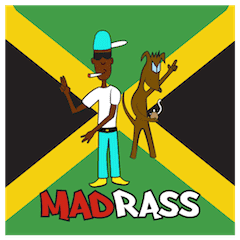 ---
Yaad Dogs
Yaad dogs branched out from the Madrass idea. I already had the dog drawing thing going on and hey, I really like dogs. Animals also make the best emojis. Well this set doesn't do so well but every now and then their are some sales. One thing is for sure though, I enjoyed creating it.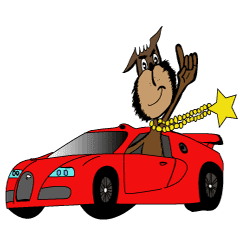 ---
Scliffy
Next I made a character called scliffy on my own again with my limited illustration skills. scliffy = Spliffy. I got the name from an elder Jamaican friend that called spliffs, scliffs. Now this was a pretty decent idea. When this sticker set came out there were strict rules about the use of drugs and alcohol in emojis on Line Messenger. So what I did in the description was call it a radish LOL. It passed the review. For some reason Indonesia and Thailand really love this sticker as that is where most of the sales come from.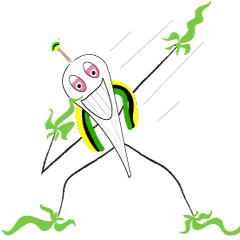 ---
Geafus
And the idea that really made a little splash came. GEAFUS the Weed emoji. But again I had to find the grey area by calling it a maple leaf in order for it to be available on LINE messenger. I made three series of this sticker on my own as the first one I did sold pretty well. The third one was an animated version. Geafus Animated. I then went on to use the same animated PNG files to make a App for iMessage. I also added more animations as on the app store, anything goes.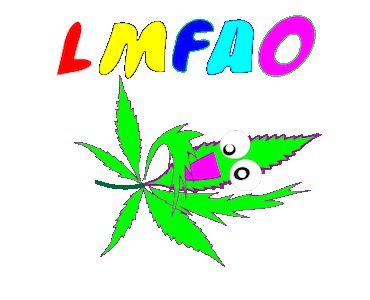 Now the investment in time, learning how to illustrate and animate was time consuming. I enjoyed that phase though. Even to this day these stickers still sell without me even doing anything. I'd like to create maybe 3 more sets, but I just don't have the time or inspiration for that now.
The good thing about me paying an illustrator first instead of attempting to do it myself was that it got me in the emoji game fast and I learnt a thing or two about the terms and tools used. Another good thing is that all the illustrations are mine to do whatever I want with them, and that I have done.
From Idrin I created key-chains , T-shirts, phone cases etc. There is no limit to where these illustrations can be used. Cups, decal, accessories you name it. At the moment Idrin is also in the ReggaeSteem discord doing his thing. This chapter of my creative mind doors is closed at the moment but it is interesting to see how it spills over into the current flow of things.
Well I hope you had a good read. Have a good one. Off to building!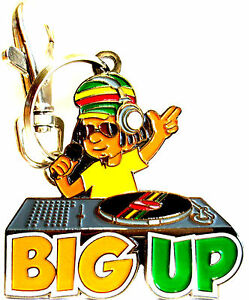 Ebay
JOIN The ReggaeSteem Discord ⇒

Web| Tribe| Telegram| Twitter| YouTube

---
Posted via ReggaeSteem.io | Reggae Culture Rewarded
---
---