Raise ROI with Twitter Covers/Pins and Avoiding #CryptoTwitter Bots 🤖


Twitter users are known for having epic cover photos, in comparison to other social networks due to their longevity. For example Facebook covers change more frequently and often by occasion ie birthday, graduation, new relationship etc.
Twitter Covers range from simple flat monochrome designs to landscapes and the #CryptoTwitter (CT) favorite the 'I gave a speech at a conference' cover. It's a free-for-all of expression (as long as you don't get censored 🤬) that usually lasts longer. However when marketing, a cover should reflect a common message or theme, one that aligns with your product or offering (at the moment) when running paid advertising campaigns.
I've been on and off with this Bob Marley cover (above) for years when promoting the Bob Marley Birthday Bash in Negril, and last night finally decided to make it CT worthy. Knowing the 'legals' behind using Bob's brand, I avoided adding a @reggaesteem logo...
In order to avoid a hefty $70,000 JMD invoice from the Bob Marley Foundation or worse, a copyright dispute.
Bitcoin, Steem and many other logos however represent a decentralized blockchain/ecosystem. There is no one to send the invoice too. No-one. DigiByte is another great example.
Everyone should add a Steem logo to their Twitter profiles!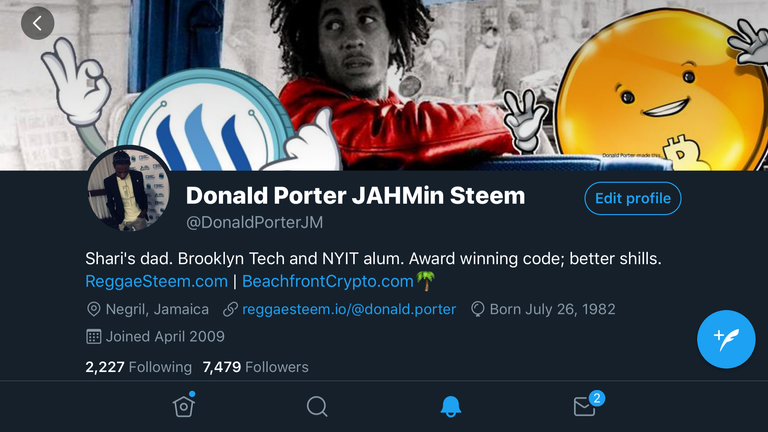 Paid promotions on Twitter, Facebook, IG and other social networks can do a lot for #Steem awareness whilst generating leads for affiliate marketers.
By connecting the cover photo with the Pinned Tweet, humorously implying that Bob, Bitcoin and Steem are driving the ReggaeSteem Advertising Car (called town cry in Jamaica)— my Twitter profile @DonaldPorterJM is now ready for spillover traffic from Twitter's paid advertising campaigns and will get a few extra clicks to the pinned tweet.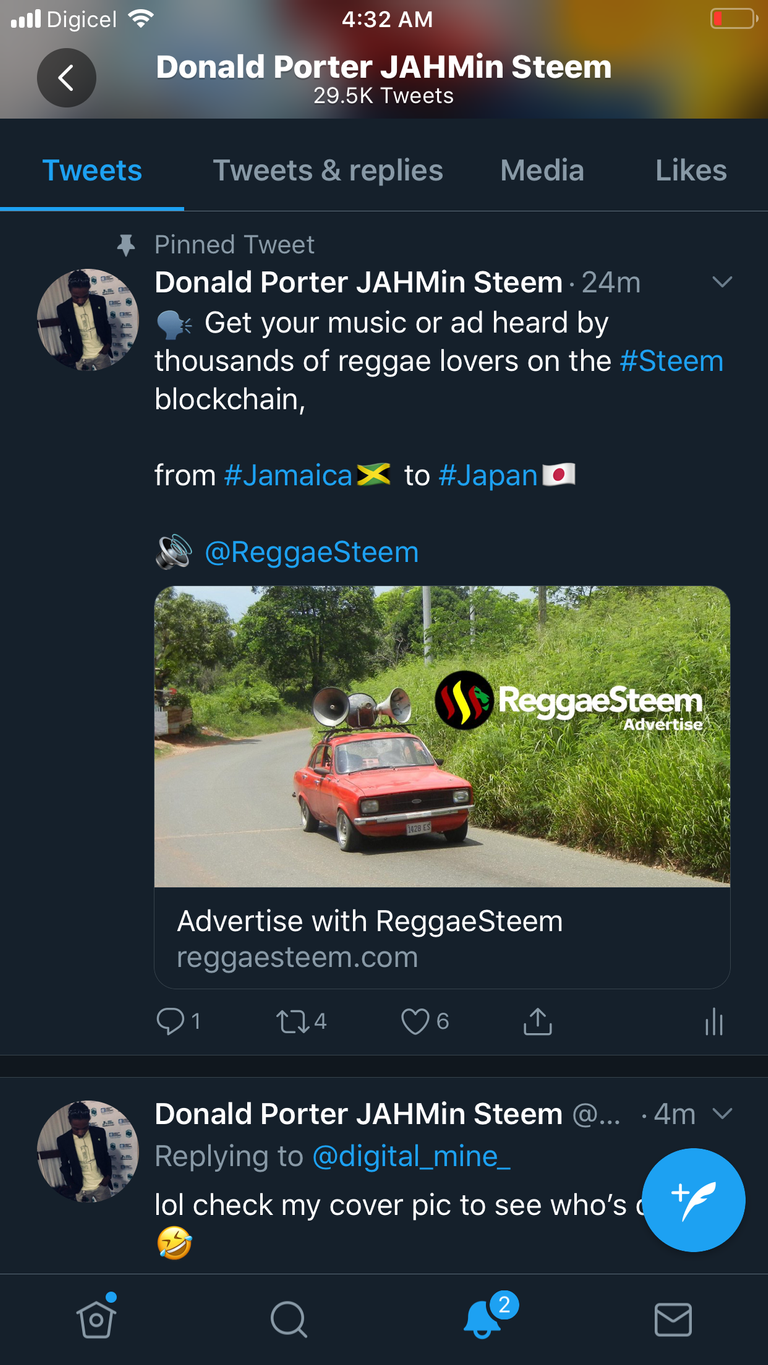 Anyone who stumbles on the page has a sound ;) idea of what it's about; Steem, Bitcoin and spreading the good vibes of Reggae Music.
Place a proper Call-to-Action in your pinned tweet, targeting your potential clients and your Twitter ads ROI will climb significantly.
How to avoid Twitter Bots?
Block suspicious followers at will.
Give onto the Twitter Algo what belongs to the Twitter Algo
Nothing is perfect but dealing with social media platform algorithms you'll always get better with testing. Over time you may even need to block a few hundred accounts depending on what you're offering, affiliate marketing or otherwise.
Some accounts may follow you and auto-comment your Tweets— the dreaded Crypto Twitter Bots, known for showing up just before a bull run/market. The only way to avoid these bots is to block.
If enough ppl block the spam account, the Twitter Algo responds by spam checking or removing the bad actor/account and may be the best way to bring a legit old account back to life. Similar to removing 'bad back-links' on a website (or disavowing them with Google Webmaster Tools) for SEO, those accounts have a negative affect on your account if they are flagged by the algo.
If your an 'Infuencer' or occasionally use crypto related reflinks and cashtags like '$Steem', checking your followers and cleaning up your account is a weekly task.
---
Thanks for reading, if you have any questions feel free to ask in the comments.
---
Posted via ReggaeSteem.io | Reggae Culture Rewarded
---
---