A new way to participate in brawls : The GUILD SCORE [ENG/FR]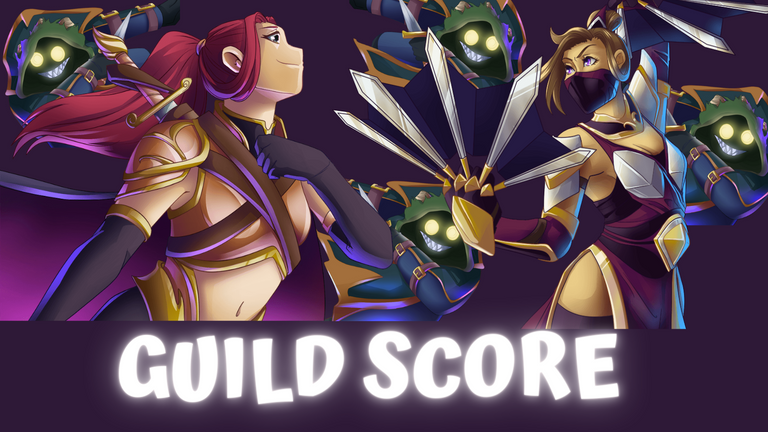 [ENG]
I started Splinterlands in July 2021 and after a couple of months on the game, I decided to join a guild.
Joining a guild has been one of my best decisions in this game!
I met some very friendly guildmates and it was also at this time that I realized all the opportunities this game can provide to players.
One of the main benefits of joining a guild is participating in Brawls.
I had the chance to participate in my first brawl shortly after I joined but I immediately noticed a problem...There were only 13 frays available (including 3 gold frays) while we were 17 members.
At that time, we didn't have any rules. It was first in time, first served!
This situation began to create some tensions between members because all the frays were taken by storm in the first 10 minutes and some found themselves not participating during several brawls.
The second issue I have noticed with the guild's operation is the membership fee structure. Each member was required to contribute 100 DEC per week to help the guild finance the buildings.
It was very annoying for the guild's leaders to check every week that everyone contributed properly, to send reminders, etc...
So I asked myself this question: How to improve the fairness of the participation in the brawls while stimulating all the members of the guild to contribute with DEC?
After a few days of thinking, I designed a system that solves both problems.
My system is...The GUILD SCORE
INTRODUCTION TO GUILD SCORE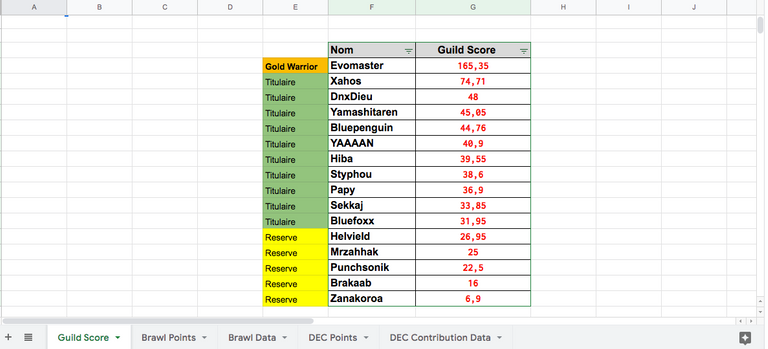 Guild Score is a ranking system.
A score is assigned to each guild member reflecting the level of brawl performance and the level of involvement in the guild.
The 13 members with the highest guild scores are automatically selected for the next brawl.
The other members are placed in reserve.
They will be selected if one of the starters can't participate.
The guild score is calculated as follows Brawl Points + DEC Points = Guild Score
1 - How to get Brawl points?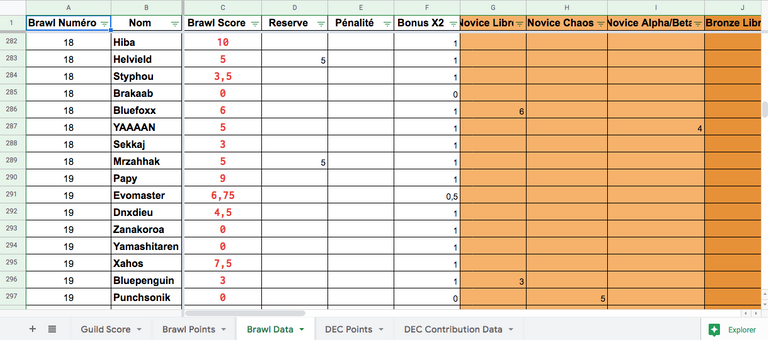 Brawl points are a measure of individual performance in Brawl. It is calculated on the last 4 Brawls played by the guild.
Each brawl victory gives a certain number of points according to the difficulty of the fray, the scale is the following:
Fray Novice: 1 pts
Fray Bronze: 1,25 pts
Fray Silver: 1,5 pts
Fray Gold: 1,75 pts
Fray Diamond: 2 pts
A bonus of 0,25 pts for the frays Untamed/Chaos Legions and Alpha/Beta
A bonus of 1 pts for Gold Foil frays
To avoid all efforts made by everyone in the brawl being wasted, a penalty of -10 pts is given to the holders who forget to validate their Brawl.
2 - How to get DEC points?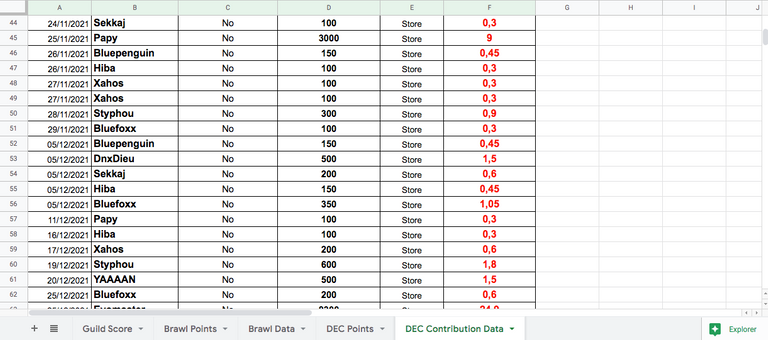 DEC points measure the level of investment in DEC by each member of the guild.
It is calculated as follows:
1000 DEC invested in the guild = 3 points
The DEC score was designed to reward members who invested heavily in the guild at the beginning but also to encourage others to invest more.
Unlike brawl points which are based on the last 4 brawls, the DEC points are fixed.
With the development of buildings being one of the priority objectives in every guild, you understand the importance of having as many DEC points as possible.
The addition of DEC points & Brawl points gives the Guild Score!
To avoid those with the lowest scores being left out too often, a cumulative bonus of 5 brawl points is given to the reserves who did not participate in the previous brawl.
The idea behind this is that all members who invest a minimum of time/money in the guild should be playing at least 1 Brawl out of 3.
We have been using this system in my guild for 6 months now and it works very well.
We had to make some adjustments to rebalance the points scale along the way but the basis I mentioned above remains the same.
Want to use Guild Score?
At the end of the reward period of this post, I will give away for FREE the template I use every day to set up the Guild Score.
To get the template it's very simple, I will send an email containing the template to all Listnerds members in 7 days.
To get the template, you just have to register on Listnerds! It's free and only takes a few seconds.
What is Listnerds?
It's a project on Hive developed by the team leading the CTP community.
To make it very simple it's a mailbox that allows you to earn cryptos just by reading and sending emails! It's amazing, isn't it?
To register, just click on this link.

Want to see the Guild Score directly implemented in Splinterlands?
If you've read this far it's probably because you think Guild Score is great and should be implemented in the game! That's exactly what we believe in our guild as well, so if you do agree, don't forget to vote here!
If we get enough votes, maybe the Splinterlands development team will work to integrate it into the game. Who knows ?
How brawls are organized in your guild ?
Would you consider switch to guild score ?
Tell me everything in the comments section!

[FR]
J'ai commencé Splinterlands en juillet 2021 et après quelques mois sur le jeu, j'ai décidé d'intégrer une guilde.
Rejoindre une guilde a été une de mes meilleures décisions dans ce jeu!
J'ai rencontré des coéquipiers très accueillants et c'est également à ce moment que je me suis rendu compte de toutes les opportunités que ce jeu peut offrir aux joueurs.
L'un des principaux avantages de rejoindre une guilde est la participation aux guerres de guildes (Brawls).
J'ai eu l'occasion de participer à ma première guerre peu de temps après mon arrivée mais j'ai très vite remarqué un problème…Il y a seulement 13 frays disponibles (dont 3 frays or) alors que nous étions 17 membres.
A cette époque, nous n'avions pas vraiment de règles. C'était le premier arrivé, premier servi!
Ce système commençait à créer quelques tensions entre les membres car toutes les frays étaient prises d'assaut dans les 10 premières minutes et certains se retrouvaient à ne pas participer pendant plusieurs guerres.
Le deuxième problème que j'ai remarqué dans le fonctionnement de la guilde est le système de cotisation. Chaque membre devait cotiser 100 DEC par semaine pour aider la guilde à payer les bâtiments. C'était très contraignant pour le fondateur de la guilde de vérifier chaque semaine que tout le monde à bien cotiser, faire des rappels etc…
Je me suis alors posé cette question : Comment faire pour rendre la participation aux guerres plus équitable tout en incitant tous les membres de la guilde à cotiser au maximum ?
Après quelques jours de réflexion, j'ai conçu un système qui règle ces deux problèmes.
Mon système est…Le GUILD SCORE
INTRODUCTION AU GUILD SCORE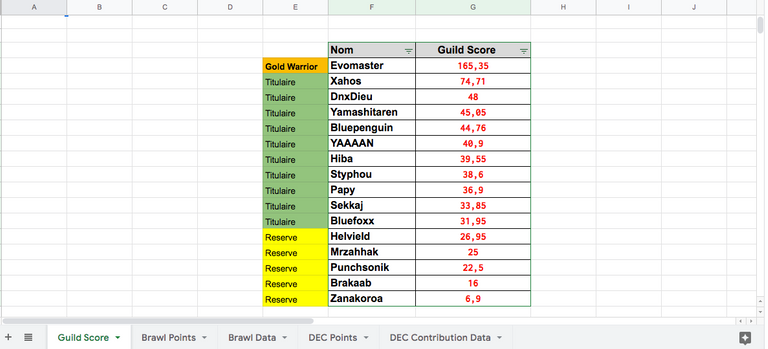 Le Guild Score est une note qui est attribuée à chaque membre de la guilde reflétant le niveau de performance en guerre et le niveau d'implication dans la guilde.
Les 13 membres ayant les scores les plus élevés sont automatiquement titulaires pour la prochaine guerre.
Les autres membres sont placés en réserve. Ils seront sélectionnés si l'un des titulaires ne peut pas participer.
Le guilde score est calculé de la manière suivante : Brawl Points + DEC Points = Guild Score
1 - Comment obtenir des Brawl points ?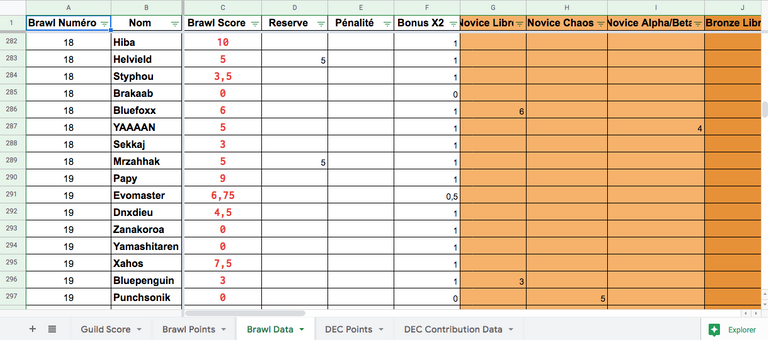 Les Brawl points mesure les performances individuelles en Brawl. Il est calculé sur les 4 dernières Brawl disputées par la guilde.
Chaque victoire en brawl donne un certain nombre de points selon la difficulté de la fray, le barème est le suivant:
Fray Novice : 1 pts
Fray Bronze : 1,25 pts
Fray Argent : 1,5 pts
Fray Or : 1,75 pts
Fray Diamand : 2 pts
Bonus de 0,25 pts pour les frays Untamed/Chaos Legion et Alpha/Beta
Bonus de 1 pts pour les frays Gold Foil
Pour éviter au maximum que les efforts fournis par tout le monde en guerre soit réduit à néant, une pénalité de -10 pts est donnée aux titulaires qui oublient de valider leur combats.
2 - Comment obtenir des DEC points ?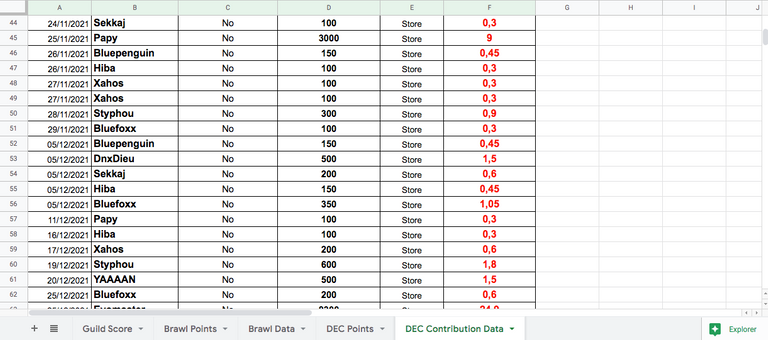 Les DEC points mesure le niveau d'investissement en DEC par chaque membre de la guilde.
Il est calculé de la manière suivante :
1000 DEC investi dans la guilde = 3 pts
Le DEC score a été pensé pour récompenser les membres qui ont investi massivement dans la guilde au départ mais également pour inciter les autres à investir davantage.
Contrairement aux Brawl point qui est basé sur les 4 dernières guerres, les points du DEC Score sont permanents.
La construction des buildings étant un des objectifs prioritaires dans chaque guilde, vous comprenez l'importance d'avoir un DEC score le plus élevé possible.
L'addition des DEC points & des Brawl points donne le Guild Score !
Pour éviter que ceux ayant les plus petits scores soient laissés de côté trop souvent, un bonus cumulable de 5 brawl points est accordé aux réservistes qui n'ont pas participé au précédent brawl.
L'idée étant que tous les membres qui s'investissent un minimum dans la guilde puissent jouer au moins 1 Brawl sur 3.
Cela fait maintenant 6 mois que nous utilisons ce système dans ma guilde et ça marche très bien.
Nous avons dû faire quelques ajustements pour rééquilibrer le barème de points en cours de route mais la base que j'ai mentionnée ci-dessus reste la même.
Envie d'utiliser le système ?
A la fin de la période de récompense de ce post, je vais donner gratuitement le fichier que j'utilise au quotidien pour mettre en place le Guild Score.
Pour obtenir le fichier c'est très simple, je vais envoyer un mail contenant le fichier à tous les membres de Listnerds dans 7 jours.
Pour obtenir le fichier, il suffit de vous inscrire sur Listnerds ! C'est gratuit et cela prend seulement quelques secondes.
C'est quoi Listnerds ?
C'est un projet sur Hive développé par l'équipe derrière la communauté CTP.
Pour faire très simple c'est une boite mail qui vous permet de gagner des cryptos juste en lisant et en envoyant des mails ! C'est génial n'est ce pas ?
Pour vous inscrire, il vous suffit de cliquer sur ce lien.

Envie de voir le Guild Score intégré dans Splinterlands ?
Si vous avez lu juste qu'ici c'est sûrement que vous pensez que le Guild Score est génial et qu'il devrait être implanté dans le jeu! C'est ce que l'on pense également dans ma guilde donc si c'est votre cas aussi, n'oubliez pas de voter ici !
Si nous obtenons assez de vote, peut être que l'équipe de développement de Splinterlands travaillera dessus pour l'incorporer dans l'interface du jeu.
Comment les brawls sont organisé dans vos guildes ?
Seriez-vous prêt à passer au Guild Score ?
Faites le moi savoir en commentaires!
Images are taken from Splinterlands.com & Listnerds.com and made by canva.com
Play2earn now on Splinterlands
Earn crypto just by sending & reading emails
Earn crypto every time you go online
---
---