June 3rd 2021 - CUB and Diamond Hands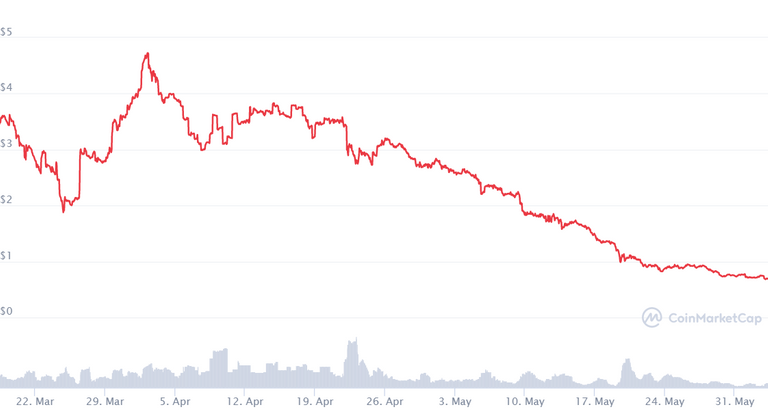 Ivan on Tech in one of his most recent and increasingly bearish-sounding videos explained how the crypto investors should never base their decision on memes like "diamond hands". Not taking profits when the prices go up and HODLing forever is irresponsible, because in case of bear markets those "diamond hands" are likely to see 80 or 90 percent of their wealth evaporate.
While many crypto investors still have to feel the real pain, there is one group that have better idea how this cataclysmic scenario would look like. They are CUB HODLers, people who saw their favourite coin drop from 6 US$ to less than 0.7 US$. There are various explanations how and why this happened, but the fact remains – those who had bought CUB at the beginning are at the loss and only those who tried to manage risk and dollar cost average on the way down have evaded major pain.
This might look like a terrible thing for CUB and, to a lesser degree, for Leofinance community, but this isn't something that hasn't happened before. Steem also saw catastrophic dip from 8 US$ to 0.1 US$, but instead of disappearing, the cryptocurrency had people remain passionate enough to create its fork. A fork which, according to some testimonials at LeoFinance and other Hive-related blogs, allows the users to pay their bills and even buy cars.
Whether CUB can do the same remains to be seen. Things might not look good at the moment, but cryptocurrency investment should be viewed as a marathon rather than sprint.
Blog in Croatian https://draxblog.com
Blog in English https://draxreview.wordpress.com/
Original Hive blog (Film & TV) https://hive.blog/@drax
Minds profile https://www.minds.com/drax_rp_nc
Uptrennd profile https://www.uptrennd.com/user/MTYzNA
Hiveonboard: https://hiveonboard.com?ref=drax
Rising Star game: https://www.risingstargame.com?referrer=drax
1Inch: https://1inch.exchange/#/r/0x83823d8CCB74F828148258BB4457642124b1328e
BTC donations: 1EWxiMiP6iiG9rger3NuUSd6HByaxQWafG
ETH donations: 0xB305F144323b99e6f8b1d66f5D7DE78B498C32A7
Posted Using LeoFinance Beta
---
---