Spk/Larynx update. HE Wallet status. LN main achievement.
I have mail ready to be sent on LISTNERDS, but I'm really short on inspiration on what to write and since I've never done a post about my stats or goals(because I actually had none), this should be my first.
---
Starting with the SPK Network, I am sitting there with a healthy locked stake of 50k Larynx tokens of my own. I say healthy because "Governance Threshold (minimum required to be locked to contribute as a node)" is currently sitting at around 30k Larynx. About the received delegations, the number is a lot higher than I ever expected and I want to thank again all delegators, big and small, THANK YOU!

@abbak7 @alinalazareva @beststart @bradleyarrow @chaosmagic23 @clicktrackprofit @deepresearch @devect @elizabethbit @fiberfrau @gadrian @horstman5 @ifarmgirl @jimmy.adames @jongolson @kiel91 @matrixspinor @meerliebe @michelmake @riccc96 @sandymeyer @silvertop @sorin.cristescu @speak-scc @syctyr @tengolotodo @tomsmaid @tonyz
This is the last tagging round I'll be using until something more drastic or dramatic will happen.
---
IMPORTANT! Don't forget to claim your Larynx tokens at the beginning of the month, and if you want to delegate the new claimed tokens to the same node, for the the amount you need to write down, you need to sum up the already delegated and the claimed amount and write down the total.
TIP: After you claim your new tokens, give it a couple of minutes first for the amount to show on your wallet, power it up, and then check again if the amount is shown as ready, only then do the total delegation, otherwise it might seem as to be not working.

---
Since the delegations have been open, my node was able to generate a nice amount of 6.913 SPK tokens
I have another node running for the Ragnarok network, since the beginning this node has managed to generate up until 31st of August the amount of 2197.385 duat tokens, which might not be worth a lot now but you just wait until the game comes out, I'll sure be laughing with joy then for more than one reasons. I also have some reserves of DUAT just sitting there waiting to be exchanged for nfts or if there will be a need, I'll lock them and pop-up more nodes.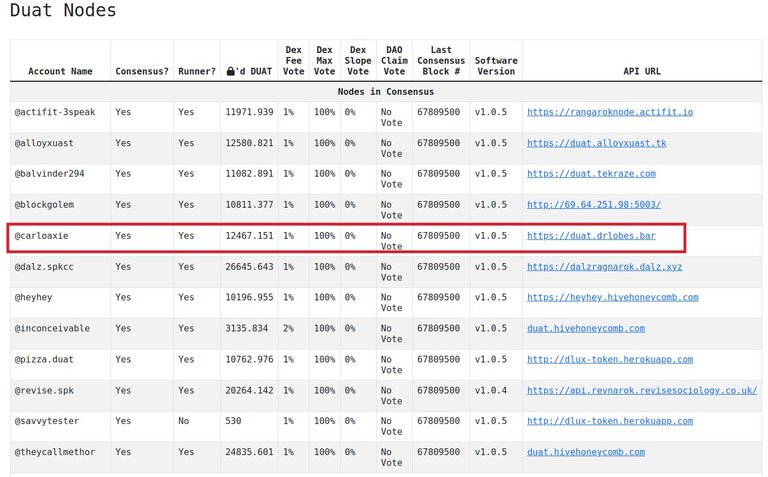 This side of action doesn't show as many nodes as the SPK Network side, but this place should be really crazy crowded in a few months' time.
---
Now, onto the next topic, the status of my Hive Engine wallet, some changes happened there as the BRO token became my biggest hodl, even tho I know that LEO should be first, I'm DCA-ing into that as well and things could change soon. If you don't own any BRO tokens, better get your hands full and dirty and don't lose this train, you should check the evolution of its price to have a better understanding.
This is how my top 10 looks for now: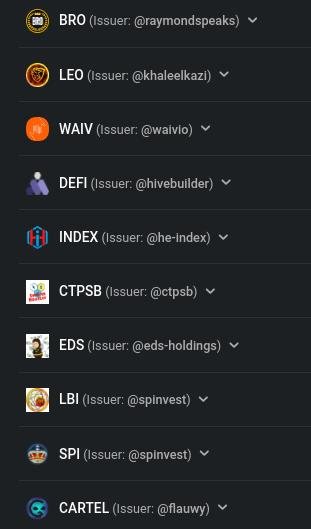 About LISTNERDS, looking back it shows that I joined on Jun 4, 2022and through accumulation by claiming/being voted and also buying I managed to reach a spot in the top 30 holders, it wasn't really a goal but I thought it would be nice to see my name up there:

Well, this is it, for now, I'll try to get into the habit of being more organized when handling all these tokens but my L2 portfolio only started growing more seriously recently so in time I'll fix this as well, maybe even with some stats on bought/buying prices vs today's prices.
---
If you are nice, or
If you are mean, or
If you are busy, or
If you are here: Drop me a comment!
---
---