Movie Review: Zack Snyder's Army of the Dead

In the early 2000's Zack Snyder directed an excellent remake of the classic zombie horror film Dawn of the Dead and this spring he returned to the theme of the living dead in his new film Army of the Dead, in which he placed the story of a casino robbery in a zombie apocalypse setting. It sounded very interesting and considering the director's writing and impressive track record (as well as the monumental "Justice League") I was looking forward to the premiere.
I rushed to see it this weekend and am happy to share my impressions.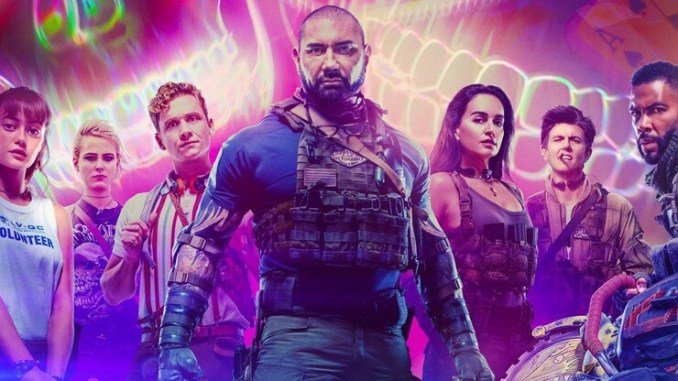 source
As a result of the incident, Las Vegas was invaded by zombies. Not just any walking dead, but truly dangerous and intelligent monsters with their own hierarchy and rituals. The military encircles the city with a wall of containers and, at the suggestion of the president, prepares to drop a "small nuclear bomb" on the city just in time for the Independence Day.
Japanese businessman Tanaka (Hiroyuki Sanada) has left about $200 million in his casino safe and hires former Special Forces soldier Scott Ward (Dave Bautista) to assemble a team to infiltrate the city and take the money before Vegas is wiped out.
To prevent Ward's team from embezzling all the money Tanaka assigns his security chief (Garrett Dillahunt) to them, and at the last moment Scott's daughter, whose friend had disappeared the day before during a desperate foray into Vegas, joins the brave "robbers".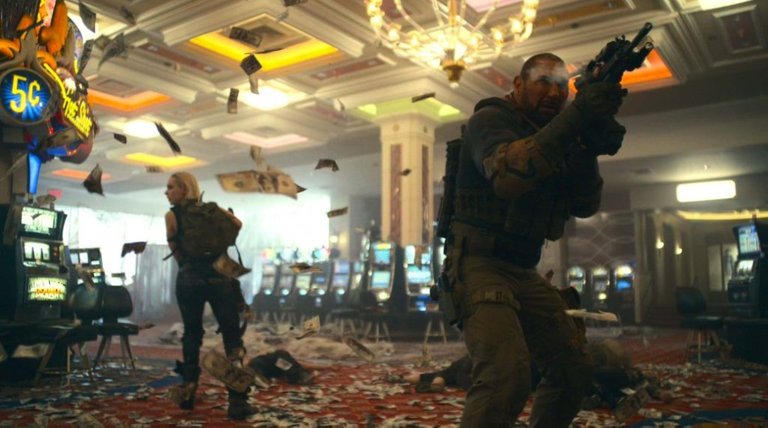 source
For Snyder "Army of the Dead" is 100% the author's project and by moving the story integrity and logic to the background old Zak goes off under the slogan "I am an artist - I see so" with teenage maximalism not sparing blood or brains, giving a very juicy picture and traditionally pathos-laden dialogues which occupy an impressive part of more than 2-hour timing. Many critics and audiences didn't like it and the reviews on popular aggregators were pretty modest, but there's no need to be modest - the movie came out loud, stylish and, considering the production went in the middle of a pandemic, more than impressive.
First of all, the clip intro to the cover of "Viva Las Vegas" is just a meat. Brutal, dynamic and a great introduction. Second is the texture of the narration. This is probably why you'll fall in love with The Army. Snyder brilliantly switches between genres - a heist movie, a classic "team" action movie, a melodrama about a complicated family relationship and the last act, which is nothing but a concentrated zombie horror. He's already done something similar in "Forbidden Reception" and this time he takes this stylistic experiment to a really new level, sometimes sacrificing pace but making up for it with references to "Aliens", "Silent Hill", "Resident Evil" and, unexpected elements of comedy with German safecracker (probably my favorite character in this film).Third is the charisma of Dave Bautista. A perfect hit in the role and a couple of scenes in which he looks great as a dramatic actor, rather than a mountain of muscle with a machine gun at his side. And fourth, an interesting zombie concept, a pregnant zombie stripper queen (!!!), zombie-horses (!?) and zombie-tiger!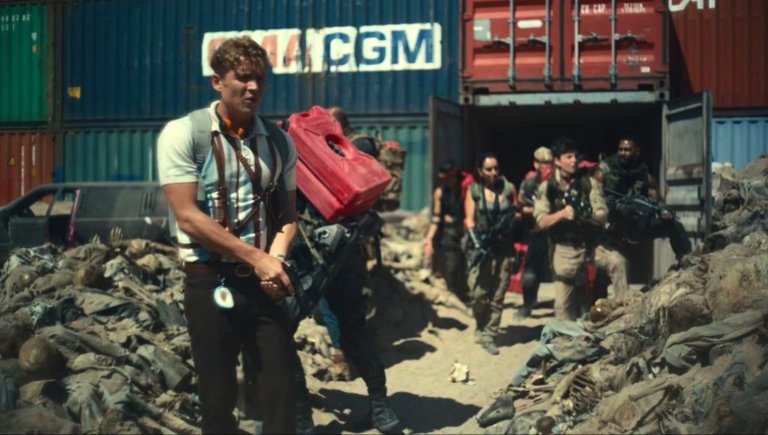 source
But for every barrel of honey there is a dish of tar, and here we had enough of them to make quite a good mug. The camerawork with background blur and shooting with rare '60s lenses seems like a funny thing at first, like in video games, but the sense of proportion with its use obviously let us down. The action, though abundant in the final act, is conspicuously lacking in the earlier ones, though there are more than enough reasons to have a noble shootout or run from zombies.
And the main minus is the dangling "Chekhov guns." In the introduction and in the first act, Snyder gives hints at the special abilities of some characters (I hate spoilers), but later on this does not play any role, which is quite atypical for a big-name director.
However, even despite these minuses, "Army" does not claim to be a masterpiece of world cinema and does an excellent job of the declared "zombie action movie" and if you compare it to "World War Z", I liked the latter much less.
Subjective rating 7 out of 10
---
---
---