Polygon News: EIP-1559 Is Live! MATIC Token Burn

The Ethereum Improvement Proposal (EIP)-1559 upgrade shipped with its London hard-fork last summer and has been extremely successful in terms of gas price predictability overall and the burning of network fees.
We've been anticipating this since the team at Polygon announced the implementation of EIP-1559 The London Hard-fork for block 23,850,000. The upgrade has now launched on Polygon in an effort to improve fee visibility.
EIP-1559 will introduce a fee-burning mechanism to Polygon, resulting in the deletion of MATIC tokens.
It also removes first-price auction for calculating network fees, which leads to better cost estimations but does not reduce gas prices.
If you would like to read more about what goes into the EIP-1559 Hard Fork you can click the link below from the team over at Polygon.
Folks, #EIP1559 is a few hours away from going live on the #Polygon mainnet.

The highly-anticipated upgrade brings $MATIC burn and improved fee visibility.

Find out more: https://t.co/7fRxSZIrdv

— Polygon | $MATIC 💜 (@0xPolygon) January 17, 2022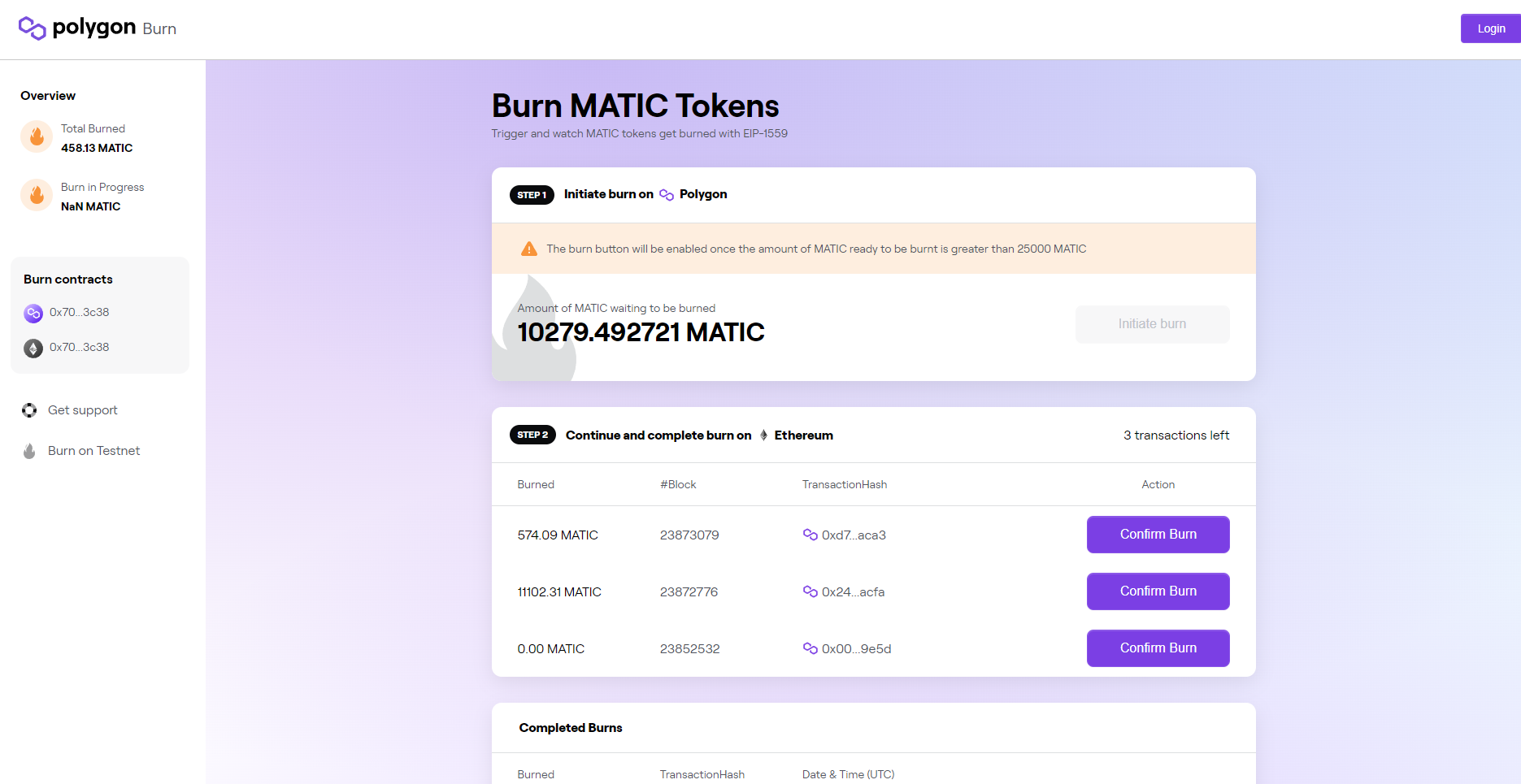 We now have a fully-live website to track the burn. MATIC token burning is initiated every amount greater than 25,000 Tokens. The wallet will hold all MATIC network fees tokens until the button becomes clickable, at that point anybody can initiate the burn!
You can track the burning status yourself here; https://burn.polygon.technology/
"The burning is a two-step affair that starts on the Polygon network and completes on the Ethereum network."
Fantastic quote from the team. Along with the burning of MATIC tokens, due to them happening on Ethereum where our hard fork has originated from we will also see the burning of ETH as a result per MATIC burn! Pretty nifty right?

The Hard Fork only went live today, so we haven't seen much action on the burn side minus two tests it seems. But when the time comes, we will be seeing a huge amount of MATIC tokens burned! More and more everyday Polygon is becoming the worlds leading Layer2 solutions for products and dapps built on the Ethereum Blockchain.
THANK YOU FOR READING!
Posted Using LeoFinance Beta
---
---