CHILDREN SPORT DAYS (INTER-HOUSE SPORT) ARE FUN
If you didn't have this experience in school, you didn't have fun.
Yes, this is a sharp recall on my days as a child, as a student. Its just few months ago that i saw the students in a secondary school within my locality make this show.
Their performance reminded me of my own days as a student while in secondary school.
Let me tell you a little about it, so that if you are a father or mother you will encourage the children to engage in it.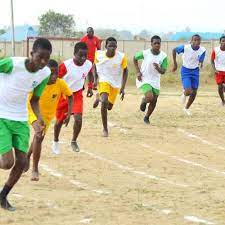 source :
My First experience was terrible there.
200meter RACE
With my big buttocks as at that time, i was told to participate in a 200m race. I could only imagine myself taking the last position because my behind was just big for me...lolz.
We took our stands ready to go, i beat the gun.. lolz
I did that twice and i was told to be careful. When we finally ran the race, i was so so shocked on how i was able to win the third position, like i was astonished.
Then during the main event i was lucky to win the second position, but i was so exhausted because it was tiring.
But to that, it was a nice experience which i can not forget in a hurry. The most funny thing there is that i fell down and was caused by my opponent who left his path. Still i made it well.

SACK BAG RACE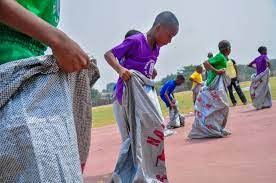 source :
This was the most hilarious race to me. I was told as well to also take part in it, i so much agued and got beaten by the teacher for refusing to take part.. Lastly the contestant from our house was not capable, so i took over the race.
I fell lots of times and was still going, it was now like fall and rise. Then this became more fun than the 200m race i engaged because others were falling as well. But it made us enjoy our stay in school.
There were other sports i took part in like which i so much loved, example ;
Filling the basket
Egg in spoon Race and much more.

Today lots of the schools have stopped such activities. I was so happy when i saw it done by the school close to me.

It had been the base for most of the athletes today being that they knew most of the things to do back then in their secondary school days.

Honestly it is very wise to engage in sport, it makes sense..
Make sure you don't loose out from any fun activity in school. Take part so that you will have what to tell your children...lolzz

Thanks
@duncanek
---
---