Sound Music Holloween Week Cheater Prayer cover
---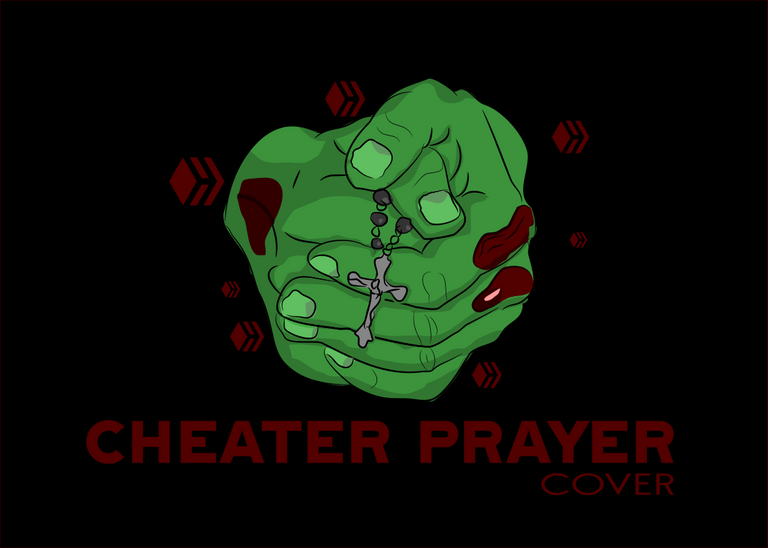 Today, I am on some James Bond stuff. I have drugs to give every hour till 6 am and I am attempting to still make a post, and work out in my call room, and start preparing for IELTS (with video of course).
The thumbnail I made for this video is Holloween-themed and does not express any unkind thoughts for the catholic church. I think we are in a place right now where trigger warnings like this are so important.
But I digressed big time
Cheater prayer was originally supposed to be for Reggae Jahms but I had another picture in mind for that community and so far I think people liked it sort of...
Cheater prayer is not really describing an admirable character. This is a guy who is praying to God so that he can be faithful to his girlfriend. He hopes that if God can not grant him his heart desire of not cheating that she never finds out.
What I love most about the song is the boldness of such a request. I also love the thought that God cares about a cheater...not that I think he would involve Himself in the cheating process but that the cheater has a relationship with him regardless of his evil thoughts.
I remember in the bible when God was bragging about Job his loyal servant there was a conversation between God and Satan that struck me. God asked Satan "where have you been. Google brought out Job 1:7.
So God still cares?
Even about the devil...the one who made the world as evil as it is? Where have you been is not a question you ask to someone you are not concerned about.
The devil said I have been around the world looking for who to devour.
Devoured by his loss for the flesh...the character cries...
Don't let me get caught.
---
Hoy, estoy en algunas cosas de James Bond. Tengo medicamentos para dar cada hora hasta las 6 am y todavía estoy intentando hacer una publicación, hacer ejercicio en mi sala de llamadas y comenzar a prepararme para el IELTS (con video, por supuesto).
La miniatura que hice para este video tiene el tema de Holloween y no expresa ningún pensamiento desagradable para la iglesia católica. Creo que estamos en un lugar en este momento donde las advertencias de activación como esta son tan importantes.
Pero me desvié a lo grande
Originalmente se suponía que la oración del tramposo era para Reggae Jahms, pero tenía otra imagen en mente para esa comunidad y hasta ahora creo que a la gente le gustó un poco ...
La oración del tramposo no describe realmente un personaje admirable. Este es un chico que le está rezando a Dios para que pueda serle fiel a su novia. Espera que si Dios no puede concederle el deseo de su corazón de no hacer trampa, ella nunca se enterará.
Lo que más me gusta de la canción es la audacia de tal solicitud. También me encanta la idea de que Dios se preocupa por un tramposo ... no es que crea que se involucraría en el proceso de engaño, sino que el tramposo tiene una relación con él independientemente de sus malos pensamientos.
Recuerdo que en la Biblia, cuando Dios se jactaba de Job, su leal siervo, hubo una conversación entre Dios y Satanás que me impactó. Dios le preguntó a Satanás "dónde has estado. Google sacó Job 1: 7.
¿Entonces a Dios todavía le importa?
Incluso sobre el diablo ... ¿el que hizo al mundo tan malvado como es? Dónde has estado no es una pregunta que le hagas a alguien que no te preocupa.
El diablo dijo que he estado alrededor del mundo buscando a quién devorar.
Devorado por su pérdida por la carne ... el personaje llora ...
No dejes que me atrapen.
Lyrics
See Martin yah, woaai
Lawd a mercy
Woaai(wooaah), hey hey yo
It's not the first nor the last
So, so much pretty girl a pass, and
Holding out is such a task
That's why me a seh this from mi heart
Oh Lord, don't let me cheat on my girlfriend
Cause as far as I can see
She loves only me
Oh Lord, don't let me cheat on my girlfriend
But Lord if you can't stop me from cheating
Just don't let me get caught
No, no, no, don't let me get caught
Nooo, don't let me get caught (no no noo)
Said I hope I don't get caught
So listen to me now, it's such a sticky situation(yeah)
Me promise my girl fi only look inna her direction
But everywhere me turn me see a next one(gosh)
And me body it too weak and a bawl fi attention
I only wanna give the girls what they want
My lady says I'm wrong but she
Would understand
I don't wanna lie but I don't want to cry
Yo I'm so very weak inside
Oh Lord, don't let me cheat on my girlfriend
Cause as far as I can see
She loves only me
Oh Lord, don't let me cheat on my girlfriend(please dont let me cheat)
But Lord if you can't stop me from cheating(if you)
Just don't let me get caught
No, no, no, don't let me get caught(n-n-no)
Nooo, don't let me get caught (none at all)
Said I hope I don't get caught(please dont mek she catch mi Lord)
Yo, a nuh like me nuh try
I love my baby, but the girls them still deh pan me mind(woy)
It's unfair I can't deny
Cause I couldn't dare to think about my lady and
Another guy (yuh mad)
And yo it hard, yo it hard, yo it hard
To have one girl, it kinda rough fi play the part
She woulda lef me if she knew what's in my thoughts
I hope I dont eva pay that cost
Oh Lord, don't let me cheat on my girlfriend(please dont mek mi chat)
Cause as far as I can see
She loves only me
Oh Lord, don't let me cheat on my girlfriend(oh no)
But Lord if you can't stop me from cheating(you can stop mi lord)
Just don't let me get caught(neva eva)
No, no, no, don't let me get caught(neva neva)
Nooo, don't let me get caught (dont mek she catch mi)
Said I hope I don't get caught
So listen to me now, she seh bun she never mek fi it
Fi get and can't give a straight craziness
Suh when me sidung and me meddy it(what)
Just can't mek she know seh she getting
It (yuh mad) (no)
One girl to a man, so we setting it
But fi we have one girl we keep forgetting it
Never get caught yet, we think we making it
I hope we don't end up regretting it
Oh Lord, don't let me cheat on my girlfriend(please dont mek mi chat)
Cause as far as I can see
She loves only me
Oh Lord, don't let me cheat on my girlfriend(please dont let mi cheat)
---
▶️ 3Speak
---
---